Difference between dive computers
The expectations and wishes are different for beginning divers or advanced divers and technical divers. Beginning divers probably can go for an entry-level dive computer but a technical diver would need a high-end dive computer. In this blog we will tell you all about the different types of dive computers we are selling.
Entry-level: all necessary functions are available
By an entry-level dive computer you are buying a basic dive computer with all necessary functions on board. A computer like this will meet all demands of a beginning Scuba diver. To give you an idea what entry level divecomputer to buy we selected following models for you: Suunto Zoop Novo, the Mares Puck Pro and the Aqualung I200C. It does not matter what kind of diver you are if you are planning to buy a good and simple dive computer without extra technical specifications these are the ones to buy.
Most entry-level dive computers are big wrist-top models that only can be used during scuba diving, some can even be used as a daily watch because they are small with great design to wear during the day.
Suunto Zoop Novo
De Suunto Zoop Novo is available in three different colors (black, yellow, blue) this is a big wrist top computer with a dot matrix display with backlight so you can read your dive computer during a night dive. The Suunto Zoop Novo can also be used for nitrox use and is running on Suunto RGBM Algoritme.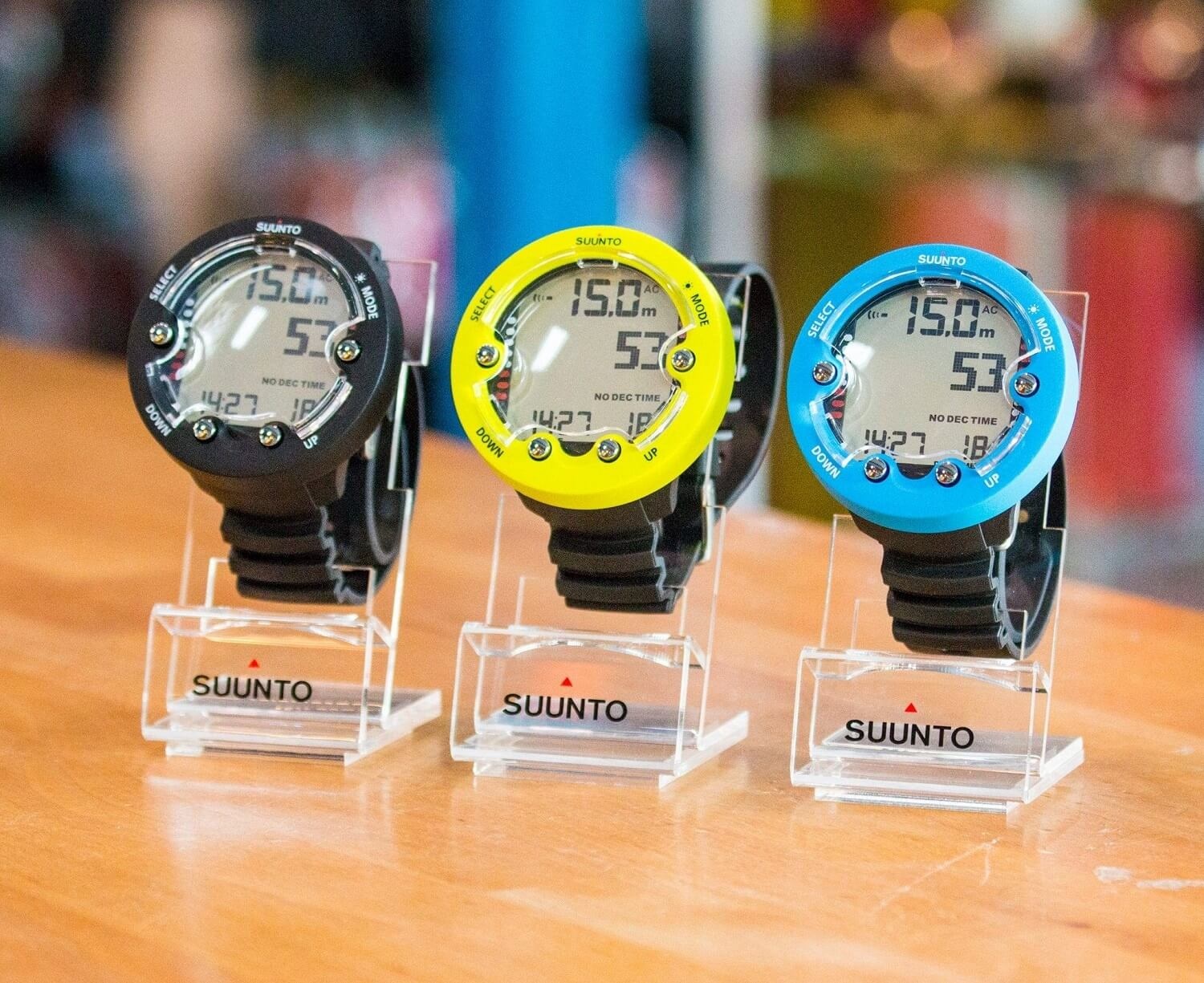 Mares Puck Pro
The Mares Puck Pro is available in grey and blue. For only 150 euro you are buying a fully equipped divecomputer with bottom timer function, nitrox function, backlight and many more. It is even possible to change the battery yourself.
Aqualung I200C
The Aqualung I200C is a small wrist top computer you can even use as a watch for daily use, because of this the I200 is the perfect computer to buy when you are traveling the globe. The Aqualung I200C has a beautiful design and comes in different colors.
Mid: For advanced scuba divers with specific demands
Our Mid-Range dive computers are specially design for Scuba divers demanding more from a dive computer than starting Scuba divers. At the mid-range dive computer you often have the option to perform a gas switch during the dive or that the computer has an integrated compass. A few examples of Mid-range dive computers are Mares Quad, the Mares Smart, or the Suunto Vyper Novo.
Mares Quad
De Mares Quad dive computer has a bright and clear dot matrix display. The nice big screen makes this computer very suitable for divers wanting a big screen computer. Even the display can be adjusted to your own demands and can be personalized. You can connect the dive computer to your PC or Mac by using a divelink. When there is a software upgrade available you need the divelink as well, this can be done at home and the computer does not have to go back to Mares.

Mares Smart
The Mares Smart is a small wrist top dive computer with a long battery life 2-3 years when you are not using the watch for a long time you can put it in sleepmode to safe battery life.
The Mares Smart is available in six different colors and this watch/computer has even a free dive mode. Due to the looks and weight of this watch you can wear it during all day.
Suunto Vyper Novo
The Suunto Vyper Novo is available in Black or White and has a Digital 3D compass built-in. The Suunto Vyper Novo has 4 dive modi (Air, Nitrox, Gauge, Free dive and Off). When buying the optional wireless transmitter you can even read the pressure of your scuba diving cylinder on the computer and it shows you the remaining bottom and dive time. The Suunto Vyper Novo is equipped with Suunto RGBM algorithm and performs deep stops.
High-end: For those that want the best of the best.
High-end dive computers are very suitable for those demanding more from their dive computer. If you want to make deep dives, cave diving or Trimix dives you want to take the best computers on the market with you during your dive.
With the latest technology, you are fully prepared to make that specific dive you are planning. Some examples of a High-end Computer are Suunto EON Steel, Scubapro G2 or the Shearwater Perdix.
Suunto EON Steel Black
The Suunto EON Steel Black is the latest model in the Suunto range, this is the first technical computer that has two different algorithms build in. First for recreational use the Fused RGBM2 and for technical use Bühlmann algorithm to be adjusted for personal preference.
With this new Eon Steel Black you can connect upto 20 different tank pods and has a battery life of 40 hours of diving and logbook storage of 200 dives or 400 hours whatever comes first.
After connecting the Eon Steel Black to your smartphone using the Suunto app, you can download your dives to your phone for back up and even shear your experience to social media adding pictures and location.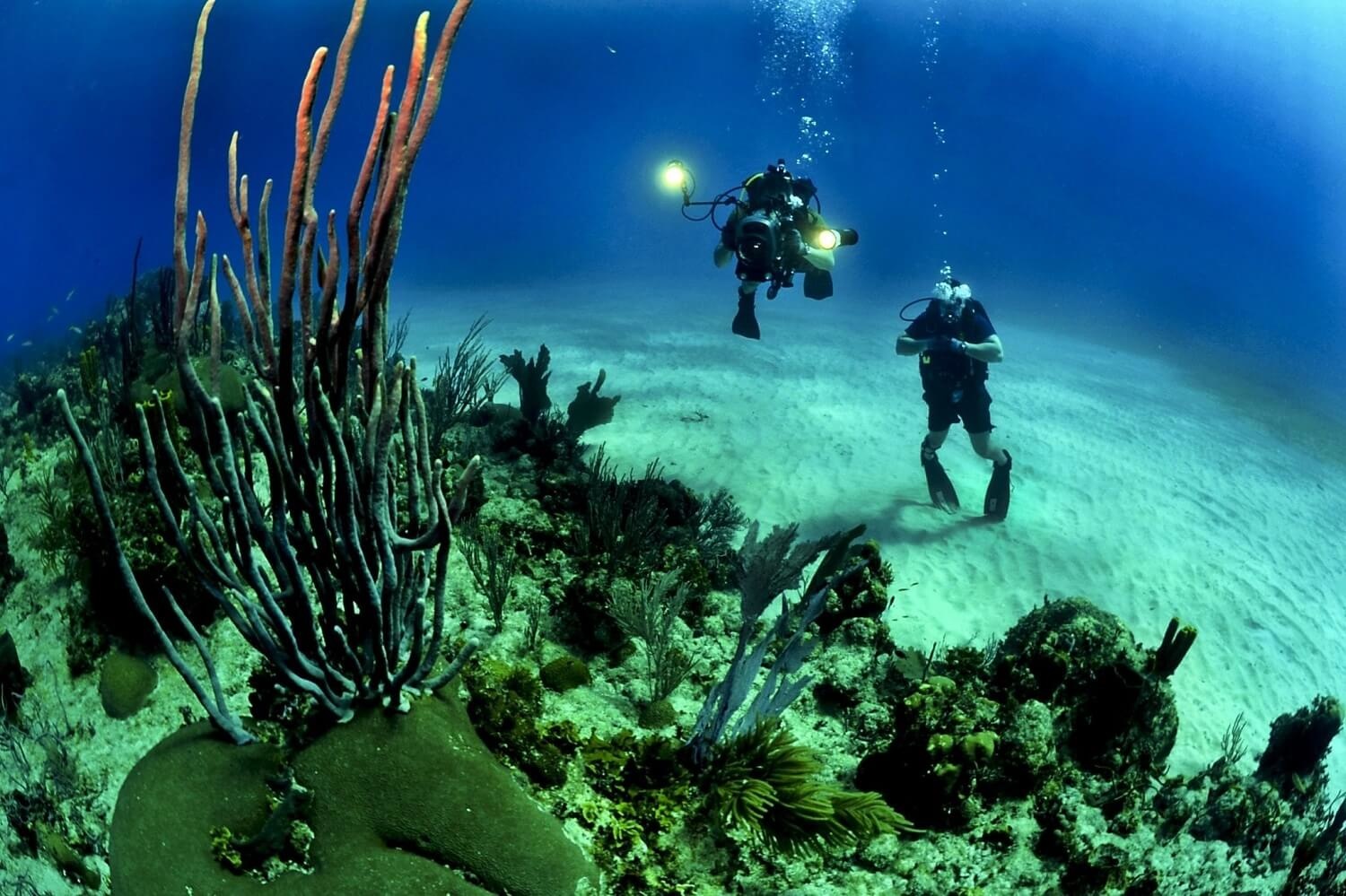 Scubapro G2
When making some serious dives you want to take the Scubapro G2 with you, this computer is one of the most advanced dive computers on the market with five different Dive modi.
The internal logbook can store up to 1000 Logs. The Scubapro G2 shows you all the necessary details you need during your dive. The bright color display can be personalized with 4 different color options.
A nice feature in the Scubapro G2 is that all options are included the diver can select any feature upgrade to be activated or deactivated. By activating a feature (trimix, free-diving, sidemount etc.) the 5Gig hard disk can store all features.
Shearwater Perdix
The Shearwater Perdix has a bright color display and is easy to use with the 2 buttons on the side of the computer. The shearwater Perdix is very popular under Technical divers due to the fact they can add different gasses and adjust the PPO2.
The Shearwater Perdix runs on one AA battery and has a battery life of approx. 36 dives. When it runs out of power you can replace it yourself.
Conclusion
When you are a starting scuba diver you can go with a entry-level dive computer or Mid-range dive computer, depending on your wishes.
The entry dive computer does what it needs to do without needing extra functions for dives you are not certified of.
When diving with multiple gasses you want to go for a mid-range or high-end computer. The high end dive computer is very suitable for technical use.