Shearwater Peregrine Dive Computer
The Shearwater Peregrine dive computer has been around for several years, but this year two additional colours have been released: Adventure Edition Light and Adventure Edition Dark. A great moment to highlight this dive computer.
Technical dive computer at a friendly price
What makes the Shearwater Peregrine so special? The Peregrine is a technical dive computer in the price range of recreational computers. This dive computer is easy to operate, making it user-friendly for all divers. You charge it using an induction charger, eliminating the risk of flooding.
Easy to set up
The Peregrine dive computer is easily adjustable through the two buttons on the side. You have many options, but the factory settings are sufficient for most divers to enjoy a nice recreational dive. You can easily access your logged dives on the surface through the corresponding Shearwater app, where you can also update the firmware.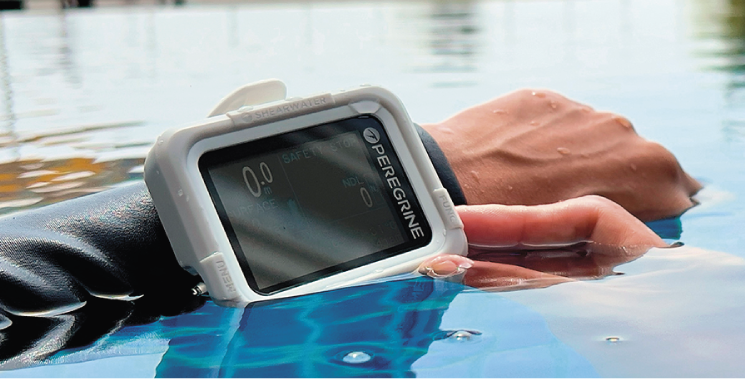 Air and Nitrox Divers
The Peregrine is particularly well-suited for Air and Nitrox divers who are seeking a technical dive computer at an affordable price, without excessive complexity. This device with a colour display features four simplified recreational dive modes: Air, Nitrox (single gas up to 40%), 3 Gas Nitrox (up to 100% O2), and Gauge (depth, time, resettable stopwatch function). Additionally, this computer offers full support for decompression.
Effortless Navigation
Underwater, you can effortlessly navigate with the Peregrine and adjust important dive information displayed on the home screen. Change of plans during the dive? Not a problem, you can easily adjust the computer: Shearwater dive computers are always flexible in this regard.
Little Sibling of the Perdix
The Shearwater Peregrine is the little sibling of the Perdix. It possesses the same power and user-friendliness. However, if you intend to use tri-mix, connect a transmitter, or use it with a rebreather, we recommend opting for the Perdix.
Shearwater Peregrine at Lucas Divestore
Interested in a user-friendly technical dive computer? Then the Shearwater Peregrine is the one for you. At Lucas Divestore, we're more than happy to explain all the additional capabilities of this top-tier computer. Feel free to visit our showroom for that purpose. Or you can order it directly through our webshop!