The best dive computer; our top 12
You are looking for the best dive computer within your budget. The expectations and wishes are different for beginning divers or advanced divers and technical divers. Beginning divers probably can go for an entry-level dive computer but a technical diver would need a high-end dive computer. We researched different dive computers and have a lot of experience with them and made a top 12 scuba diving computers.
To help you find the best dive computer that fits your needs we divided this blog into the following topics:
Entry-level
Mid-level
High-level
Entry-level dive computers
By an entry-level dive computer, you are buying a basic dive computer with all the necessary functions on board. A computer like this will meet all demands of a beginning Scuba diver. To give you an idea of what entry-level dive computer to buy we research several models for you and came up with the best Entry-level dive computers. It does not matter what kind of diver you are if you are planning to buy a good and simple dive computer without extra technical specifications these are the ones to buy.
Most entry-level dive computers are big wrist-top models that only can be used during scuba diving, some can even be used as a daily watch because they are small with great design to wear during the day.
1. Suunto Zoop Novo
The Suunto Zoop Novo is a big wrist-top dive computer with a dot matrix display with a backlight so you can read your dive computer during a night dive. The Suunto Zoop Novo can also be used for nitrox use and is running on Suunto RGBM Algoritme. This dive computer is available in three different colours (black, yellow, blue).
Pros and cons for the Suunto Zoop Novo:
Clear display
Comes in Different Colours
Easy to Use
Long arm strap even fits over a dry suit
No Colour display
No USB Cable included for dive transfer to pc
No Bluetooth function
No Digital Compas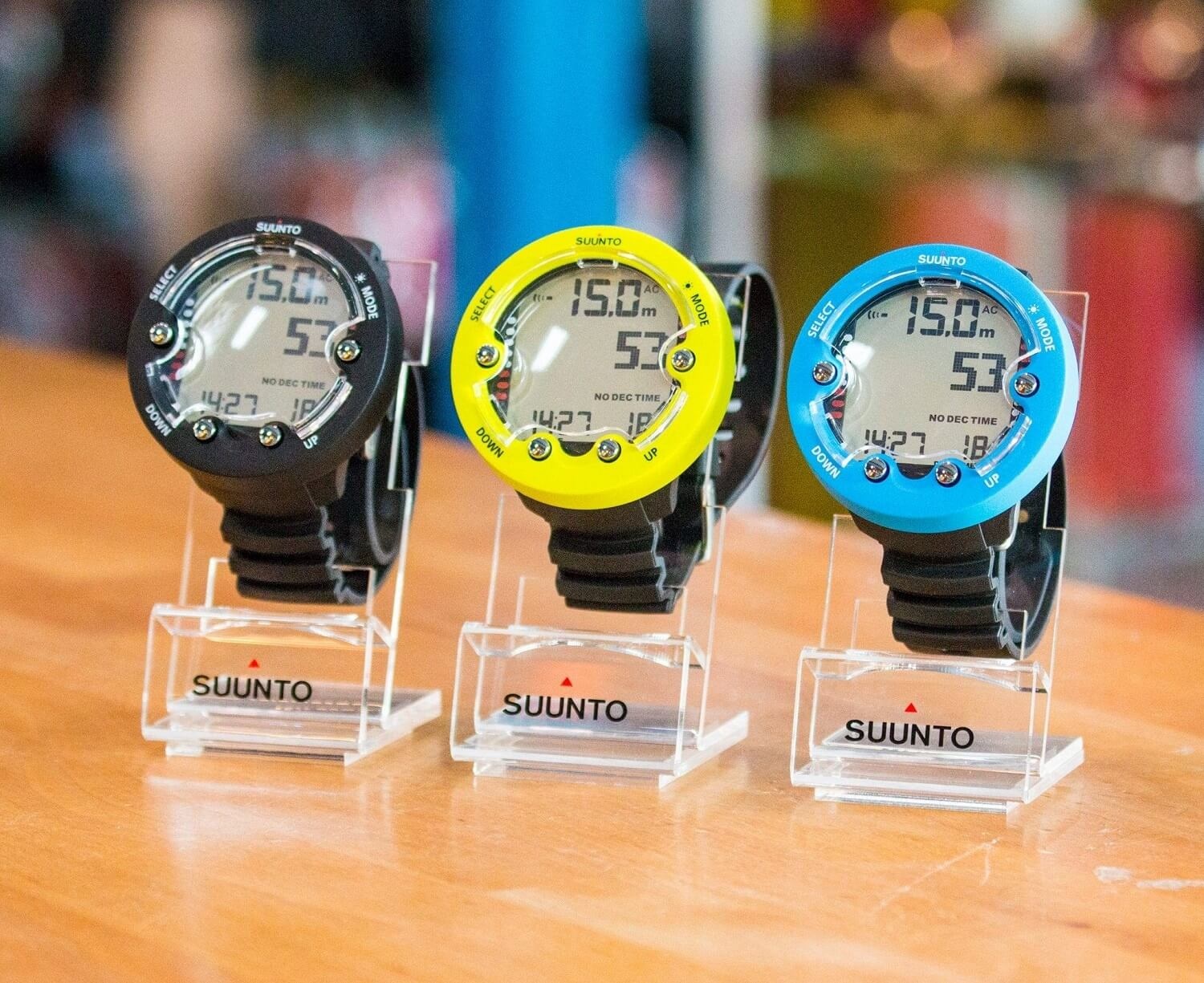 2. Mares Puck Pro +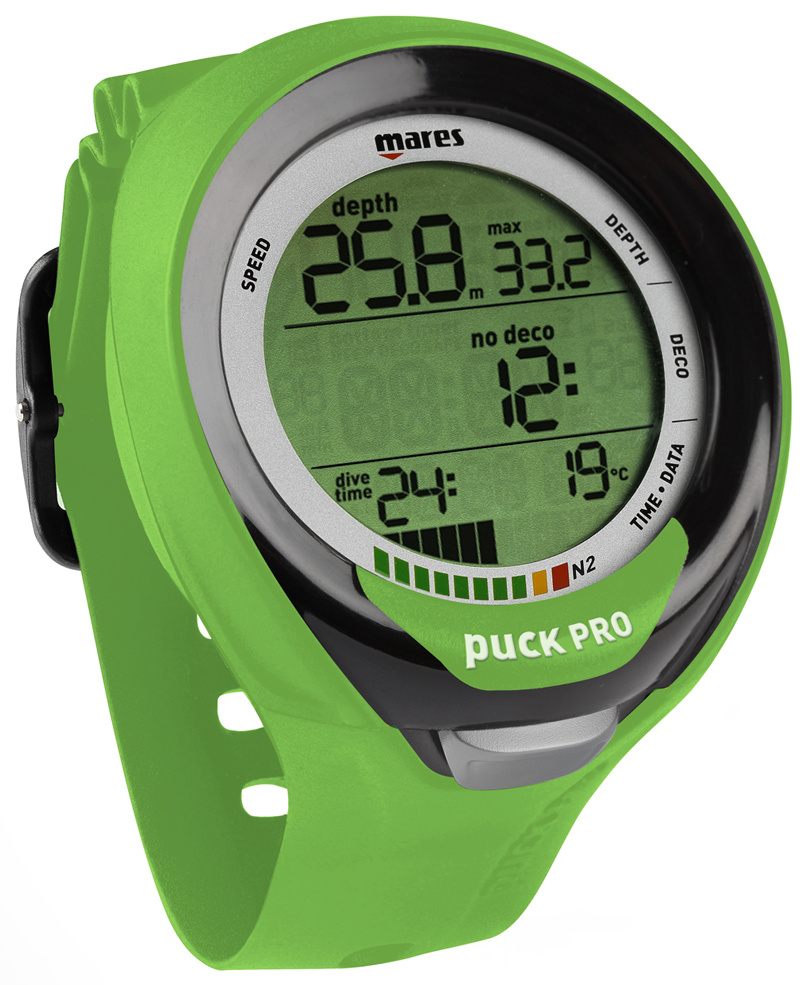 The successor of the successful Mares Puck Pro, the Puck Pro + is easy to read with an even more attractive, sleek design and perfect fit. The Mares Puck Pro + has a Bluetooth option in combination with divelink 2 and is a bit thinner than the previous Puck Pro. The Mares Puck Pro is available in grey and blue. For only €189  you are buying a fully equipped entry-level dive computer with a bottom timer function, nitrox function, backlight and many more. It is even possible to change the battery yourself. This makes it one of the best entry-level dive computers!
Pros and cons for the Mares Puck Pro+:
Bottom timer with resettable average depth and stopwatch
User-replaceable battery
One button operation
Logbook capacity 35 hours
No interface is included for logging your dives
No digital Compass
No colour display
No air integration
3. Aqualung I200C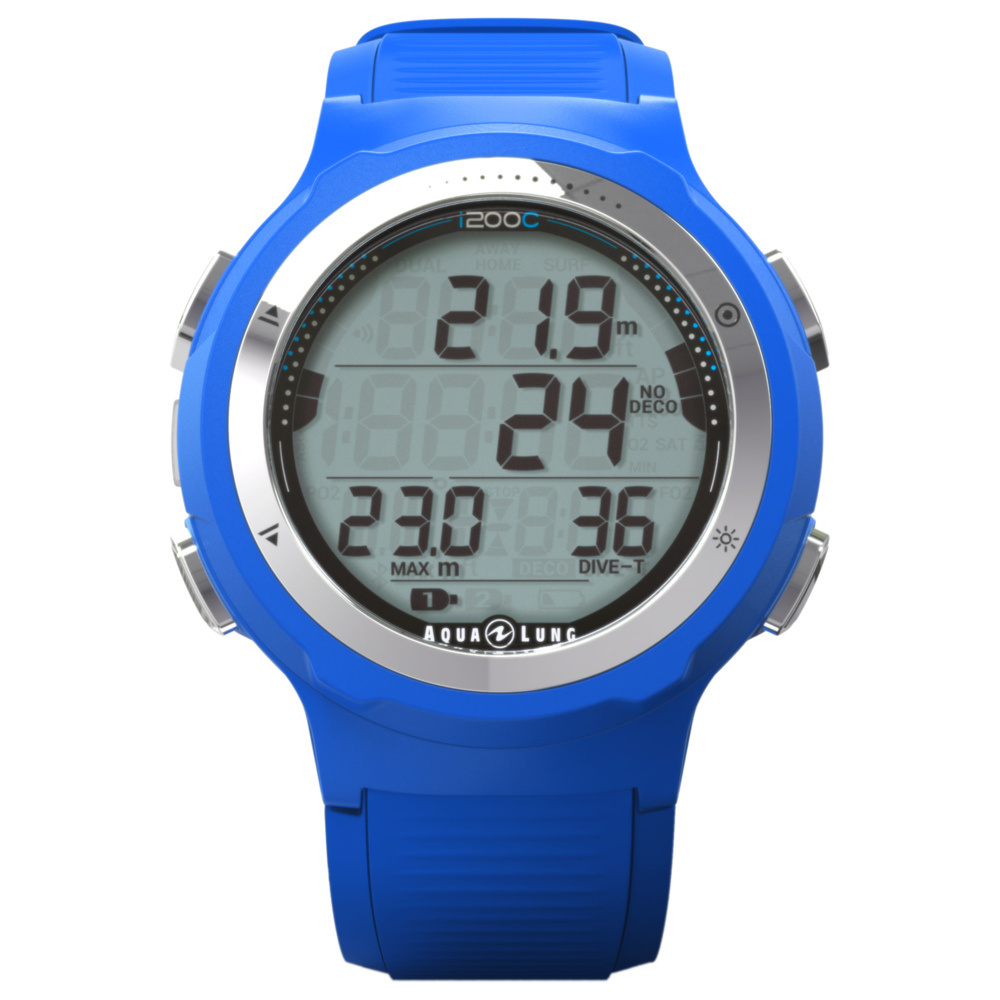 The Aqualung I200C is a small wrist-top computer you can even use as a watch for daily use, because of this the I200 is the perfect dive computer to buy when you are travelling the globe. The Aqualung I200C has a beautiful design and comes in different colours. It is an intuitive, sporty computer with versatile features and Bluetooth wireless connectivity. Thanks to the connectivity features, 4 operation modes and usability makes it is one of the best entry-level dive computers!
Pros and cons for the Aqualung I200C:
Connects wirelessly to the free DiverLog+ app with Bluetooth
4 operating modes: Air, Nitrox, Gauge (with run timer), and Free Dive. Tracks calculations to allow unrestricted switching between Dive and Free
User-changeable battery
Single-button access
You need a separate cable for downloading
No colour display (normal digital display)
Want to read more? Read our blog: All about the Aqualung I200C
The best mid-level dive computers: For advanced scuba divers with specific demands
Our Mid-Range dive computers are specially designed for Scuba divers demanding more from a dive computer than starting Scuba divers. At the mid-range dive computer, you often have the option to perform a gas switch during the dive or that the computer has an integrated compass. A few examples of Mid-range dive computers are Mares Quad, the Mares Smart, or the Suunto Vyper Novo.
4. Mares Quad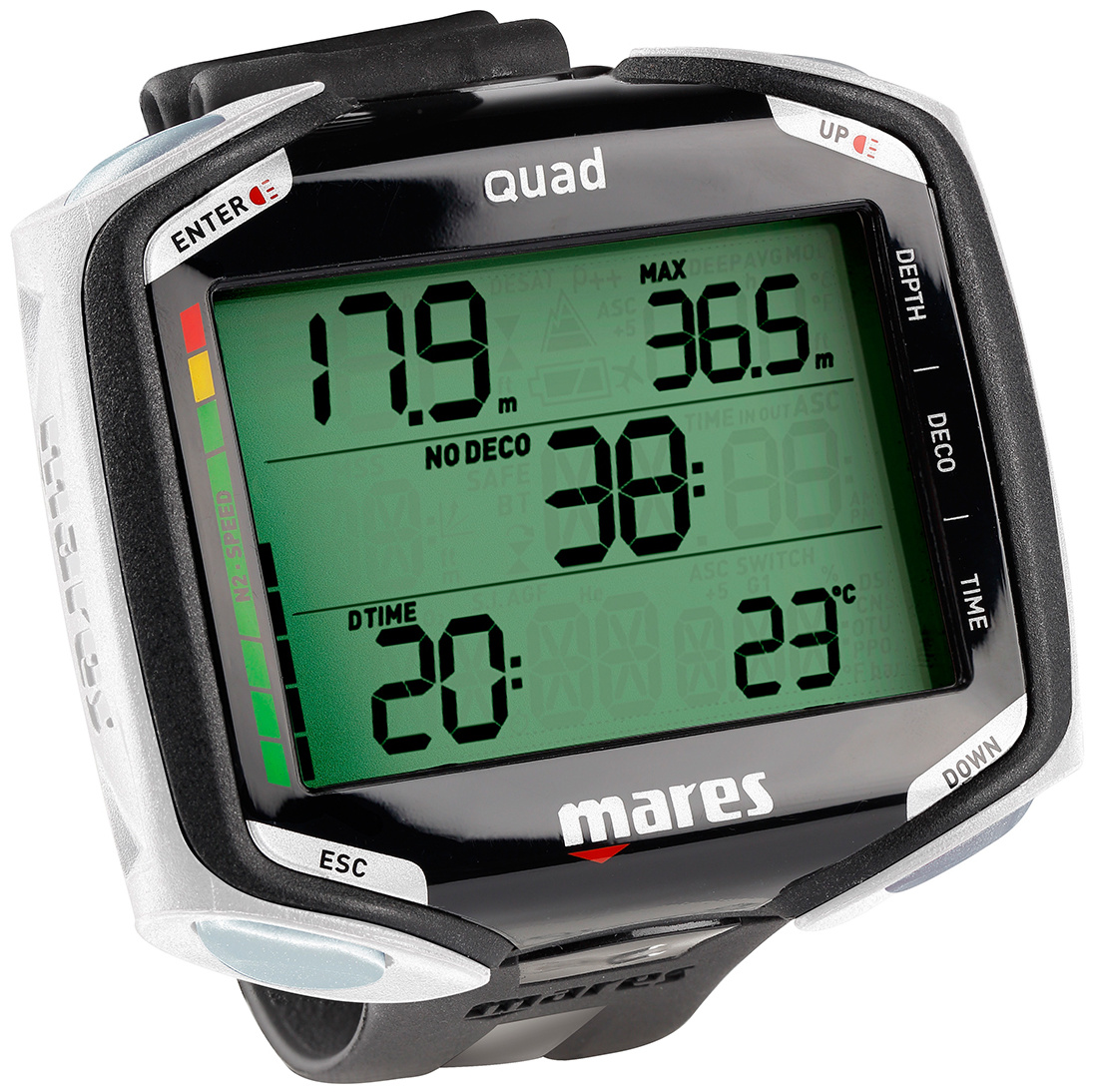 De Mares Quad dive computer has a bright and clear dot matrix display. The nice big screen makes this computer very suitable for divers wanting a big-screen computer. Even the display can be adjusted to your demands and can be personalized. The four press buttons offer a very rich user interface. The Mares Quad offers an option to view your diving time in seconds. Available in the colours black, white, blue and yellow.
You can connect the dive computer to your PC or Mac by using a divelink. When there is a software upgrade available you need the divelink as well, this can be done at home and the computer does not have to go back to Mares.
Pros and cons for the Mares Quad:
Customisable Display
Runaway Deco Alarm
Option for gas switch during your dive
Very bright display
No interface is included for logging your dives
No digital compass
No Bungee mount available
No trimix option
5.    Mares Smart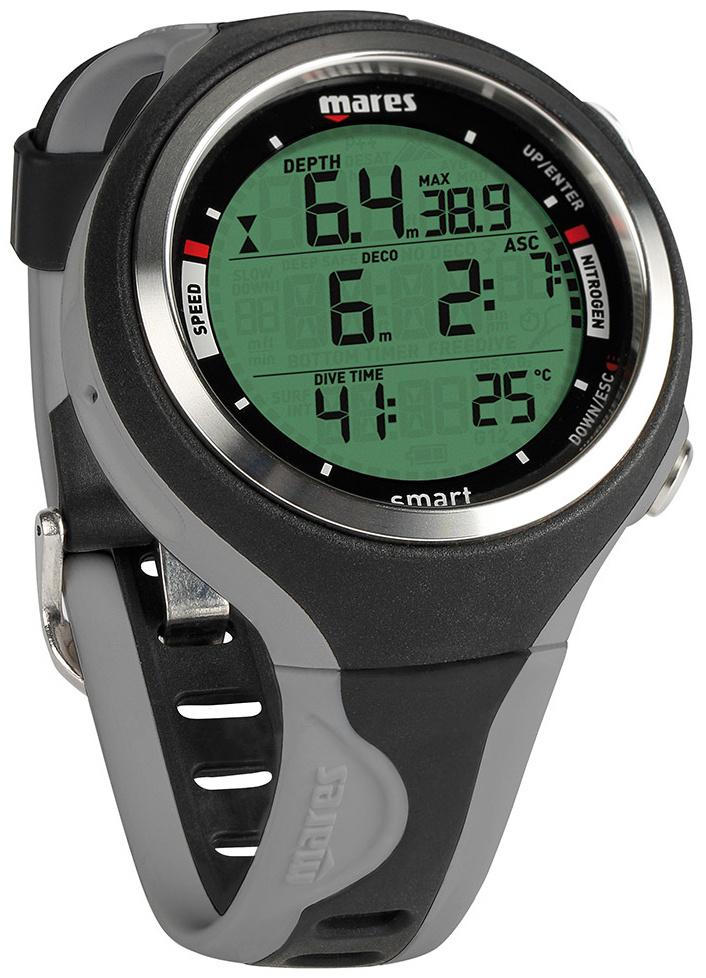 De Mares Smart is een slimme wrist-top duikcomputer met een indrukwekkende batterijduur van 2-3 jaar. Hij is verkrijgbaar in zes verschillende kleurcombinaties en beschikt over een free dive functie, waarbij de duikcomputer belangrijke informatie, zoals je resterende duiktijd, voor je berekent. De Mares Smart is niet zwaar om de pols en heeft een moderne uitstraling, waardoor je deze ook zeer goed tijdens dagelijks gebruik kan dragen.
Pros and cons for the Mares Smart:
Logbook capacity of 40 hours
Upgradeable firmware
Complete watch functions: stopwatch, wake-up alarm, second time zone, date
Easy to use with just two buttons
Great price/quality ratio
No Air Integration
No Compass
Only two gas mixes
Does not include interface and software for downloading to pc or mac
6.    Suunto Vyper Novo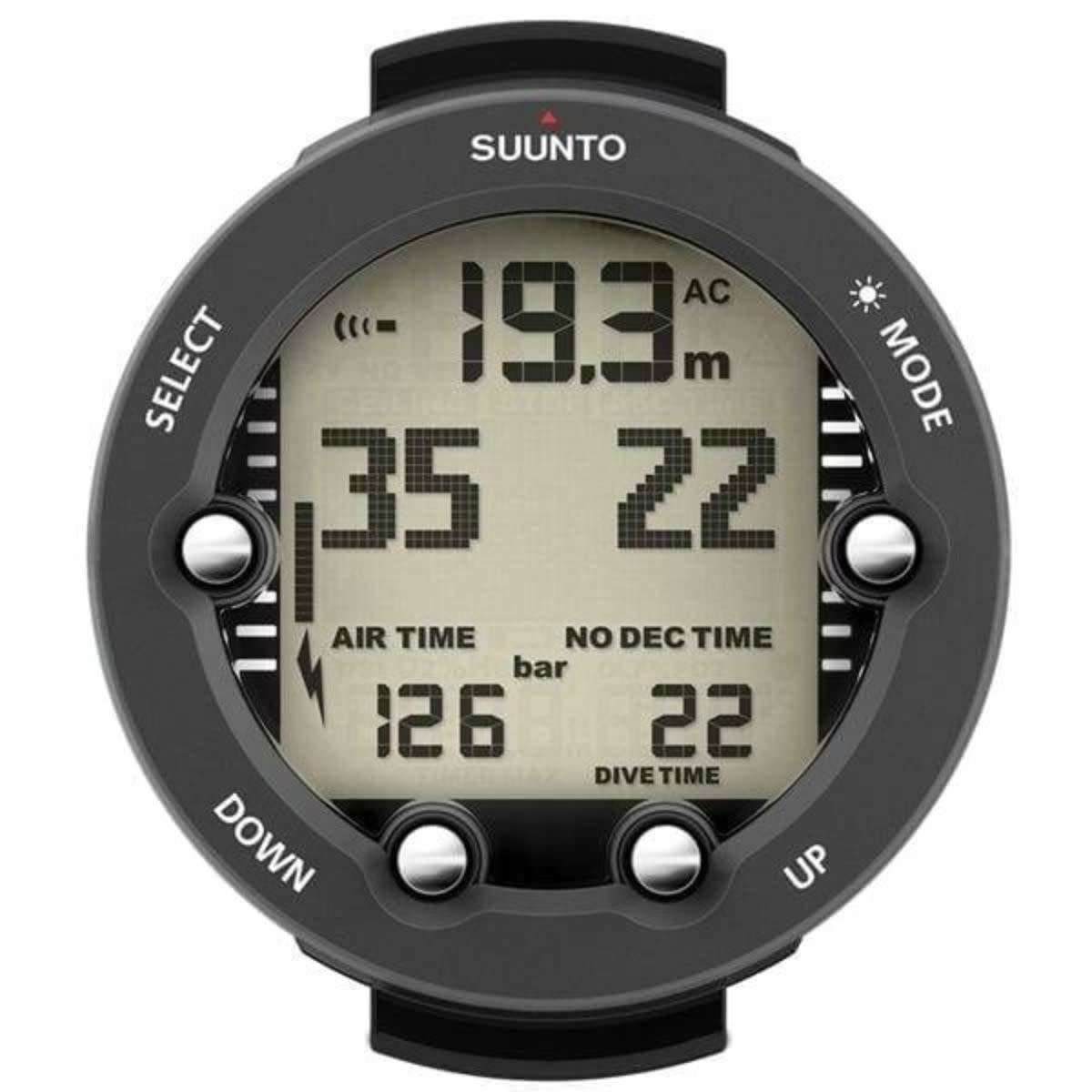 De Suunto Vyper Novo is verkrijgbaar in zwart en wit en is voorzien van een digitaal 3D kompas. Met deze duikcomputer kun je duiken met meerdere soorten gas, zoals perslucht en nitrox. Er zijn vijf verschillende duikmodi beschikbaar (air, nitrox, gauge, free en off). Je kunt de Suunto Vyper Novo aansluiten op een zender, zodat je vanaf je pols direct je resterende duiktijd – berekend volgens het slimme Suunto RGBM algoritme – en berekende dieptestops kunt inzien.
Pros and cons for the Suunto Vyper Novo:
The computer can perform a gas switch
Dive log up to 140 Hours
Clear display
O2 up to 99%
With a wireless transmitter, you can read the pressure of your dive cylinder (optional)
No Colour Display
No Trimix Option
Firmware only RGB and not the New Fused RGBM
No Bluetooth Connection
7.    Aqualung i330R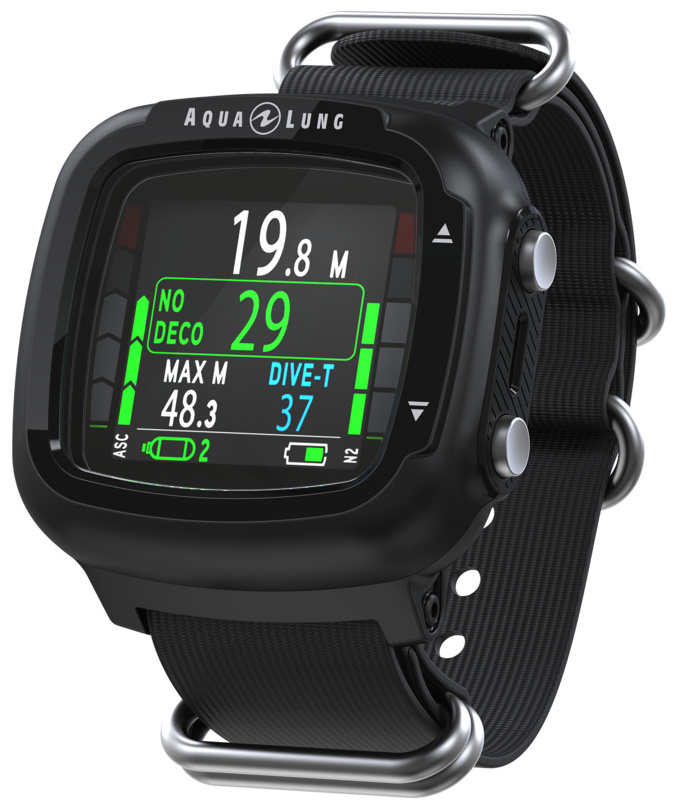 The Aqualung i330R is a good dive computer for mid-level and advanced divers. The Aqualung i330R has an IPS ultra-bright colour display that is readable at any time, even in bright sunlight. It has 4 operating modes: Air, Nitrox, Gauge (with run timer) and Free Dive. It comes with a wireless Bluetooth connection which makes it possible to share your dives via the Diverlog+ app from your mobile device.
Thanks to the Intuitive interface and easy 2-button navigation you can easily change settings and makes updating easy. The battery on the Aqualung i330R is rechargeable so you don't have to worry about buying the next battery.
Pros and cons for the Aqualung i330R:
Wireless Bluetooth connection for data transfer to the DiverLog+ app
Switch up to three gases underwater, from 21% to 100% O2.
Rechargeable battery
Bright colour display
No air integration
No digital compass
Buttons can be difficult to push underwater with gloves on
8.    Shearwater Peregrine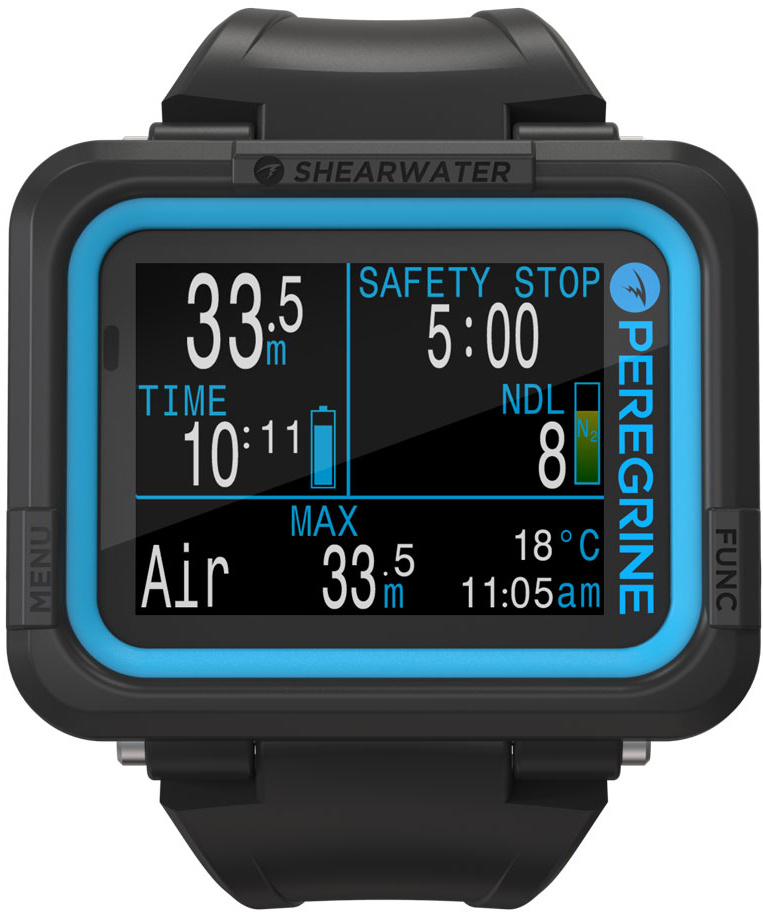 The Shearwater Peregrine is a simple and easily dive computer that offers great value for the money. It is a multi-gas dive computer with a nice full-colour display. The Shearwater Peregrine has 4 diving modes (Air, Nitrox, 3 gas Nitrox and Gauge). It is a dive computer that is usable for divers of all experience levels.
The display is customizable with information that is important to you. One of the great things is the rechargeable and uses wireless charging. Like other dive computers in our top 12 best dive computers, it comes with a Bluetooth connection. This allows you to share information on multiple devices such as your smartphone. When using the free Shearwater Cloud app, the diver can review, edit and synchronize dive logs. Divers can also update the firmware or change the language on the go.
Pros and cons for the Shearwater Peregrine:
Wireless Bluetooth connection
Customizable display
Rechargeable battery and wireless charging
Easy to navigate
Vibrating Alarm
No air integration
No digital compass
Buttons can be difficult to push underwater with gloves on
High-level dive computers: For those that want the best of the best.
High-end dive computers are very suitable for those demanding more from their dive computer. If you want to make deep dives, cave diving or Trimix dives, you want to take the best computers on the market with you during your dive.
With the latest technology, you are fully prepared to make that specific dive you are planning. Some examples of a High-end Computer are Suunto EON Steel Black, Scubapro G2 or the Shearwater Perdix 2 Ti.
9.    Garmin Descent MK2 & Mk2i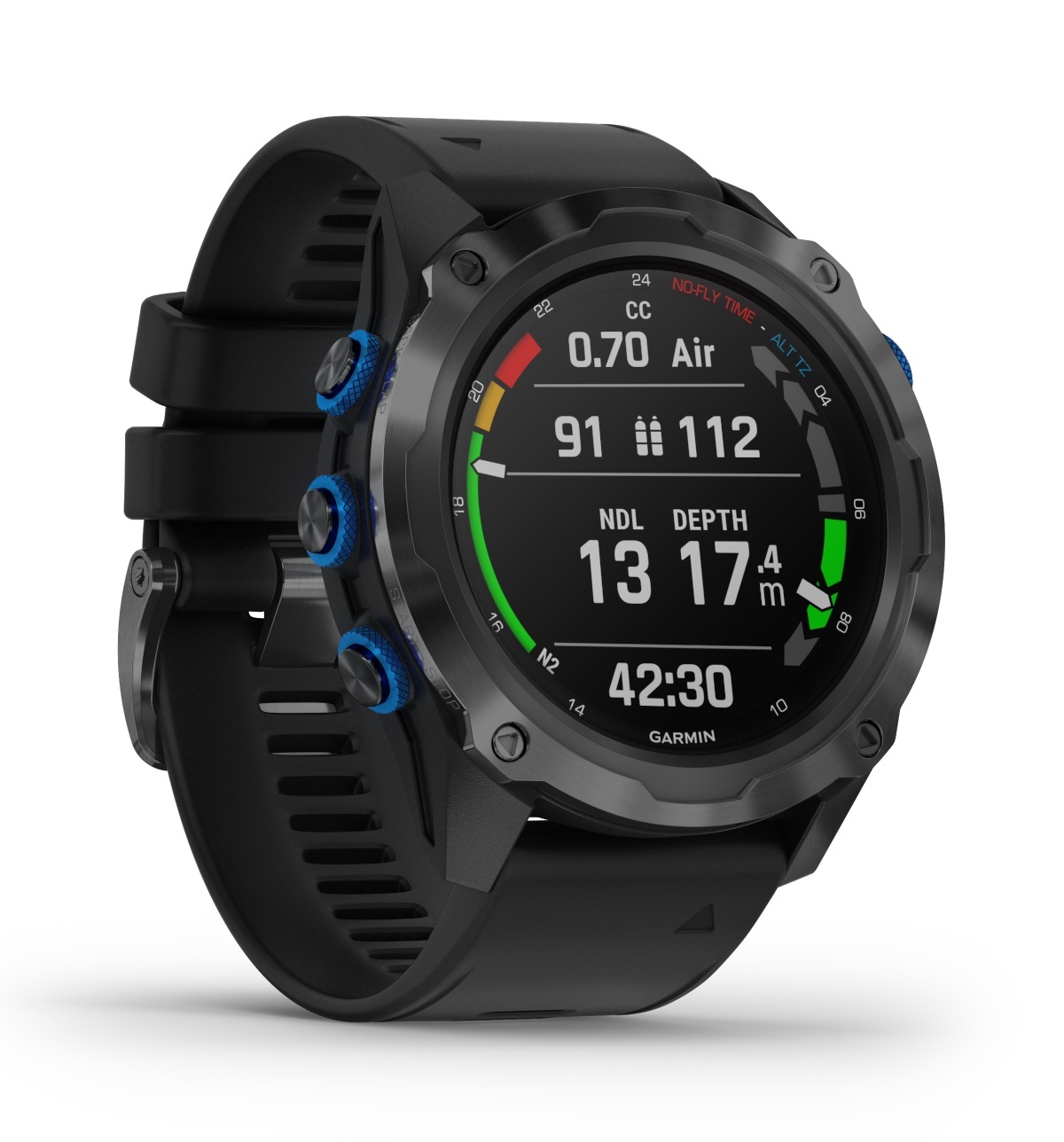 The Garmin Descent MK2 was introduced in 2020 and is already on our list of the best dive computers. The Garmin Descent Mk2 is the successor of the Garmin Descent Mk1. It is an advanced watch-style dive computer with multisport training and smart features. This dive computer is gas integrated (Nitrox and Trimix, maximum 100% O2). If you're looking for air integration you need to go for the Garmin Descent Mk2i.
The Garmin Descent MK2 has a larger display, waterproof inductive button technology, customizable data fields and more. Equipped with the most wanted functions and the dive computer is suited for everyday use and this makes it very versatile. This also makes it one of the most advanced and sought-after dive computers on the market.
Pros and cons for the Garmin Descent Mk2 & Mk2i :
Suited for everyday use
Equipped with functions such as GPS tracker, heart rate monitor, sports apps, music, Garmin pay, Smart notifications, compass and much more.
Customizable display & data fields
Long battery life
No cons but this high-end dive computer comes at a price.
View the Garmin Descent MK2i for air integration!
10.  Suunto EON Steel Black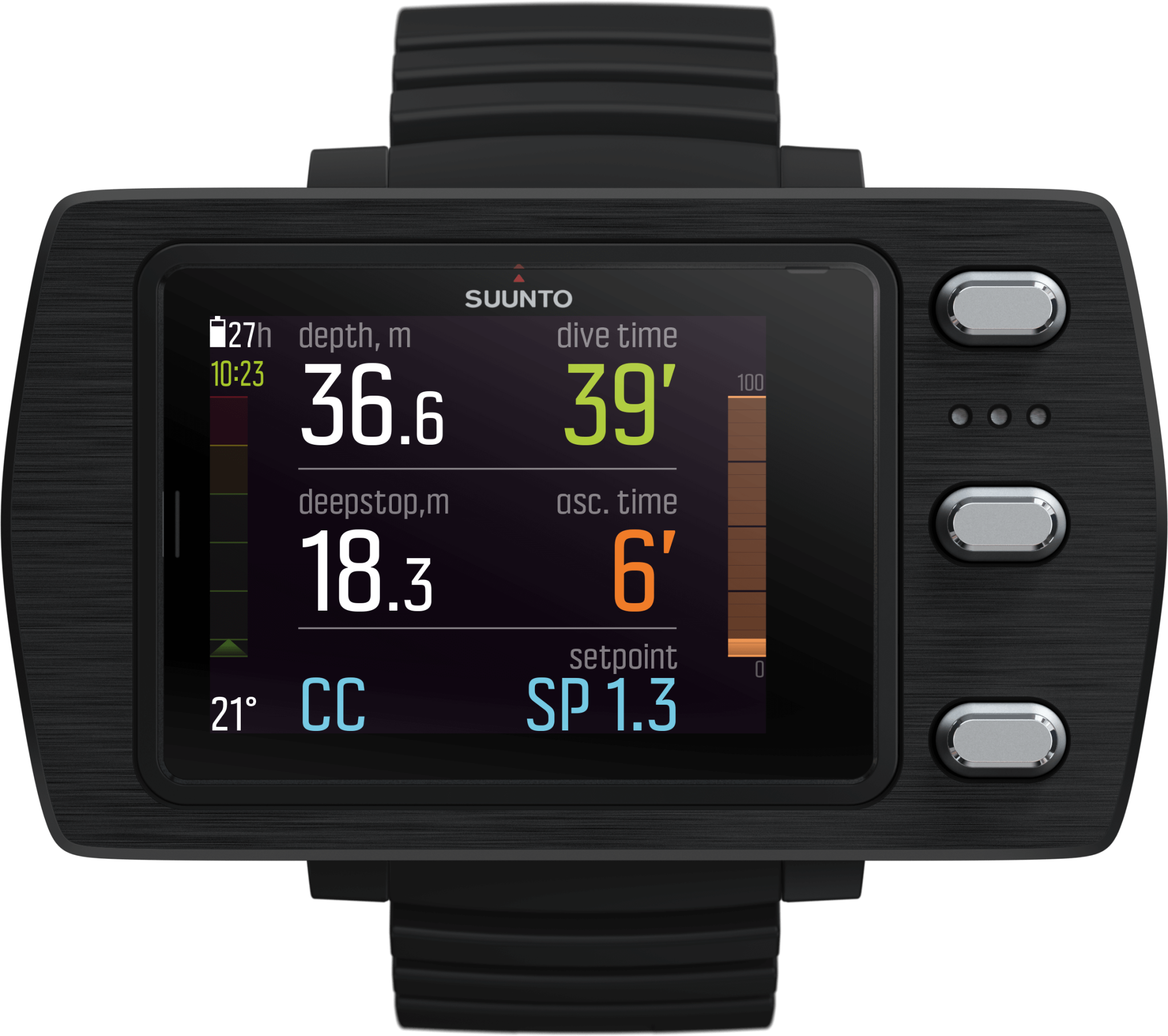 The Suunto EON Steel Black is the latest model in the Suunto range. It is the successor of the previous Eon Steel. This is the first technical computer that has two different algorithms build in. First for recreational use the Fused RGBM2, and for technical use the Bühlmann algorithm to be adjusted for personal preference.
With this new Eon Steel Black, you can connect up to 20 different tank pods and has a battery life of 40 hours of diving and logbook storage of 200 dives or 400 hours whatever comes first.
After connecting the Eon Steel Black to your smartphone using the Suunto app, you can download your dives to your phone for backup and even share your experience to social media adding pictures and location.
Pros and cons for the Suunto EON Steel Black:
The first dive computer with two different algorithms
Rechargeable battery
Big display and easy to use buttons
Wireless connection
Bigger than most dive computers
Can take some time to adjust to
View the Suunto Eon Steel Black With USB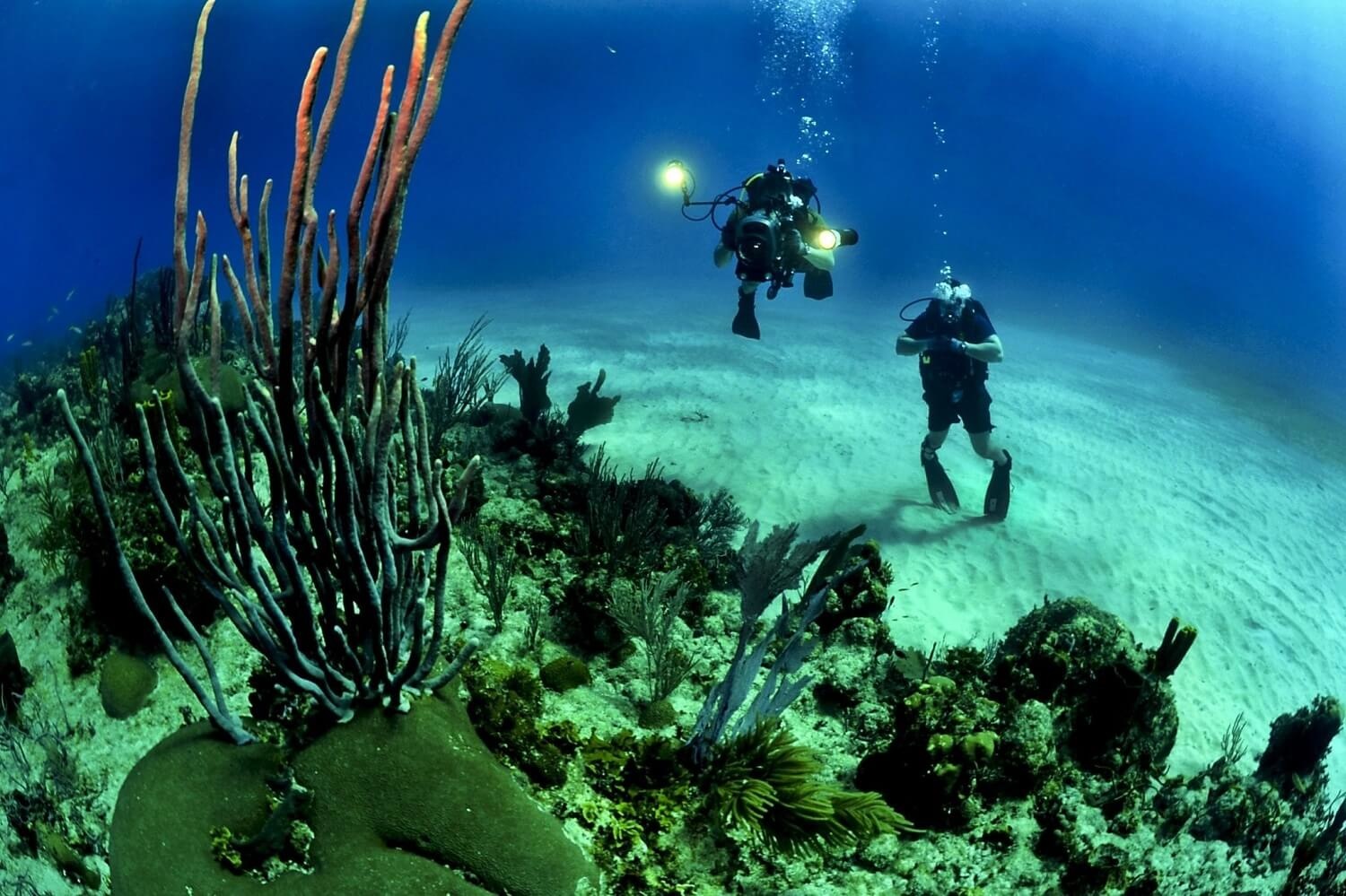 11.  Scubapro Galileo G2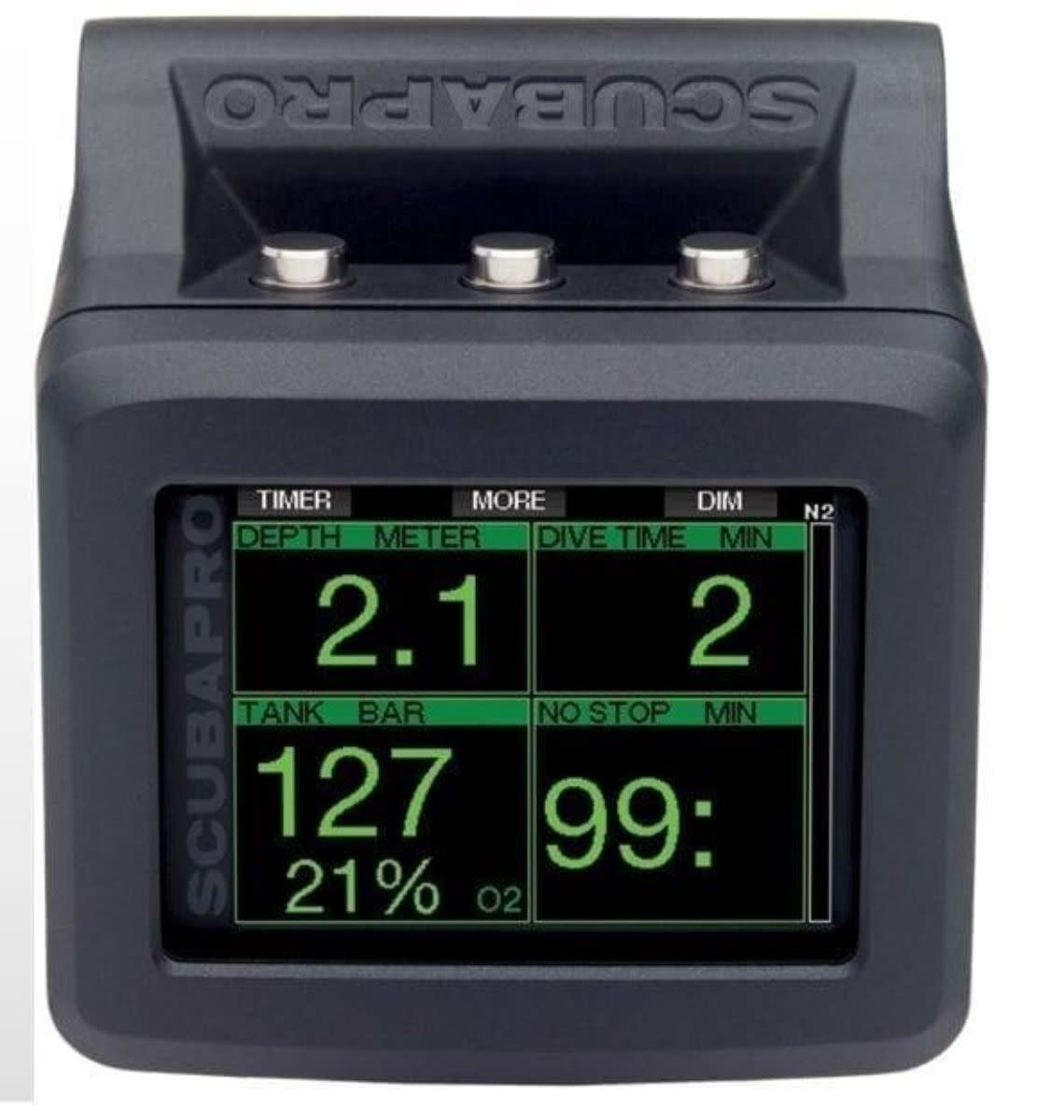 When making some serious dives you want to take the Scubapro G2 with you, this computer is one of the most advanced dive computers on the market with five different Dive modes.
The internal logbook can store up to 1000 Logs. The Scubapro G2 shows you all the necessary details you need during your dive. The bright colour display can be personalized with 4 different colour options.
A nice feature in the Scubapro G2 is that all options are included the diver can select any feature upgrade to be activated or deactivated. By activating a feature (trimix, free-diving, side-mount etc.) the 5Gig hard disk can store all features.
The Scubapro Galileo G2 can monitor the human condition: heart rate, breathing rate, skin temperature, and even water temperature with the help of wearable tech, something most dive computers cannot.
Pros and cons for the Scubapro Galileo G2:
Smaller and lighter than most high-level dive computers
Clear display with different colours to better display important data
Long battery life (up to 50 hours)
Ability to monitor the human condition
The number of features can intimidate beginners
Less suitable for divers with no stop dives
12.  Shearwater Perdix 2 Ti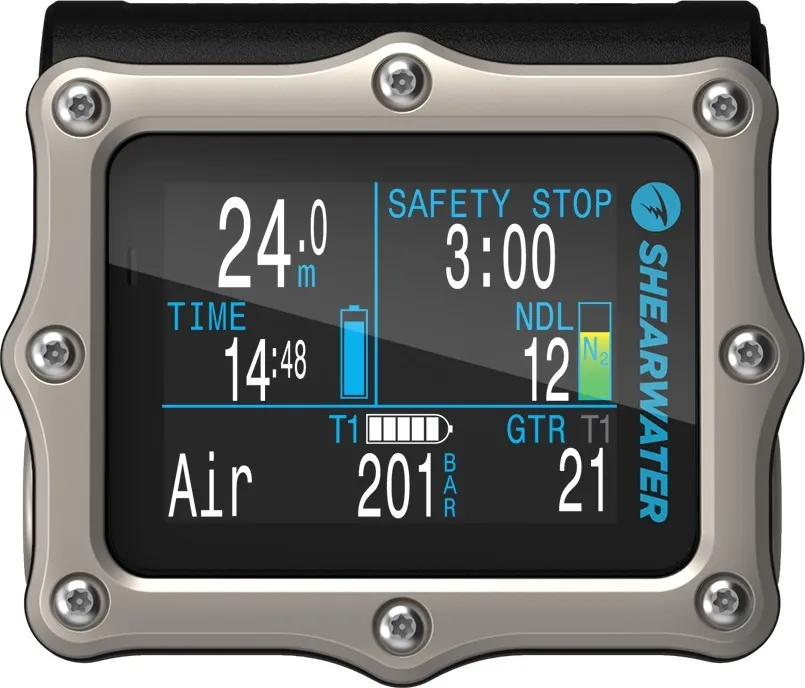 The Shearwater Perdix 2 Ti has a bright colour display and is easy to use with the 2 buttons on the side of the computer. The Shearwater Perdix 2 Ti is very popular under Technical divers due to the fact they can add different gasses and adjust the PPO2.
The Shearwater Perdix runs on one AA battery and has a battery life of approx. 40 dives. When it runs out of power you can replace it yourself.
Pros and cons for the Shearwater Perdix 2 Ti:
Easy to read display
Supports up to 5 gasses
Customizable display
Upgradable firmware
Suitable for tec divers and beginners; it grows with your needs
Bigger than most watch style dive computers
View the Shearwater Perdix 2 Ti
Need advice? We are glad to help!
When you are a starting scuba diver you can go with an entry-level dive computer or Mid-range dive computer, depending on your wishes. The entry dive computer does what it needs to do without needing extra functions for dives you are not certified of.
When diving with multiple gasses you want to go for a mid-range or high-end computer. The high-level dive computer is very suitable for technical use.  We are happy to provide you with personally tailored advice. Take a look online at our extensive selection or contact us!