Which regulator suits you?
When we talk about a regulator, we always talk about a complete regulator set consisting of a first and second stage. We strongly recommend that divers buy both parts of a regulator of the same brand. This way you ensure that your regulator can perform optimally.
We receive many questions about regulators every day. Which one is suitable for my dive trip, which brand and model is the best and how do I choose a regulator that suits me? In this blog you can read what types of regulators exist and for which types of dives you can use them.
Entry level: suitable for holiday use
Our entry level regulators are simple and, in most cases, unbalanced. These piston-controlled regulators provide the same breathing comfort regardless of depth and cylinder pressure. These regulators are often not suitable for cold water (water below 12 ℃) and are often used for holiday use. Examples of entry level regulators are the Scubapro MK2 EVO R195, the Mares Dual ADJ 52x and the MK 11 with C370.
Scubapro MK2 EVO R195
This regulator is ideal for divers who want to keep their dives simple and affordable. The MK2 EVO and R195 together form a reliable system that is easy to maintain and use. This regulator has a larger piston than other regulators, which ensures better breathing performance.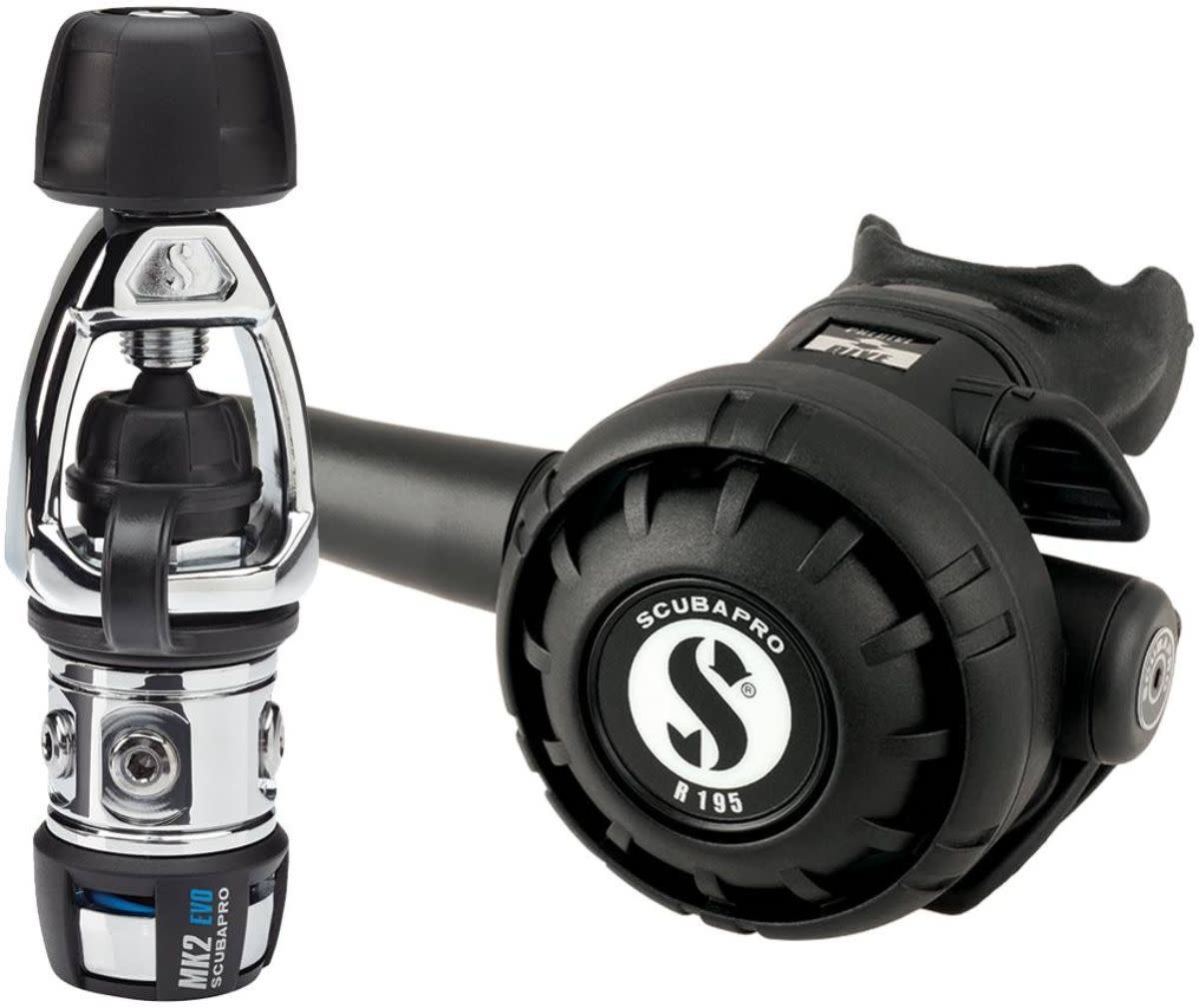 View the Scubapro MK2 EVO R195
Mares Dual ADJ 62X
The Dual ADJ regulator is ultralight with adjustable breathing comfort. All this combined with the 52X, a small first stage with Auto Sealing Technology (AST) that is excellent for use in cold water.
Scubapro MK11 C370
The balanced diaphragm MK11, with its chrome-plated brass body specially designed to reduce size and weight, is an ideal travel companion.
Mid: optimised breathing comfort
Mid-range regulators offer a lot more comfort than those at entry level. These regulators are almost always balanced. They are optimized and offer the same pleasant breathing comfort throughout the dive. These regulators are almost always suitable for diving in cold water. Examples of mid-range regulators are the Scubapro K17 EVO S620Ti, the Mares Ultra 72X and the Apeks XTX50 Regulator.
Scubapro MK19 EVO S620Ti
No matter how cold the water is, the Scubapro MK19 EVO S620Ti makes it possible to breathe easily because it is fully protected from water. Even under extreme diving conditions, this regulator ensures a stable air supply. The regulator is made of high quality, durable materials such as titanium and membrane.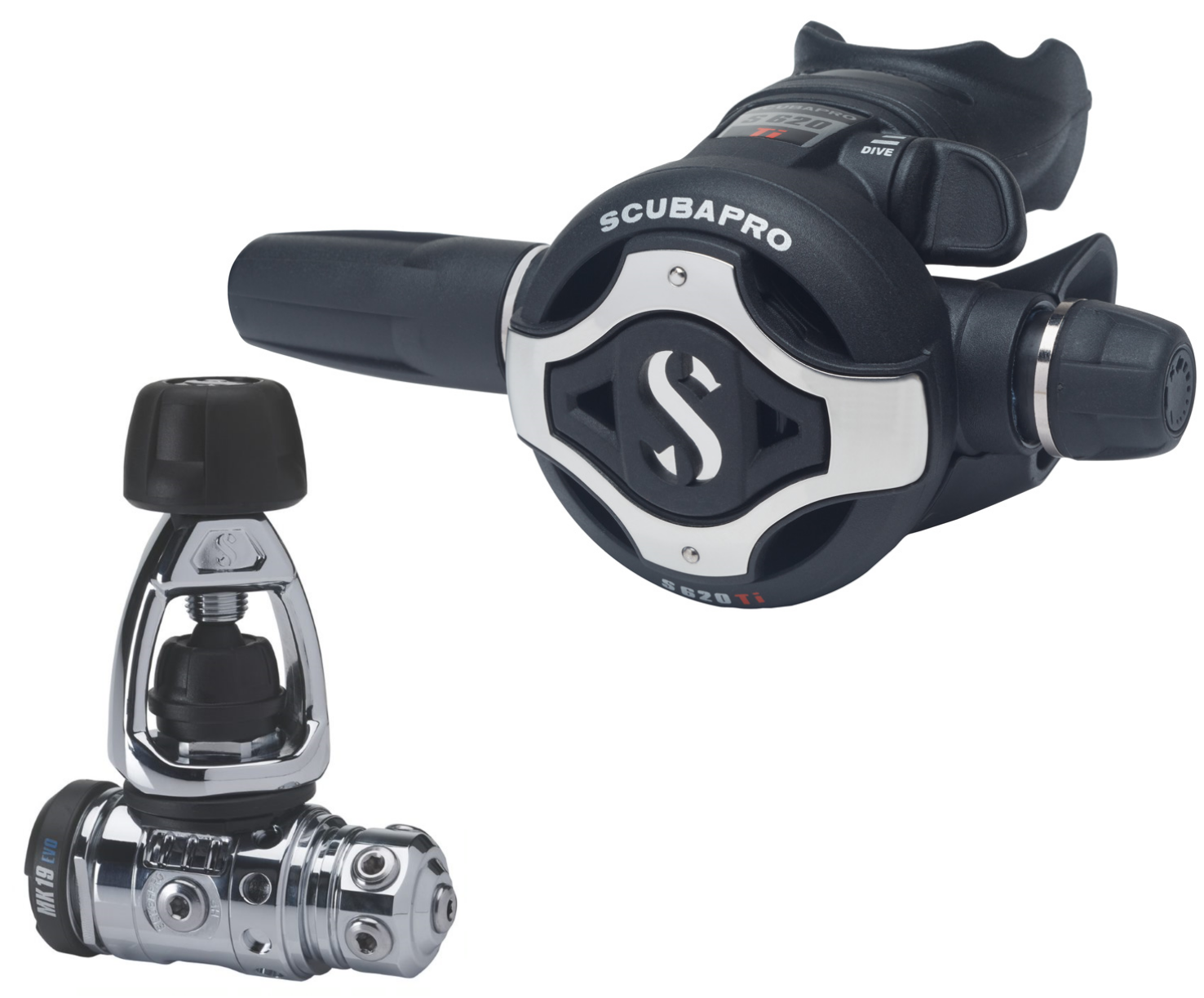 View the Scubapro MK19 EVO S620Ti
Mares Ultra 72X
Mares' Ultra regulator is made from ultralight technopolymer, offering high air flow and a Twin Power system. This is combined with the great 72X first stage, ideal for all tech and recreational diving configurations!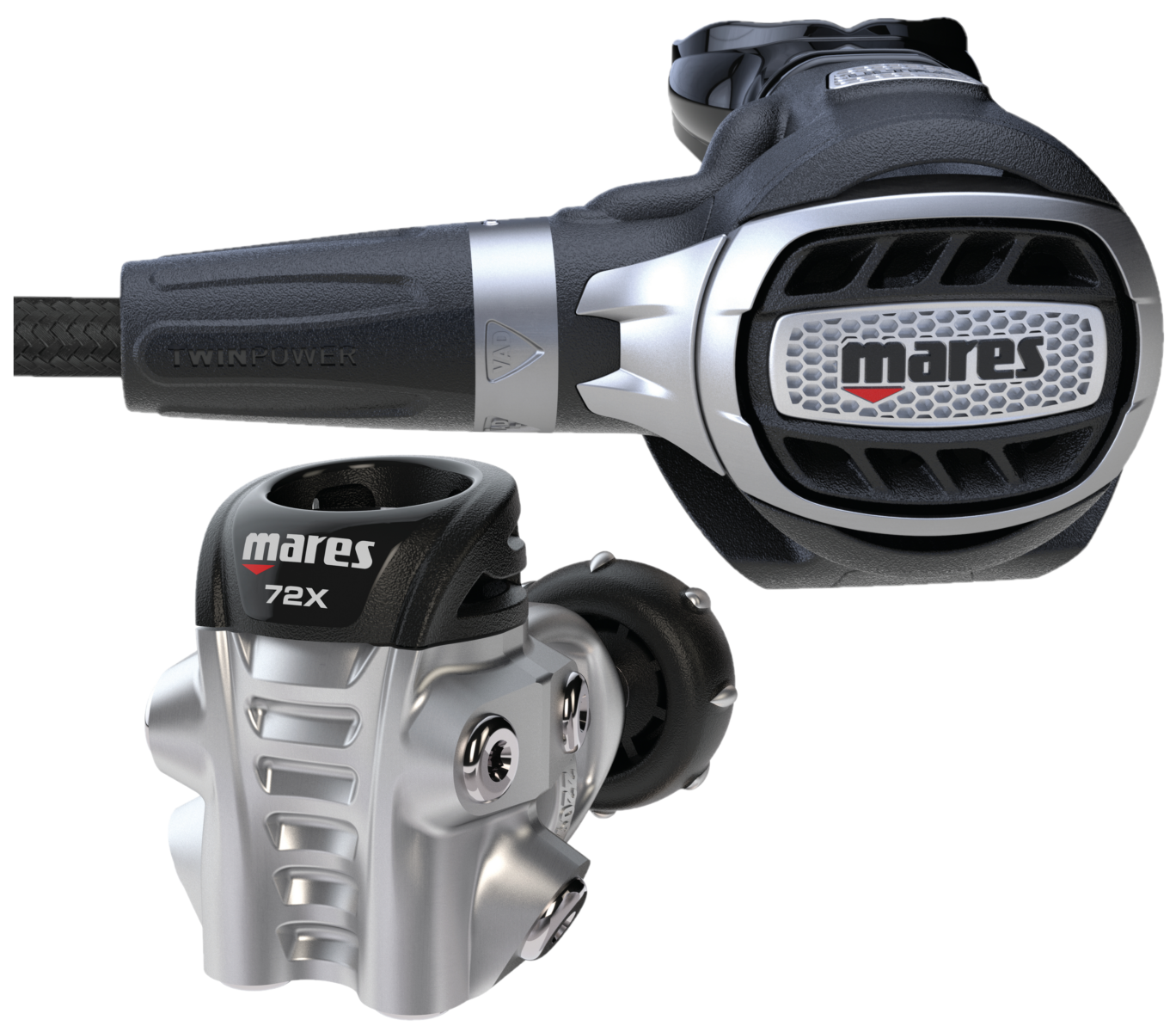 Apeks XTX50 + DST Regulator
The Apeks XTX50 Regulator is ideal for divers who focus on underwater technology. This regulator has been developed with a new technology that reduces bubbles under water. The silicone design ensures very good breathing performance.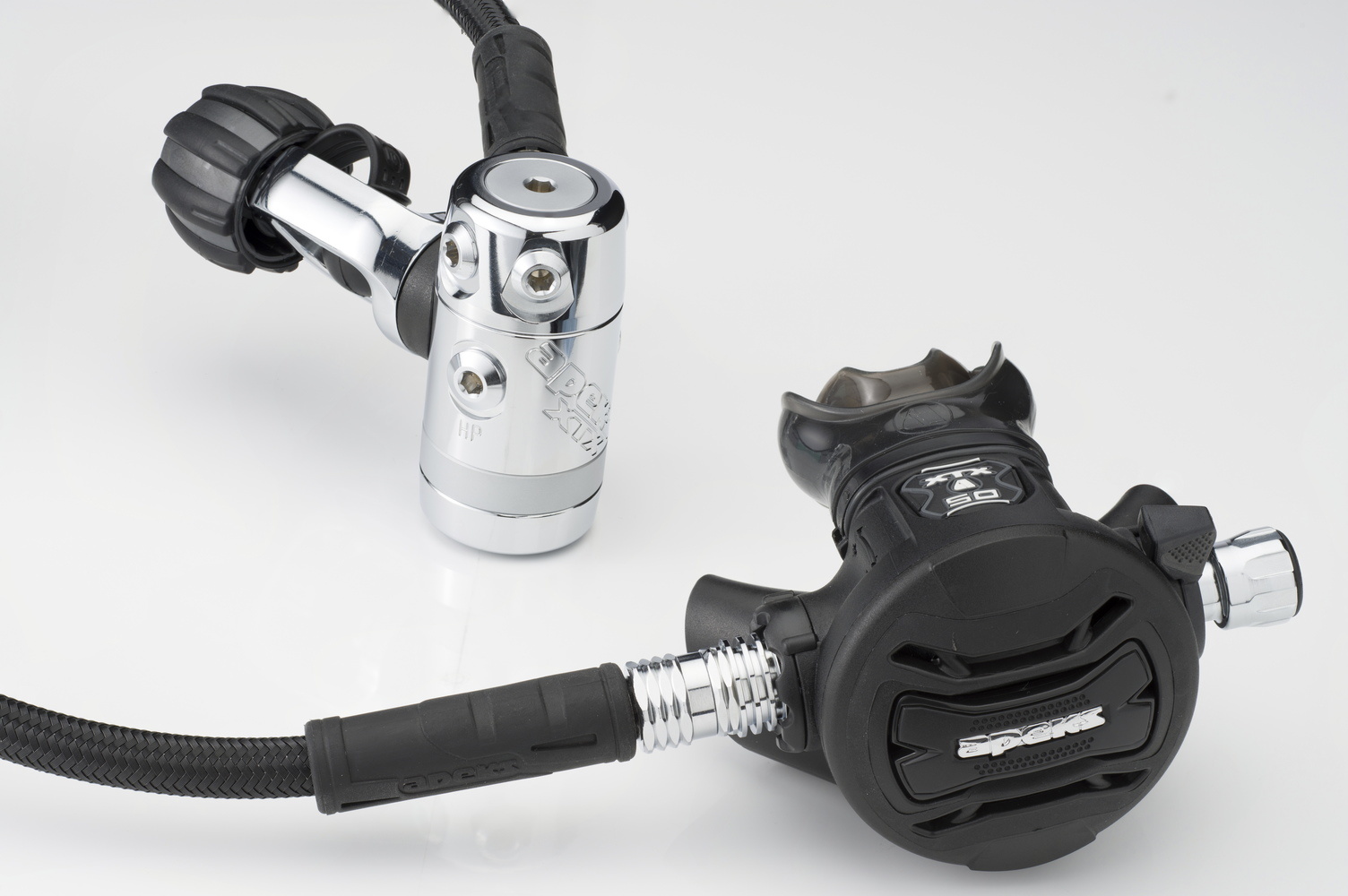 View the Apeks XTX50 + DST Regulator
High-end: suitable for the technical diver
Our high-end regulators are manufactured using durable, lightweight materials. Many of these regulators are made of titanium. This strong but lightweight material offers very good corrosion resistance, even in salt water. Our range of high-end regulators consists of technical sets. These sets are very suitable for the technical diver who makes deep dives in cold water. Examples of high-end regulators are the Scubapro MK25 Evo A700, the Mares Fusion 52x and the Aqualung Leg3nd.
Scubapro MK25 Evo A700 Carbon Black Tech
All the features and breathing performance of the MK25 EVO/A700 with the addition of a Black Tech coating that protects both stages against the ravages of salt water and corrosion. The combination of the Scubapro MK25 Evo and Scubapro A700 ensures high airflow for all types of dives. The integrated air balanced valve technology allows exceptionally high breathing performance. This regulator offers excellent protection against cold water.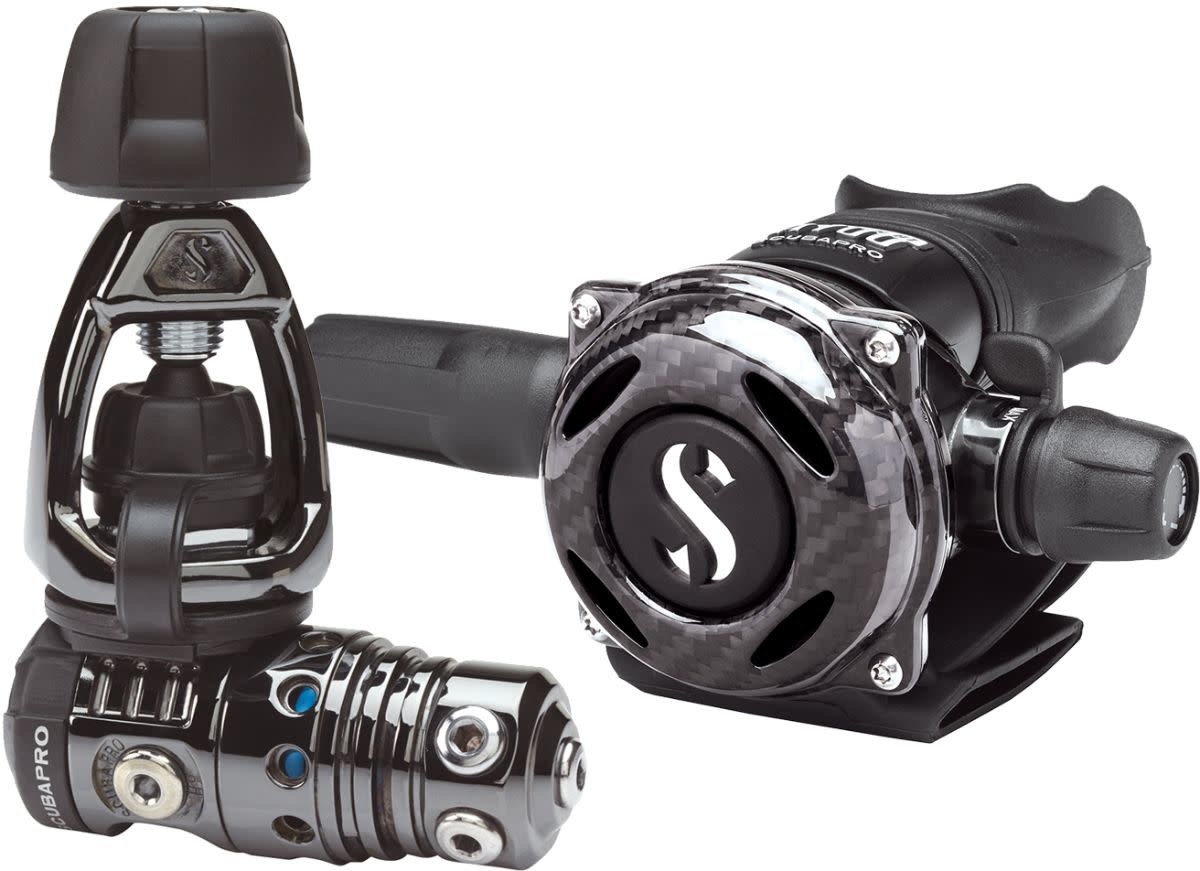 View the Scubapro MK25 Evo A700 Carbon Black Tech
Mares Epic ADJ 82X
Technological innovation and an exclusive design, featuring a second stage with twin power system and balanced-diaphragm first stage!
Aqualung Leg3nd
The Aqualung Leg3nd is the new and improved version of the Aqualung Legend series. The Aqualung Legend series exists for a long time, with the Leg3nd being the third generation. The Leg3nd has been improved to increase breathing comfort.
Choose between three versions: the Aqualung Leg3nd, the Aqualung Leg3nd MBS and the Aqualung Leg3nd Elite.
View the Aqualung Leg3nd Elite
Our advise about regulators
The regulator that suits you depends mainly on what kind of dives you make. Do you dive mostly during holidays and do you stay in warm, relatively shallow waters? Then an entry-level regulator offers enough options to dive comfortably. Are you a technical diver who wants the opportunity to dive deep in cold waters? Then a high-end regulator suits you better. Do you still doubt which regulator suits you after reading this blog? We are happy to give you advice! Contact us or visit us at our offline megastore.