The Scubapro Hydros Pro is a revolutionary BC that can be customised in colour, pockets and accessories. The Scubapro Hydros Pro is delivered in a luxurious storage bag. In 2016, it won the Red Dot Award for product design. Color kits are not mounted.
The HYDROS PRO is a true breakthrough in dive comfort and convenience. The moldable Monprene®, adjustable fit and multi-attachment points combine to make this the most customizable and comfortable BC ever. Winner of the 2016 Red Dot award for product design, the HYDROS PRO is an incredible feat of SCUBAPRO engineering, built for anyone who loves to dive.
Durable
Monprene® construction means ultra durability. The HYDROS PRO also stands up to UV, chemicals, and abrasion -- without showing typical signs of wear.  And a modular construction makes repairs -- even from remote locations -- a snap. It's a BC for life.
The Perfect Fit
When you are wearing the HYDROS PRO, you won't even know it's there. The HYDROS PRO molds to your specific body shape, and has been designed with body grip gel, providing extreme comfort and stability. Near-Zero inherent buoyancy means less lead. And, thanks to a back inflation, smart air system you can dive in any position.
2-in-1 BC
The HYDROS PRO includes both the Trav-Tek straps and a fully integrated weight system. So, with a quick switch of clips, you can transform the HYDROS PRO from a harness travel BC to an integrated weight BC. Now you only need one BC for both local diving and travel.
The revolutionary Scubapro Hydros Pro
The Scubapro Hydros Pro is rightly a ground-breaking development in the field of dive comfort and ease. Thanks to the Monprene that is cast, the adjustable fit and the multiplicity of attachment points, this is the most personal and comfortable buoyancy compensator by the brand Scubapro. In 2016, they won the Red Dot Award 2016 with this product. The interchangeable straps, the possibility to pack it small and compactly, and the backpack with space for your entire diving equipment, make the Scubapro Hydros Pro perfect, regardless of where you will be diving. Different colours are possible, and separate colour sets are available too. This way, you can dive in a different colour whenever you want!
Sustainable and strong thanks to Monprene
Thanks to the use of Monprene, the buoyancy compensator is extremely sustainable. Moreover, the Scubapro Hydros Pro is resistant against UV, chemicals and wear. The modular construction makes repairs very simple. The Scubapro Hydros Pro fits perfectly.
Scubapro Hydros Pro, the perfect BC for every diver
The buoyancy compensator hardly has any buoyancy, and this means less weight. Because the air chambers are located on the back and the air can move easily, you can dive in every position. This makes the Scubapro Hydro Pro the perfect buoyancy compensator for instructors, technical divers, traveling divers, female divers, young divers, new divers and dive trainings.
Need help with the purchase of a Scubapro Hydros Pro?
Are you looking for a buoyancy compensator that fits you and your diving habits? The Scubapro Hydros Pro is a buoyancy compensator for the professional diver par excellence. The experienced experts at Lucas Divestore gladly tell you more about this buoyancy compensator and are happy to discuss the Scubapro Hydros Pro with you in comparison to other buoyancy compensators in this segment. Thanks to our many years of experience, we are able to provide you with expert advice. Visit our store in Nijverdal some time or ask your question online. We are pleased to be of assistance!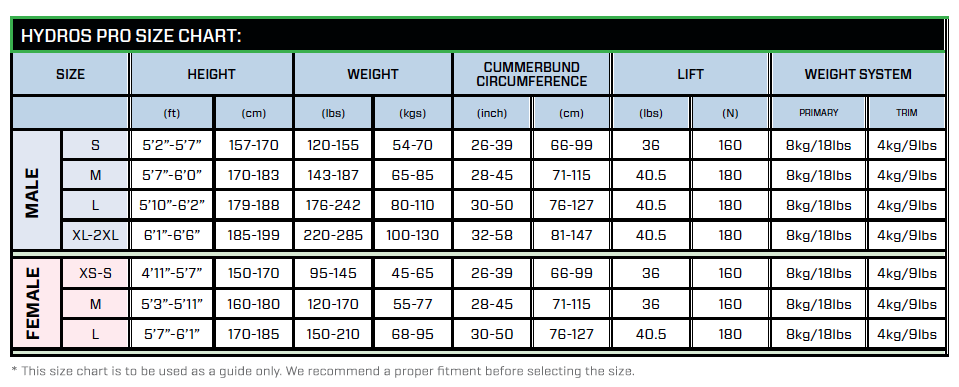 Click here and read our Blog about Scubapro BCDs!
Click here and read our Blog about the Scubapro Hydros Pro!
Click here and read our Blog about stab jackets!