Trim vests and stab jackets
A trim vest is indispensable for every diver and is also known under the names stab-jacket (from stabilizing jacket) and BCD (Buoyancy Compensator Device). Trimming can be compared to the way fish determine their height in the water. If you have ever cleaned a fish, then you know that there is a cyst in every fish. The fish fills this bubble with air to determine at what depth it wants to swim. With a trim vest you also determine by means of air at which depth you want to dive.
Descending during a dive
To be able to go underwater with a Neoprene suit, you have to eliminate the buoyancy, for this you use either a lead belt or a lead integrated barge. As you go deeper, your suit becomes thinner and loses its upward buoyancy. This makes you increasingly negative underwater. To compensate for this, use your BCD.
Lead-integrated trim vests and weight belts
Approximately 90% of all divers use a lead-integrated trim vest. You put soft-lead bags in the detachable lead pockets of your BCD. There are also trim vests that are not integrated with lead. In that case, you as a diver wear a weight belt to still have enough weight with you to be able to descend during your dive.

How much lead do you need during a dive?
With every dive, it is important to fill your lungs and empty your BCD. As soon as you exhale, you are already sinking a little. We also call this 'unleading'. It is important to do this, because this way, you use exactly the amount of lead that you need during your dive. The amount of lead depends on your body weight. The rule of thumb is: a diver carries about 10% of his body weight in lead.
Types of trim vests
There are three types of trim vests: traditional, semi-wing and wing. Which model is suitable depends on the type of dive and personal preference.
Traditional: can be both lead-integrated and non-lead-integrated, the entry-level models often do not have this option of lead integration. The air automatically distributes evenly over your entire vest.
Semi-wing: this model is often lead-integrated and gives the effect of a wing model, because the air is distributed on the back. As you continue to inflate the vest, the sides of the vest are also filled with air.
Wing model: this model is also often lead-integrated, however, there are traveling vests with a wing model that do not have this. The air is only on the back. That gives the advantage that you can swim very well horizontally with this model vest, so you have less resistance in the water.
Parts of the vest
Each vest has a number of indispensable parts, so you can fasten the vest and have all the necessary parts to make a safe dive, think of D-rings and fastening clips for console or octopus.
Breath regulator
Your jacket/trim vest is also connected to your breath regulator by means of the inflator hose, which works on medium pressure of this regulator. There are several buttons on the inflator unit. When you press one button, air comes in your vest, you press the other button, then the air goes out of your vest. In addition to these breather valves, there are often three other valves to allow you to quickly breathe your BCD in any desired position under water. Quick venting is necessary, because otherwise you would rise to the surface too quickly.

Backpack
The backpack (back plate) clamps the diving bottle on the back by means of a strap. Sometimes there are extra pockets on which you can put extra lead (trim weight pockets) in order to be able to trim better.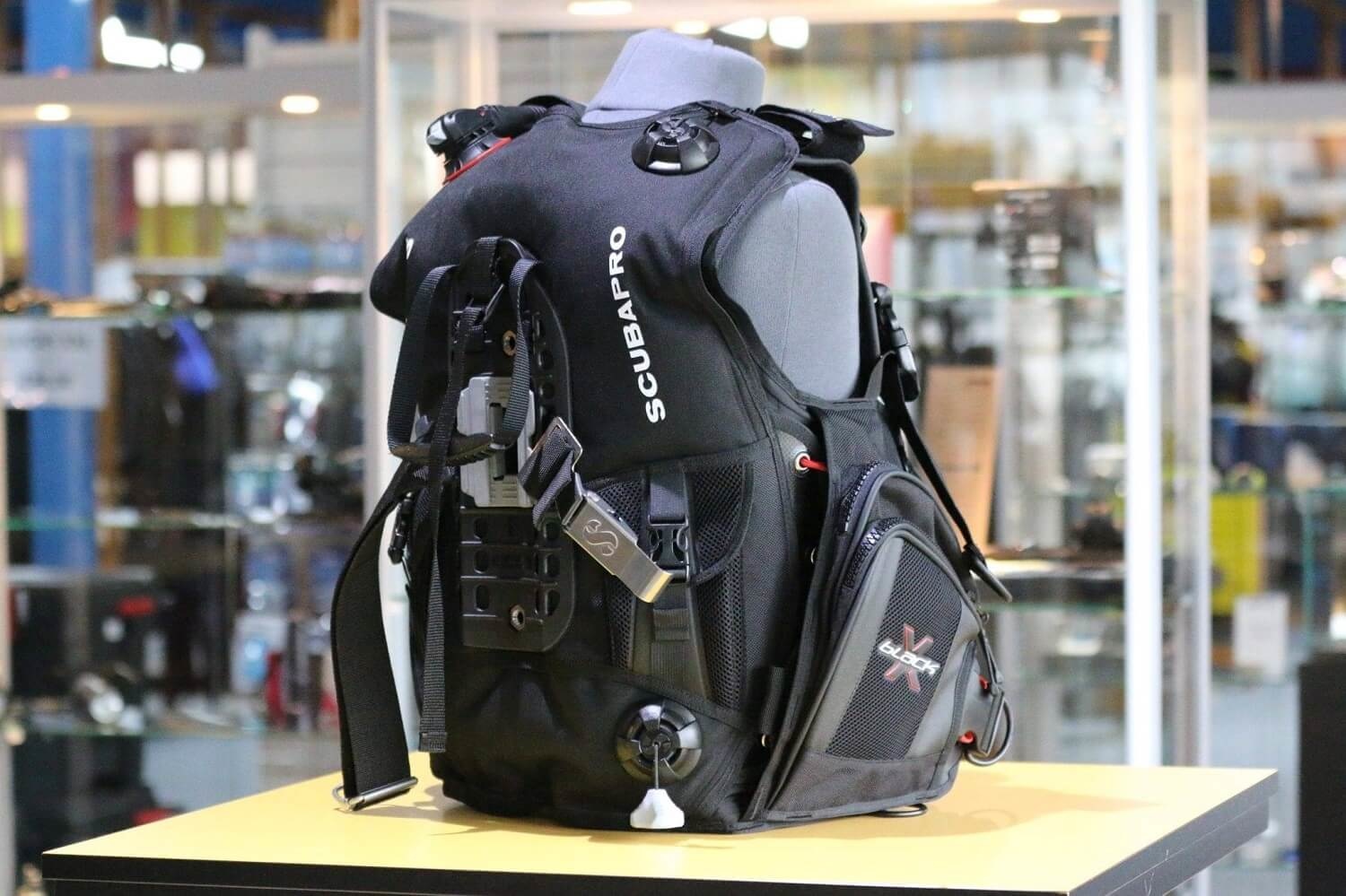 Shoulder straps
Almost all trim vests are equipped with shoulder straps with buckles. There are also jackets that are optimised for women, there are the bands adjusted, so it is also pleasant around the breasts.
Cummerbund
As soon as you put on your vest, you close the Velcro of your cummerbund/belly band and then close the buckle.
D-rings
On trim vests are metal or plastic rings where you can hang your accessories, such as a camera, lamp, hammer or chisel.
Need help choosing a trim vest or stab jacket?
Do you still have questions about trim vests or stab-jackets after reading this blog or would you like to know which model suits you best? We are happy to help you! Contact us.