The innovative Garmin watch. Listen to Halvar's story!
Now there is a new dive computer on the market: the Garmin Descent MK1. This innovative computer is a smart watch, dive computer and sports watch all-in-one. As I work at Lucas Divestore I have immediately treated myself to one. I would like to tell you more about the unique functions of the Garmin Descent MK1, which also has a really cool look. Will you join me?
All-in-one watch
The Garmin Descent MK1 is a smart watch, a dive computer and a sports watch all-in-one. It is great to use for recreational diving, free diving and technical diving. It has many functions including an incorporated compass, a barometer, an altitude meter and a heart rate monitor.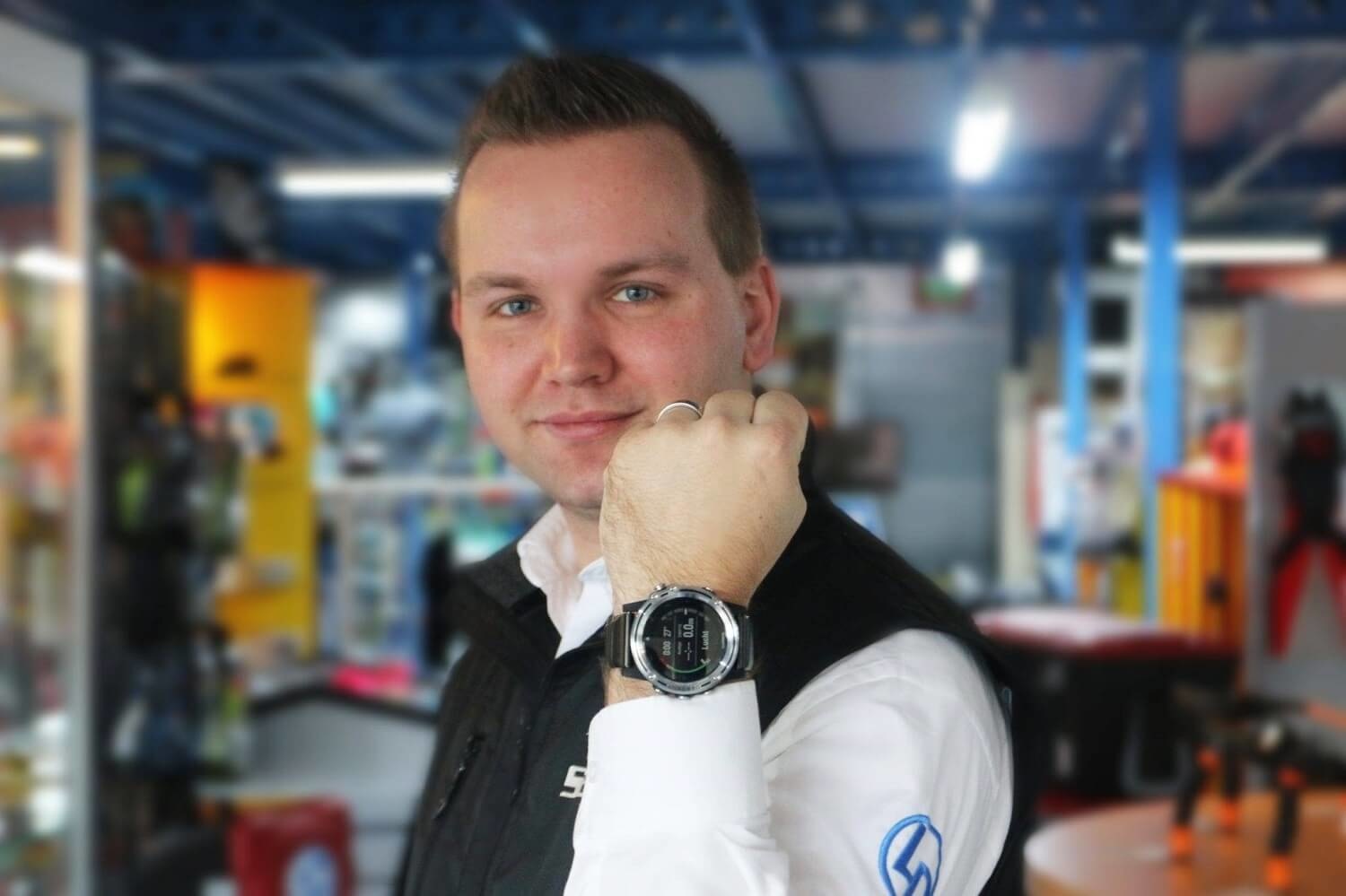 The Garmin Descent MK1 as dive computer
Before you go diving you can set the GPS coordinates. After the dive you can see exactly where you have been. It is easy to set up as the operation is in Dutch. The Garmin Descent MK1 beeps and vibrates to send signals. This is unique because it is one of the only ones with an incorporated vibration function. Ideal for people whose hearing is impaired. When diving you can operate the Garmin Descent MK1 by tapping on the outer ring (bezel ring). When in diving mode the battery has a lifespan of 40 diving hours. You can charge the watch via a cradle.
Can also be used a sports watch
Would you also like to use the watch for other activities? No problem, with the 'multi-sports' options you can select different sports. It has many options such as golfing, forest walks, walking, walking on a treadmill, hiking, mountain biking, swimming, skiing, snowboarding, surfing, rowing, cardio and weight training.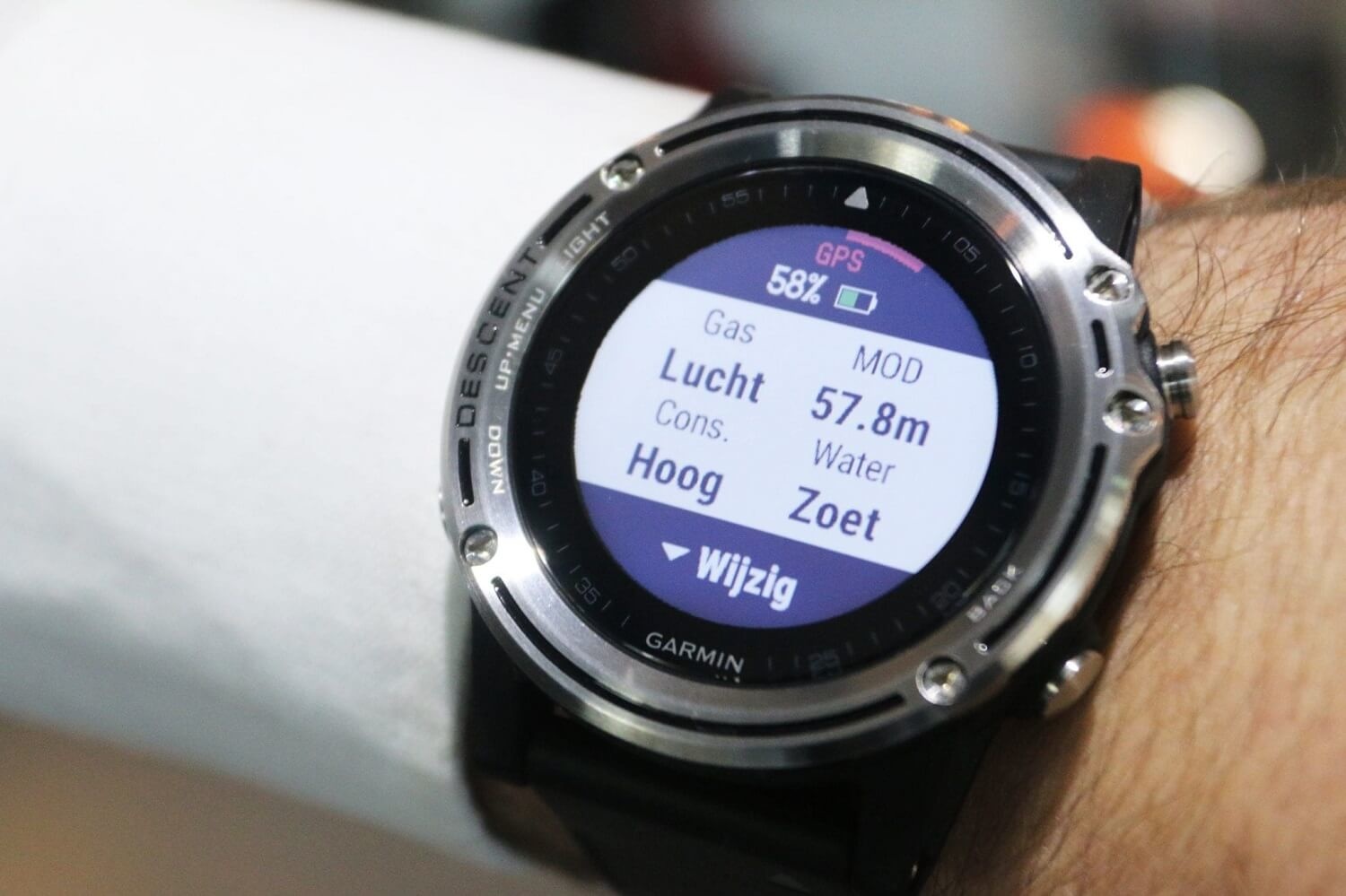 An extensive Smart Watch
Probably the coolest feature of the Garmin Descent MK1: it has all the functions of a Smart Watch. It is connected to your mobile phone and monitors what you do for the rest of the day, such as your physical activities. You can even set the activities that you want to monitor. It also has functions like e-mail, navigation and WhatsApp. You can completely customise the watch. For example, you can select the design of the dial and you can upload pictures from your mobile phone.
Simple quick release straps
I find the replaceable straps very handy. All straps are available separately in various colours, so you can simply switch between a metal or a silicone strap. The watch comes standard with a silicone strap and an extra long strap, so it fits easily over your diving suit.
Two variants of the Garmin Descent MK1
The Garmin computer has two variants, the standard Descent MK1 and the Descent MK1 Titanium. The standard Descent MK1 has silicone straps and a metal-coloured bezel ring. The Descent MK1 Titanium has a black outer ring with a blue accent and is designed with a titanium strap. This straps is also available separately.
Would you like to know more about the Garmin Descent MK1?
Would you like to know more about the Garmin Descent MK1? Why not visit our showroom? I gladly tell you more about it. Want to read about the best dive computers we have? The blog by my colleague Marco will tell you all about it.