Diving with a dry suit for beginners
In cold water (water below 13℃) we always advise divers to go diving with a dry suit. A dry suit is completely waterproof and provides insulation via the air space in the dry suit. This air space, combined with the under suit ensures that you stay warm and can dive comfortably. It is important that you adjust your under suit to the temperature during and the depth of your dive. In this blog you can read everything about dry suits.
What do you wear under a dry suit?
When you go diving in a dry suit, it is very important that you wear the right clothing underneath. You must select your clothing depending on how cold the water is. Do you have a thick Neoprene dry suit? Then if the weather is warm and the water is (relatively) warm, a thin underlayer like a sweater and sweatpants are probably sufficient. But if it is colder, you should choose an under suit. These are available in four different thicknesses and even keep you warm during long, deep dives in cold water. More information about suitable underclothing can be found in our blog about under suits for dry dives.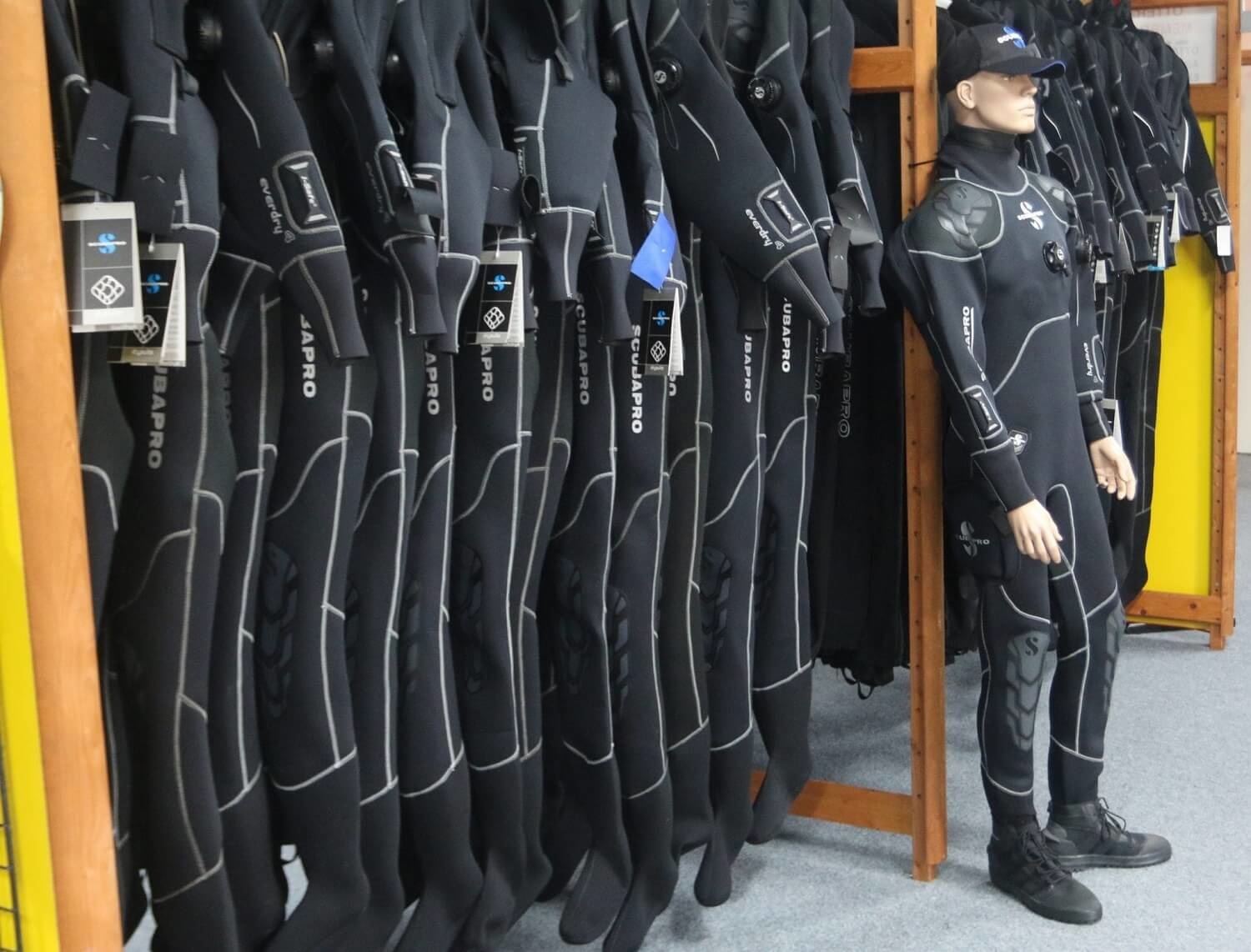 Buoyancy with a dry suit
If you are used to diving with a wet suit, during your first dive with a dry suit you will notice right away that the buoyancy is very different. This is because a dry suit gives you the opportunity to use your suit the way you normally use your buoyancy compensator. You can do this by regulating the air in your suit with the help of the inflator (on your chest) and the deflator (on your arm). In principle, you do not need your buoyancy compensator to establish your depth, because you can also regulate buoyancy with your dry suit. If it feels better to you, you can of course keep using your buoyancy compensator for this.
Tip: With a dry suit you can simply and quickly let the air out of your suit, by moving the arm with the deflator upwards. As soon as you put your arm down again, no more air will be able to get out and you will remain at the desired height.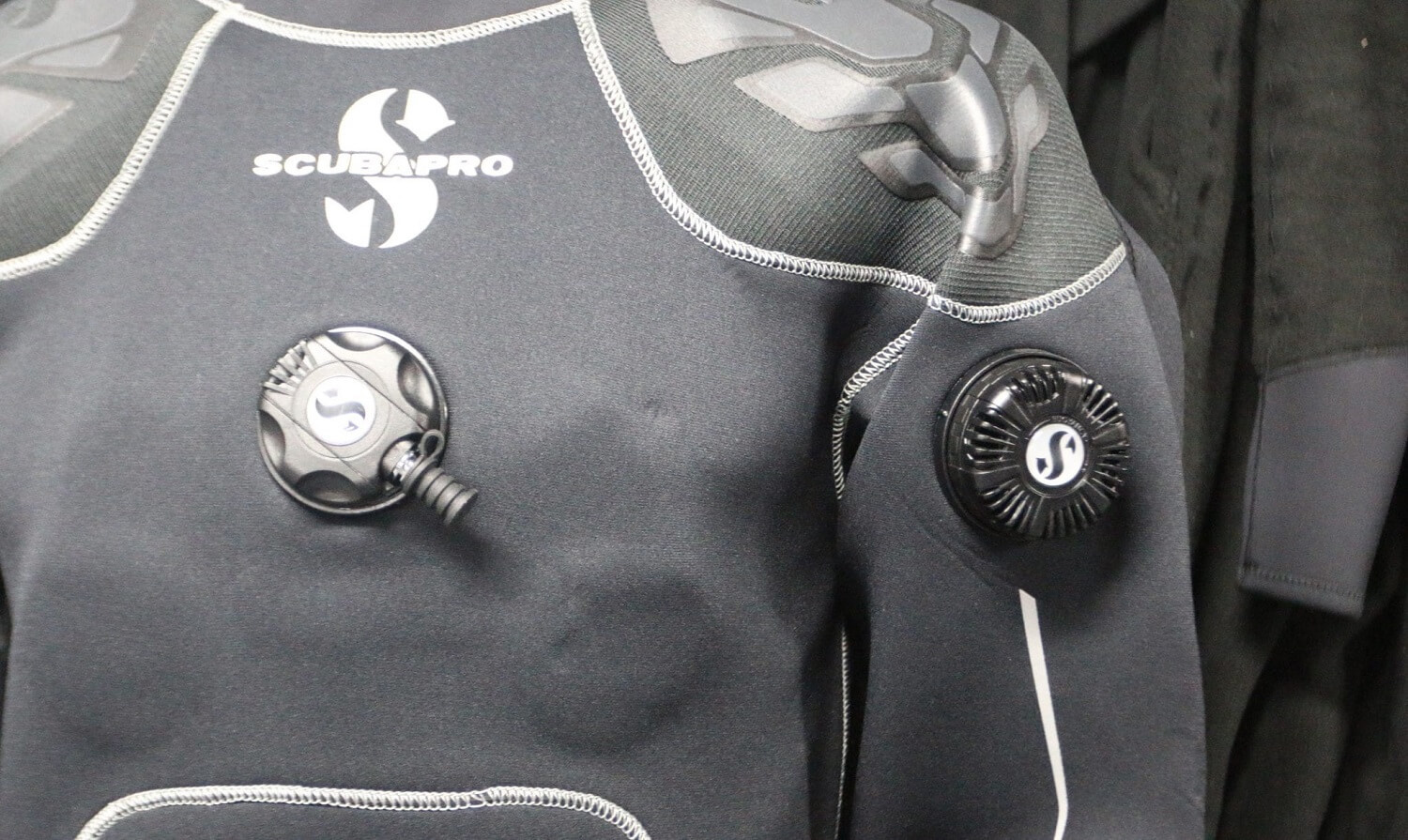 Check your dry suit before you go diving
A dry suit is designed to keep the diver completely dry. Before you go diving, it is important to check a few matters, so that you can be sure that no water will get in your suit once you are underwater.
Wrist closure
Check if the seal at the wrist is tight around the skin, and if it seals completely. The material of your seal depends on your dry suit. Seals are made of latex, neoprene or silicon, which more or less stick to your skin. This ensures that no water can get in.
Neck closure
Just like with the wrist seal, the neck seal has to be completely skin tight as well. A neoprene neck seal has to be folded inwards, to ensure that the material sticks to skin. This is not necessary with latex and silicone neck seals. It is always important to check if the seal fully matches the skin.
Zipper
The zipper is one of the most important parts of your dry suit. You can pull the dry suit on with the big zipper. This zipper is waterproof, and ensures that no water can get in. It is important to take good care of your zipper, so that it stays flexible. Most dry suits come with protection for the dry zipper. This is usually an additional protective zipper or a flap over de zipper. This depends on what drysuit you have.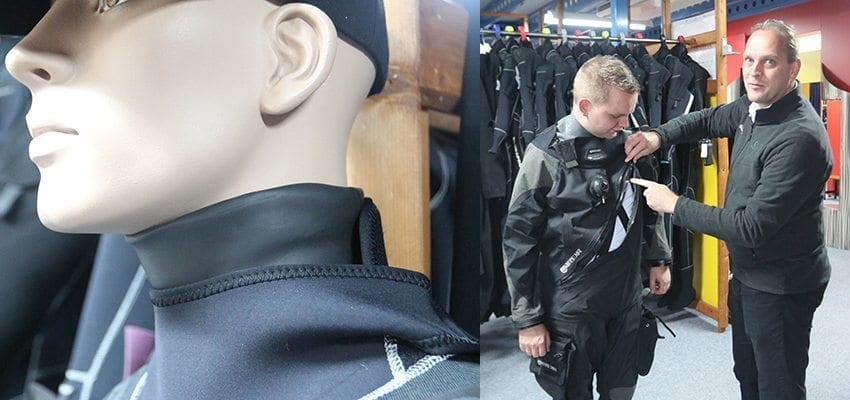 What do you take during your dive?
Thanks to the big pockets of your dry suit you can take many practical accessories during your dive. The pockets are often on the legs and offer room for, for example, your back-up mask, a lamp and wet notes to make notes underwater. Would you like to know more about accessories of dry suits? You can read it in this blog.
Quick diving in your dry suit
Diving in a dry suit is not difficult, but you will have to get used to it. As soon as you are used to it, you will notice that diving in a dry suit is not very different from diving in a wet suit. Another advantage of a dry suit is that you can put on your underclothing at home. You only have to put on your drysuit by the side of the water, and you will be ready to dive in no time.
Would you like to know more about diving with a dry suit?
Would you like more information about the different kinds of dry suits or the appropriate underclothing? We would love to help you! Please contact us via e-mail, telephone or chat or visit our megastore in Nijverdal (The Netherlands).