Unique regulator: Mares Atlas ADJ 62X TBP
As a leading brand in the diving industry, Mares always manages to distinguish itself through innovative and high-quality products. The Atlas ADJ 62X TBP is no exception. With excellent performance and advanced features, this regulator provides you with an unparalleled diving experience, even in the most demanding conditions. You can use it in all water temperatures.
Excellent performance in cold water
Diving in cold water can be challenging, but with the Atlas ADJ 62X TBP, you are guaranteed reliable and smooth breathing comfort. The regulator, equipped with innovative technologies and high-quality materials, is specifically designed to meet the needs of divers seeking adventure in cold waters. It's worth mentioning that all Mares regulators are certified to a depth of 200 meters and tested to 400 meters. They are all CE-approved for cold-water diving.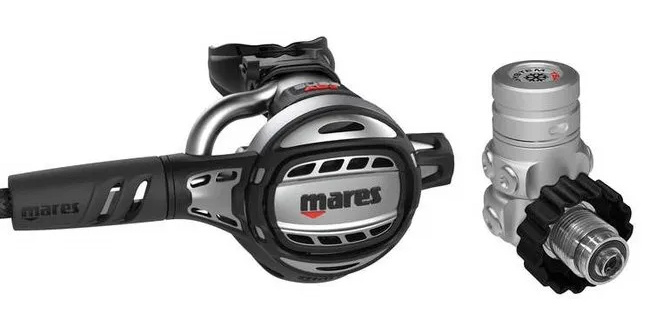 First stage
The first stage of the Mares Atlas ADJ 62X TBP features the latest technologies: TBP technology (Twin Balanced Piston) and AST technology (Auto Sealing Technology).
TBP is the ultimate solution for extremely cold water. The diaphragm is replaced by a metal disc, which does not flex as much as a regular diaphragm, resulting in minimal drop in intermediate pressure. It also fully isolates the first stage, allowing you to rely on your equipment even at extreme depths. In short, it delivers optimal performance.
The dynamic AST technology works pneumatically and provides protection against water ingress into the first stage without affecting the performance of the regulator during use. The AST is automatically activated by air pressure, so as a diver, you don't have to do anything. It opens when the first stage is pressurized and closes when the pressure drops.

Second stage
The second stage features VAD technology (Vortex Assisted Design), a bypass that gives you the feeling of natural breathing by delivering air directly to the mouthpiece. Moreover, this technology reduces the risk of freezing of mechanical parts when diving in cold water.
The second stage is also equipped with PAD (Pneumatically Assisted Design). Thanks to this technology, the valve of the second stage receives pneumatic support, minimizing the spring load and inhalation effort.
With the ADJ (Adjustable Breathing Comfort), you can adjust the breathing comfort according to your preferences and diving conditions.
Being made entirely of metal, the second stage is solid, robust, and reliable. Its high heat conduction performance outperforms plastic second stages. It also has a longer lifespan and reduces the likelihood of experiencing a dry mouth.

Mares Atlas ADJ 62X TBP at Lucas Divestore
In summary, the Mares Atlas ADJ 62X TBP has a robust and reliable design that allows you to handle demanding conditions. Curious? Order it directly in our online store. Do you have any questions? The specialists at Lucas Divestore are happy to help. Contact us and we will tell you everything about this regulator.