The Scubapro Galileo G3: a 2-in-1 watch
Perhaps you already know the Scubapro Galileo G2. Scubapro has managed to make this fantastic dive watch even better with the new version. The Scubapro Galileo G3 is everything the Galileo G2 has, but with a sleek design. Plus, thanks to the smartwatch function, the watch is also suitable for everyday use. You can read everything you want to know about this new model below.
Keeping up with modern times
Who doesn't have one these days? A smartwatch. Scubapro has responded to this by launching a new version of the well-known Galileo G2. This brand new variant has the same internals and functions, but cast in an even better and modern watch. In fact, the Galileo 3 from Scubapro is not just a dive computer; you have the option of turning it into a smartwatch by connecting the watch with your phone. This way you can receive messages, emails, notifications and control media on your dive watch as well. In short, a 2-in-1 watch that is perfect for both diving and everyday use. No more hassle of changing watches before you go into the water. That sounds ideal, doesn't it?
Ultra sharp display
The Scubapro Galileo 3 is equipped with an ultra-sharp OLED display that gives you, even underwater, a clear image on which everything can be read clearly. In the dive settings, the color scheme can be adjusted to your preferences. Also with the G3, the duration of the illumination and the backlight strength is adjustable. At startup, the dive computer is set to the maximum contrast strength. However, our advice is to adjust it slightly, since the maximum battery life of the watch is in fact only 30 hours. This is relatively short for a dive computer. In addition, the watch offers a choice between two different watchfaces. When you put the watch on you get to see the analog one. You can switch it to digital by yourself. Thus, the entire display is easily customizable to your personal preference with the four control buttons.
A handy gadget
The Scubapro Galileo G3 makes the use of an analog compass a thing of the past. The G3 is equipped with a digital compass. A nice gadget is that the watch has a stainless steel rotating bezel. This allows you to rotate the bezel yourself during Gauge mode, just like on a traditional dive watch, to read and track your dive time.
There is no heart rate monitor on the Galileo G3 from Scubapro. However, the use of a digital heart rate monitor is possible. This is available as an option. What the G3 does have is a pedometer. This way it always measures how many steps you take. A new feature is that the dive computer has a swim function that, if you do the chest crawl, measures your swim strokes. What is the total distance you have covered, it also measures. In sports mode, the smartwatch can also track overhead sports activities using a stopwatch. Finally, the built-in altimeter automatically measures altitude based on air pressure.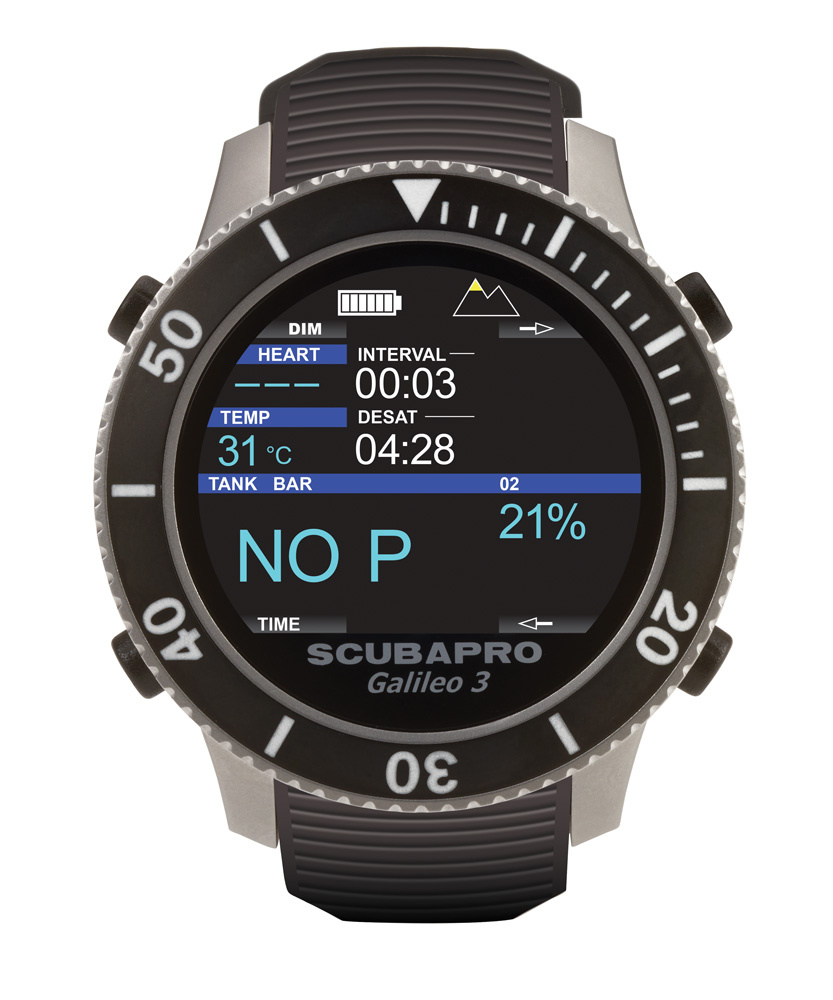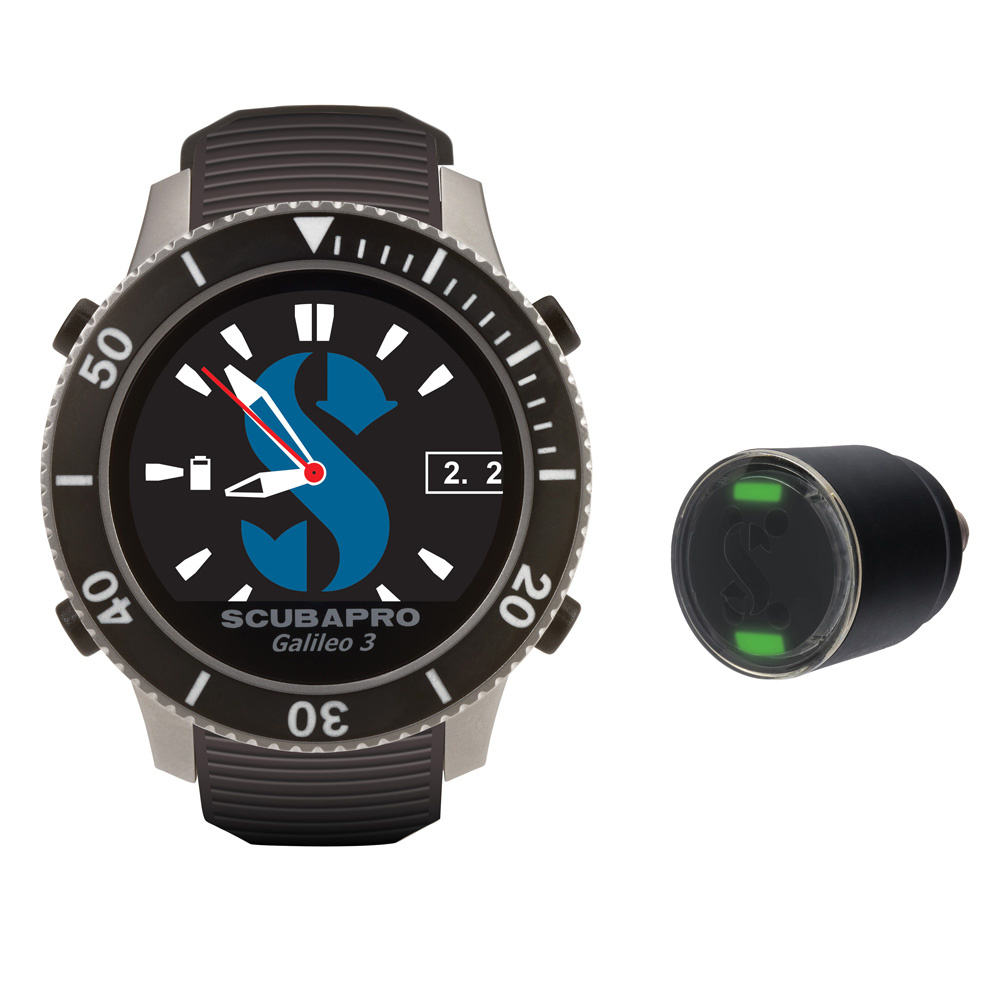 Professional dive computer for every diver
This rechargeable wrist computer is suitable for diving, swimming and freediving. In Scuba mode, four settings are available: Trimix, CCR, Sidemount and PMG. If you make a mountain lake dive, you do not need to set this separately. In fact, the computer already does this automatically.
With its rugged stainless steel case, this sturdy watch is capable of diving up to 300 meters deep. After an adventurous dive, store it safely again in the matching Eva case included with this model.
Order this unique model at Lucas Divestore?
For both the recreational and the technical diver, the Scubapro Galileo 3 is the ideal dive computer. The G3 computer is available with or without a transmitter. Do you want to know more about this beautiful, advanced watch with the look of a traditional watch? We are happy to tell you more about it. Feel free to visit our store, or shop this unique 2-in-1 watch directly in our webshop. Within a few working days you can have the Scubapro Galileo G3 on your wrist!