The best wetsuits of 2022
What is the best wetsuit for you depends on the activity in the water. You have wetsuits in different types, sizes and thicknesses. What kind of suit you need depends on, among other things, the temperature of the water and the circumstances under which you will be using the wetsuit. Check out our selection of the best wetsuits for 2022!
Tips for purchasing a wetsuit
A wetsuit should fit as well as possible everywhere. Choosing the right size is therefore essential. The suit should be fitted so that minimal water gets in and it can be refreshed, but not so tight that you can't move well in it or that it restricts circulation. Every brand has a different fit, so it is important to try on several wetsuits so that you are sure that the suit fits well.
In addition, you must wear the right heat protection for the conditions in which you go into the water. Wetsuits come in different thicknesses including 3mm, 5mm and 7mm. You can determine what thickness you need for your wetsuit based on the temperature of the water. It is important to know in advance what, when and where you are going to dive, swim or snorkel.
Best wetsuits for diving
A wetsuit is essential for comfortable diving. All wetsuits are made according to a CE standard. Wetsuits have an insulation value of A, B, C or D, with A having the highest insulation value. If you are going to dive in tropical water or for team evenings in the pool, we recommend a 3MM shorty or full suit. At temperatures above 23 degrees Mediterranean or winter in the Red Sea, we recommend a 5MM suit. For Dutch conditions when the water is at the right temperature you can dive with a single 7, however, in the spring/autumn and winter we recommend wearing a body underneath or over it, depending on what you like.
Insulation values
A (7 to 12 C)
B (10 to 16 C)
C (16 to 24 C)
D (22 to 32 ºC)
Best wetsuits for swimming or snorkelling
A wetsuit is also useful for swimmers or snorkelers. When you swim in a wetsuit, it costs your body a lot less energy to keep your body warm. A wetsuit also gives you more buoyancy so that you lie higher and flatter in the water. This allows you to go through the water in a streamlined way. The wetsuits are available in different versions. It is useful for swimmers that the suit is stretchy and thin so that you can easily swim or snorkel in it. Depending on the temperature, you choose what thickness your wetsuit should be. For swimmers or snorkelers, shorty's are usually suitable.
Our selection for the best wetsuits for swimming or snorkelling:
1. Bare Revel 2 mm shorty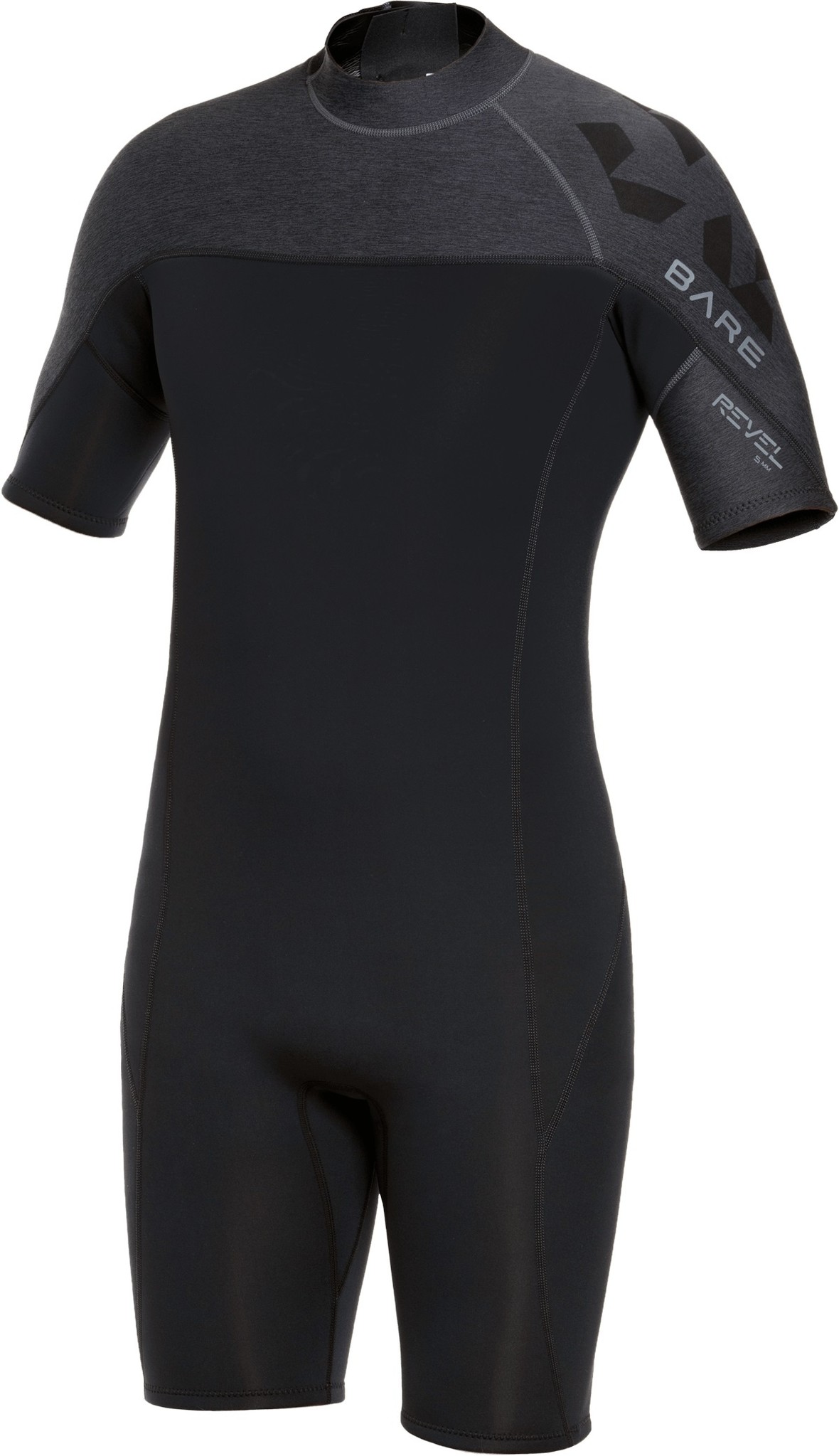 The Bare Revel is a shorty wetsuit with a thickness of 2mm. The Bare Revel combines fit, comfort and flexibility which makes this shorty wetsuit suitable for various sports including swimming and snorkelling. The suit is designed with water sports-inspired styling, anatomically correct 3D patterns and a proprietary blend of neoprene and laminate. The heavy-duty zipper at the back makes for easy on and off. It is a comfortable and good shorty wetsuit for swimming and snorkelling!
2. Camaro Voltage Shorty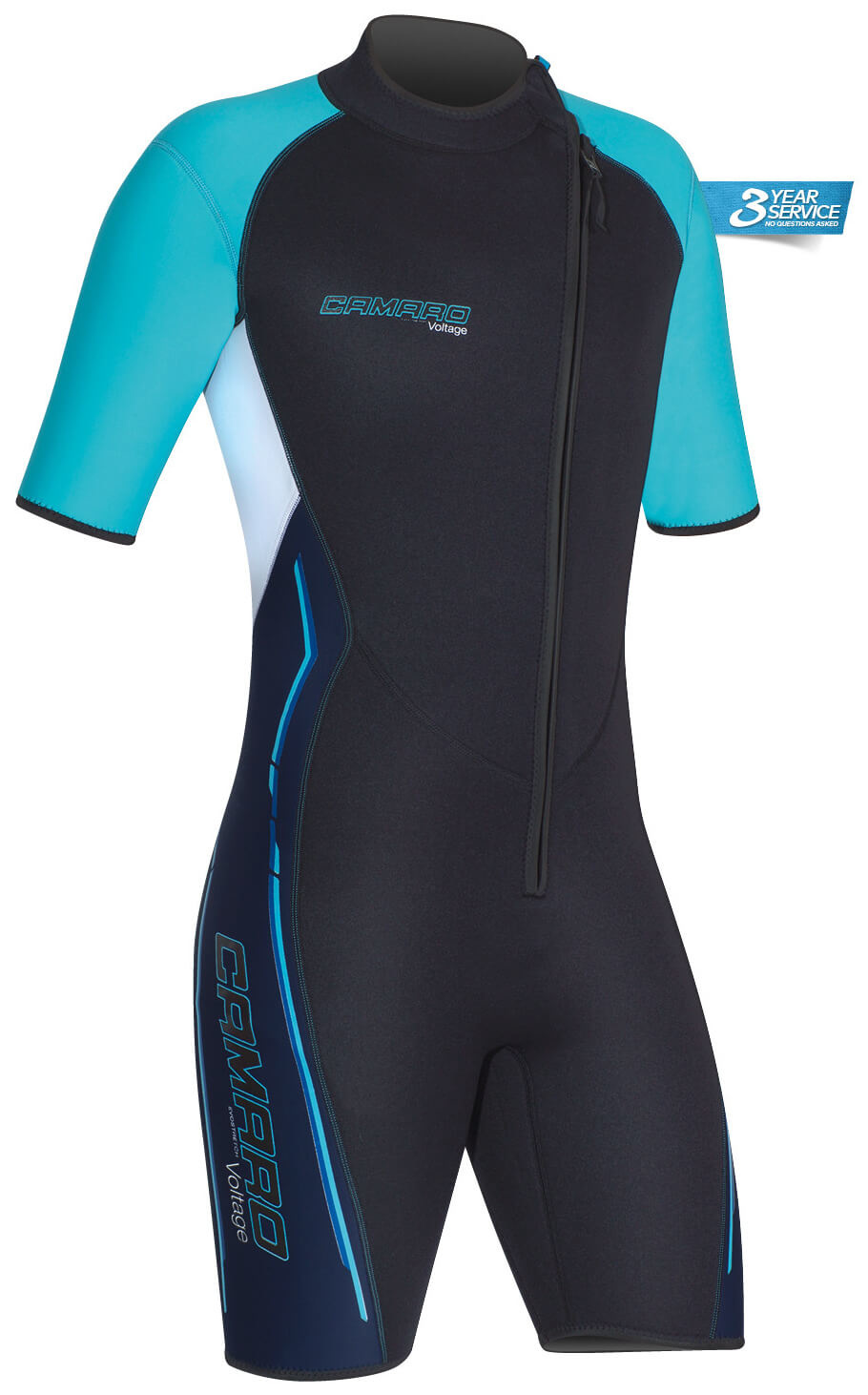 Camaro is a quality brand with a diverse range. The Camaro Voltage Shorty is a neoprene shorty wetsuit with Velcro and has a thickness of 3mm. There is a model for men and women. The wetsuit has a double collar with Velcro closure and an asymmetrical front zip for easy on and off. A comfortable shorty for an attractive price.
See the Camaro Voltage Shorty for men
See the Camaro Voltage Shorty for women
3. Mares Reef Full 3mm

The Mares Reef 3mm wetsuit is cool, stretchy and ideal for temperate waters! H With a soft, stretchy rubber panel on the chest, it is also ideal for multiple water sports. The suit is therefore very suitable for swimming and snorkelling. This wetsuit from Mares has an ergonomic fit, adjustable neck closure and drawstring for a back zipper. Available in a men's and women's version!
See the Mares Reef 3 mm full for men
See the Mares Reef 3 mm for women
Best Cold Water Wetsuits
When entering the water you must wear a wetsuit in which you do not get cold. Wetsuits are therefore made of foam neoprene. The neoprene material retains a thin layer of water on the inside. This small amount of water is warmed by your body temperature and prevents you from losing body heat when you are in the water. This prevents you from cooling down quickly and you stay nice and warm. Are you planning on going into colder waters? Then it is wise to purchase a dry suit or overinvest. Diving with a dry suit has significant thermal benefits both above and below water.
1. Apeks Thermiq 8/7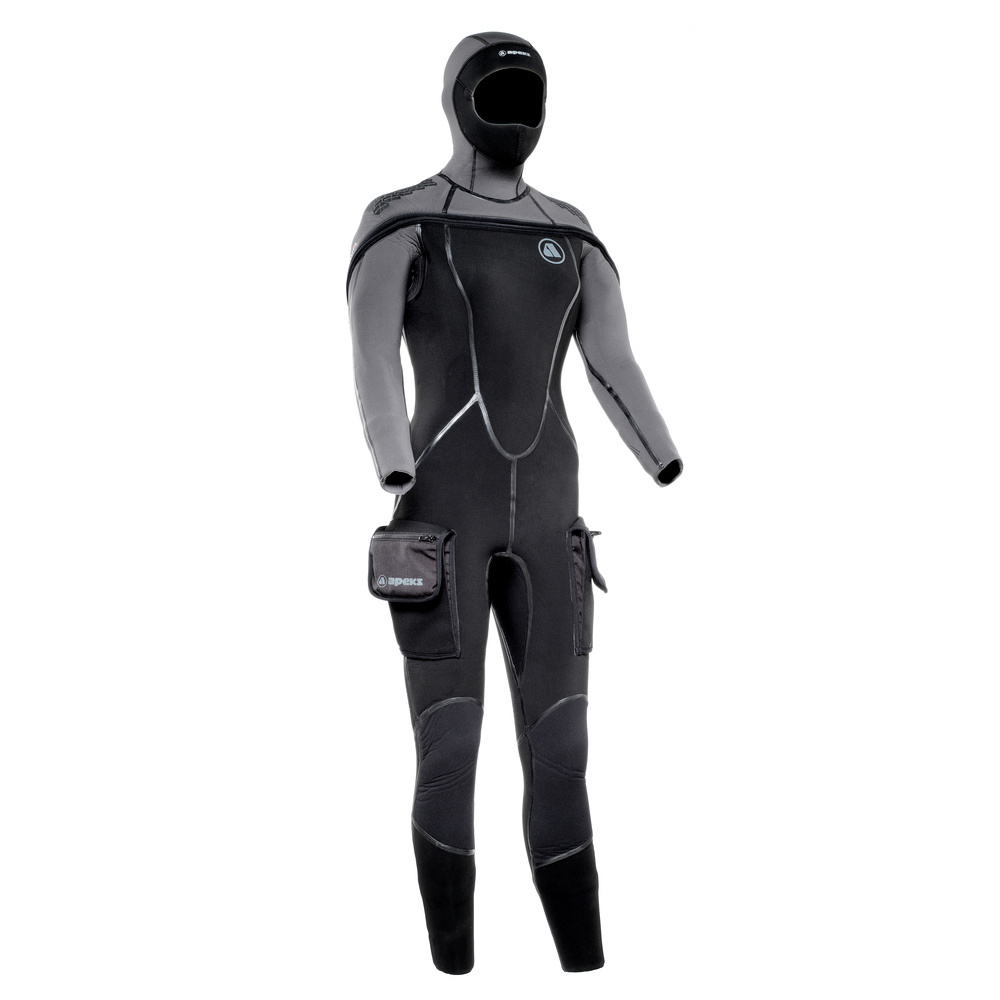 The Apeks Thermiq 8/7 is a deluxe wet suite perfect for cold water diving. The ThermiQ 8/7 is suitable for anyone who wants top comfort and performance. The highly efficient 8mm neoprene provides extra thermal protection where it is needed most. The suit is 7 mm thick on the arms and legs, which ensures flexibility. The large cargo pockets are ideal for storing your accessories and an integrated hood provides extra warmth. A zipper across the chest makes it easy to put on, while internal cuffs on the forearms and lower leg minimize water ingress.
See the Apeks Thermiq 8/7 for men!
See the Apeks Thermiq 8/7 for women!
2. Camaro Alpha 7 Pro Overall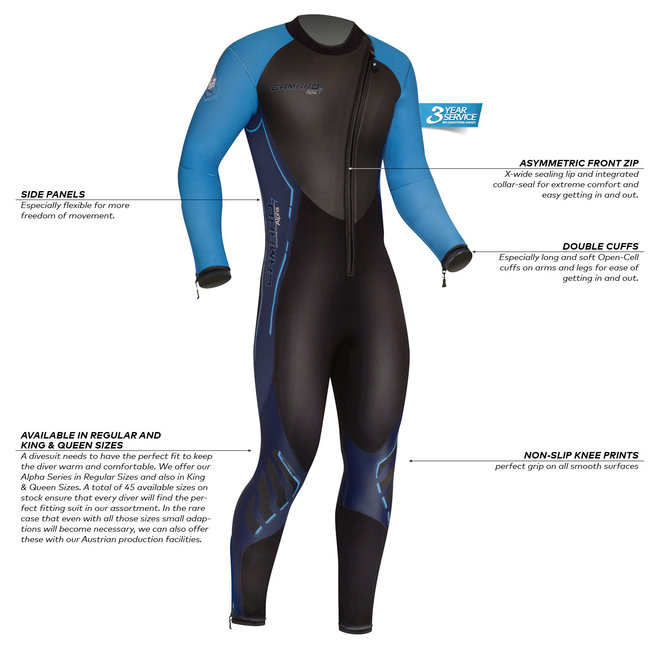 A wetsuit must be the perfect fit to keep the diver warm and comfortable. This is not a problem overall with the Camaro Alpha 7 Pro. This wetsuit is available in many different sizes so that every diver can find a wetsuit that fits well. The suit is made of 7mm neoprene. The material is very soft and elastic. The suit is equipped with Dry-Stretch lining for comfort and to keep you warm.
See the Camaro Alpha 7 Pro Overall for men
See the Camaro Alpha 7 Pro Overall for women
Best wetsuits for surfing
A wetsuit is essential when you go surfing. The suit ensures that your body does not cool down too much while surfing so that you can lie in the water for an extra-long time. Do you surf in France, Portugal or Spain in the summer months? Then a wetsuit of 3 mm is enough. If you mainly surf in the Netherlands, you can purchase a somewhat thicker wetsuit. Keep in mind that you opt for a close fit with a very large freedom of movement. The suit is not intended to hinder your movements.
Best wetsuits for supping
A wetsuit that is too thick hinders your freedom of movement. This means you can paddle less quickly while surfing. We, therefore, recommend a wetsuit of 3 mm and a maximum of 5 mm for supping. With a thin suit, you have more speed and movement in the water than with a thick suit. The thinner the suit is, the more flexible the suit will be. And the more flexibility, the smoother you can move.
Need help buying a wetsuit?
At Lucas Divestore we have a wide range of sizes to provide a suitable suit. But you can also choose to have a wetsuit made to measure. Our team of specialists with years of experience in the diving world are ready to help you. Would you like advice about your wetsuit? Contact us or visit our store so we can help you further.