The best dive masks of 2022; our top 10
A dive mask is one of the most economical part of your diving equipment but perhaps the most important purchase. After all, it determines whether you dive comfortably and whether or not you can see underwater. Do you want to know what the best diving masks of 2022 are? Marco tells you all about it in this blog. Read on!
What requirements does a dive mask need to meet?
A good diving mask always consists out of several parts:
A nose for equalizing;
tempered glass for good protection underwater;
a silicone skirt which ensures that the mask remains air- and watertight on the face;
a strap, so that the mask stays on the head.
The best diving masks of 2022
There are different types of diving masks on the market, each of which suits different preferences. It is therefore impossible to name one product as the best diving mask of 2022. I would like to show you the differences between our best-selling products, so that you can make a conscious choice for your diving mask based on this. We have divided this blog into four parts to help you find the best diving mask, namely:
What to watch for when buying a dive mask?
Best entry-level diving mask (€30 - €49)
Best mid-range diving mask (€50 - €89)
Best diving mask for high-end class (€90+)
What to watch for when buying a dive mask?
Which dive mask is most suitable for you depends on several factors, such as the size, the silicone skirt, the glasses and the type of diving mask.
Size
Diving masks are available in different sizes. So you have diving masks that are especially suitable for children's faces, narrow adult faces and standard adult faces. If you want to know if a mask fits well, put it on your face without attaching the band behind your head, and breathe through your nose. If the mask pulls a vacuum, you know the size is good.
Silicone skirt
For the silicone skirt, you have the choice of a clear (transparent) or dark look. The choice for one of these two options depends on your preferences. Qualitatively, there are no differences. People choose clear silicone because of the light transmittance and the wider field of view. Do you want to remove the extra light and ambient shades for a quieter view? Then you will probably choose a diving mask with dark silicone. Not only the colour, but also the material can vary per diving mask. The cheaper masks are often equipped with some stiffer silicone material than we had in the past. Diving masks in the mid and high-end classes feature smoother and softer silicone material which is easy to fit the shape of your face, resulting in greater comfort.
A continuous glass or two separate glasses
There are two options for masks in terms of glasses, 2 glasses or 1 continuous glass. In terms of visibility, it does not matter which type of glasses you choose. But beware: do you wear glasses or lenses and would you like a diving mask with glasses with a prescription? This is only possible with diving masks with separate glasses. For this, I refer you to the blog 'Diving mask with prescription lenses'.
Anti-reflective glasses
The diving masks in the entry-level and middle class are not equipped with anti-reflective glasses. The high-end models of diving masks are equipped with anti-reflective glasses and often also offer UV-420 protection and coloured glasses. The anti-reflection coating on the glass allows for greater contrast and a calmer view.
Full face mask or a mask with snorkel
Traditionally, a dive mask is a separate mask and you have a mouthpiece to breathe through, but there are full-face diving masks where you can breathe through the nose and mouth; the regulator is integrated into the mask. Which one suits you best depends on your needs and budget.
Dive masks in the entry-level class (30€ – 49€)
If you are a novice diver and you have a smaller budget, there is still plenty enough choice when it comes to scuba diving masks. Below are the, in our opinion, best diving masks in the entry-level class.
1.   Mares Opera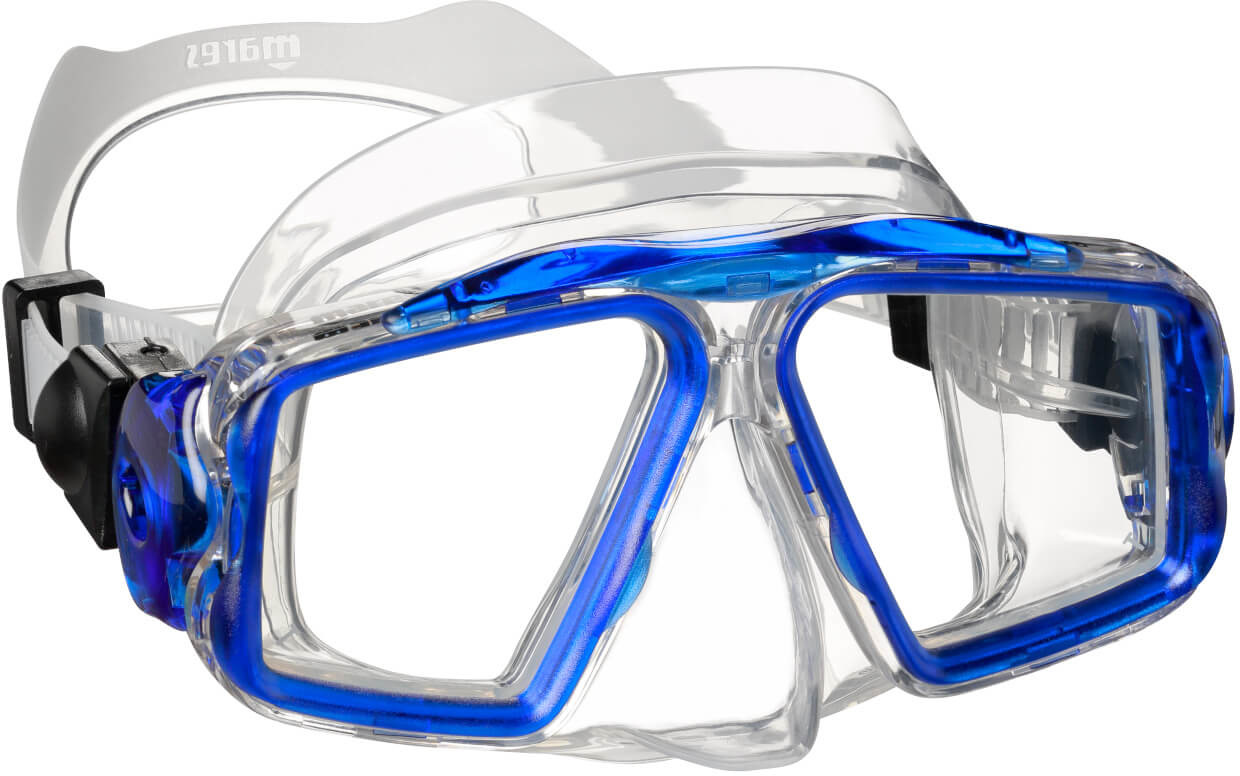 The Mares Opera is a dive mask with a traditional design that is easy to use. The mask is lightweight and offers excellent value for money. The Mares Opera has two different lenses and is available with optical lenses. Negative lenses range from -1 to -7. Lenses with plus correction are available from +1.5 to +3. The lenses are easy to install. The Mares Opera is available in two colours.
2.   Aqualung Favola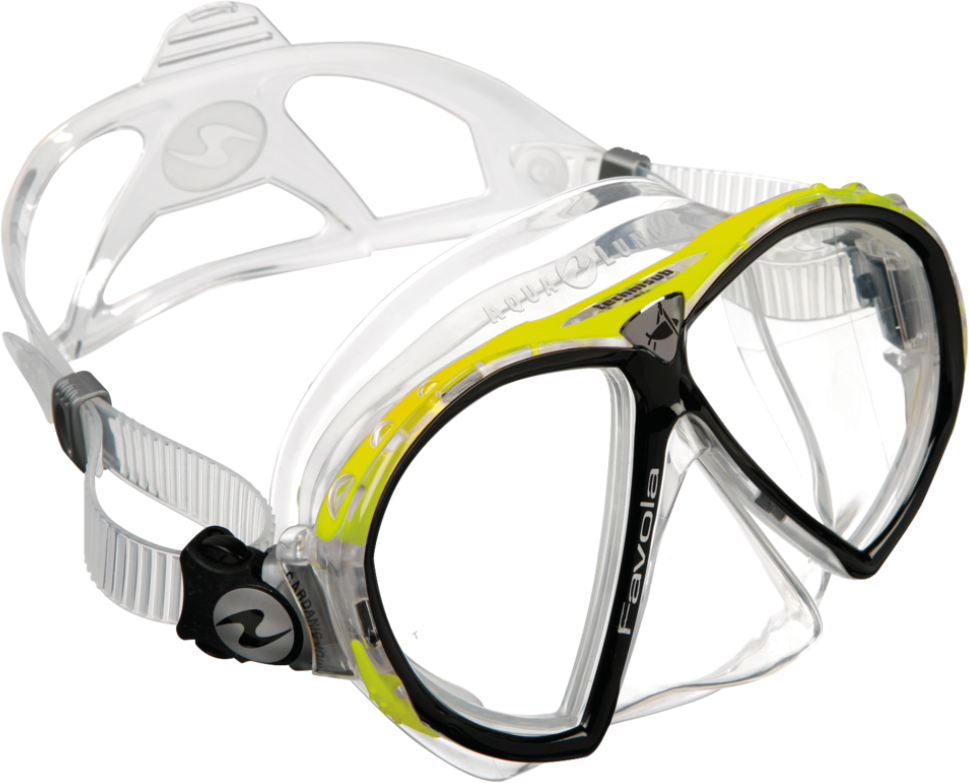 The Aqualung Favola has uniquely shaped lenses that gives the low-volume Favola the feel of a more open single lens mask. The frame sets the lenses close to the eyes and angles them slightly downward for an excellent field of view, especially on the vertical plane. It is one of the best dive masks for the entry-level class. The wide strap is easy to adjust, even with gloves on. Altogether a very good dive mask!
3.   Scubapro Futura 1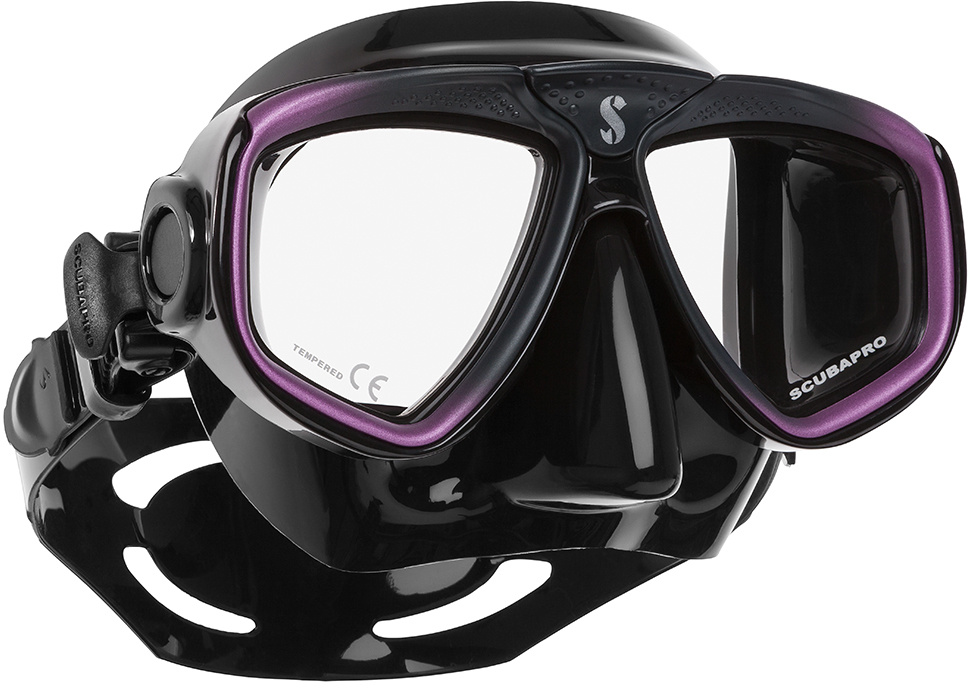 The new Zoom is a low volume, dual lens mask that is ideal for all divers, but is especially well-suited to divers who use optical lenses.
Featuring stylish spray-painted sub-frames in a variety of colors that match Seawing Nova fins, HYDROS PRO BCs and SCUBAPRO's new UPF Collection of rash guards, steamers and leggings, the Zoom is easy to customize optically, it matches perfectly with other gear, and it provides a comfortable and watertight fit for a wide range of divers. It also includes an integrated buckle design that is compatible with the new Comfort Straps.
View the Scubapro Zoom Evo (Clear)
View the Scubapro Zoom Evo (Black)
Dive masks in the middle class (50€ – 89€)
A very large and diverse range is available in the middle class. Below are some of the best mid-range dive masks.
4.   Tusa Freedom Ceos M-212 (Most sold!)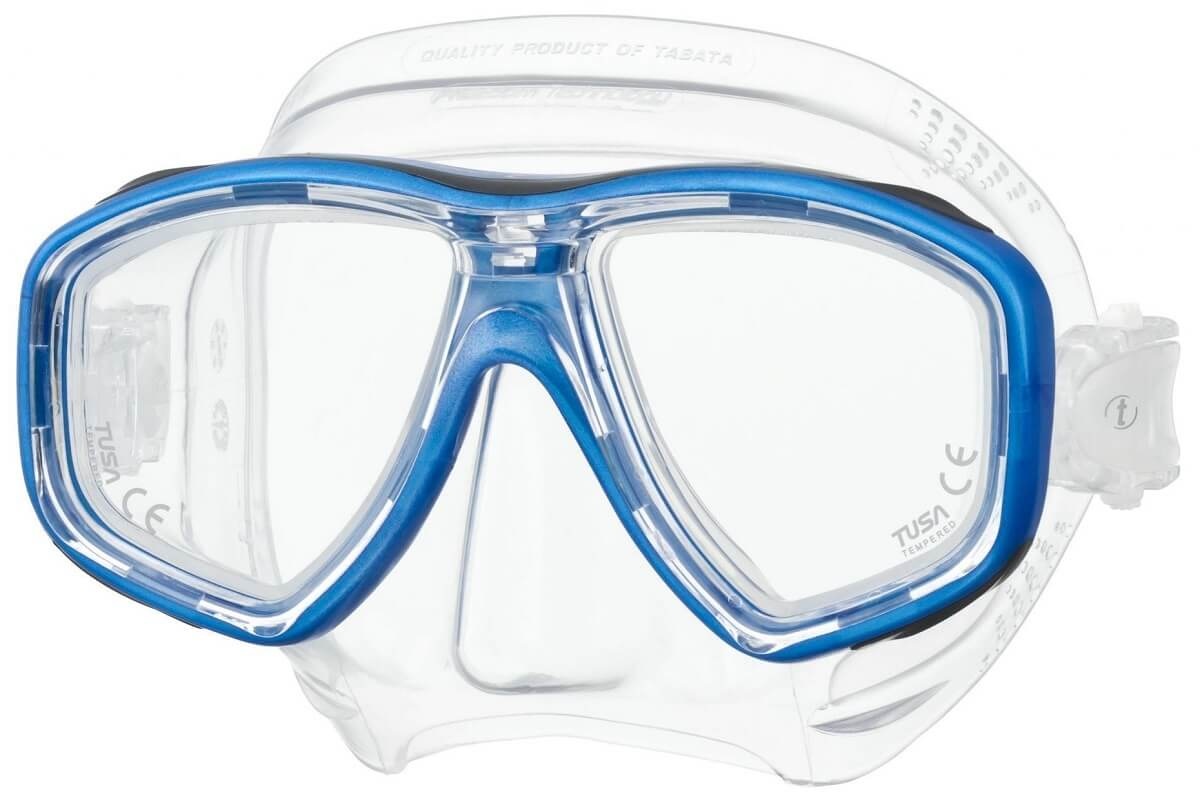 The Tusa Freedom Ceos M-212 is one of the best-selling dive masks. It is a comfortable dive mask with an excellent fit and two separate lenses. Tusa has chosen to provide this scuba diving mask with Freedom Technology.
Freedom Technology is a set of technologies to improve fit and performance. Freedom model masks have a dimpled surface with different silicone thicknesses and stability ribs, in addition to a patented surface with low friction on the fit line.
The Tusa Freedom Ceos M212 is available with a skirt in dark and clear silicone.
View the Tusa Freedom Ceos M-212 (Clear)
View the Tusa Freedom Ceos M-212 (Dark)
5.   Mares X-Vision Ultra Liquid Skin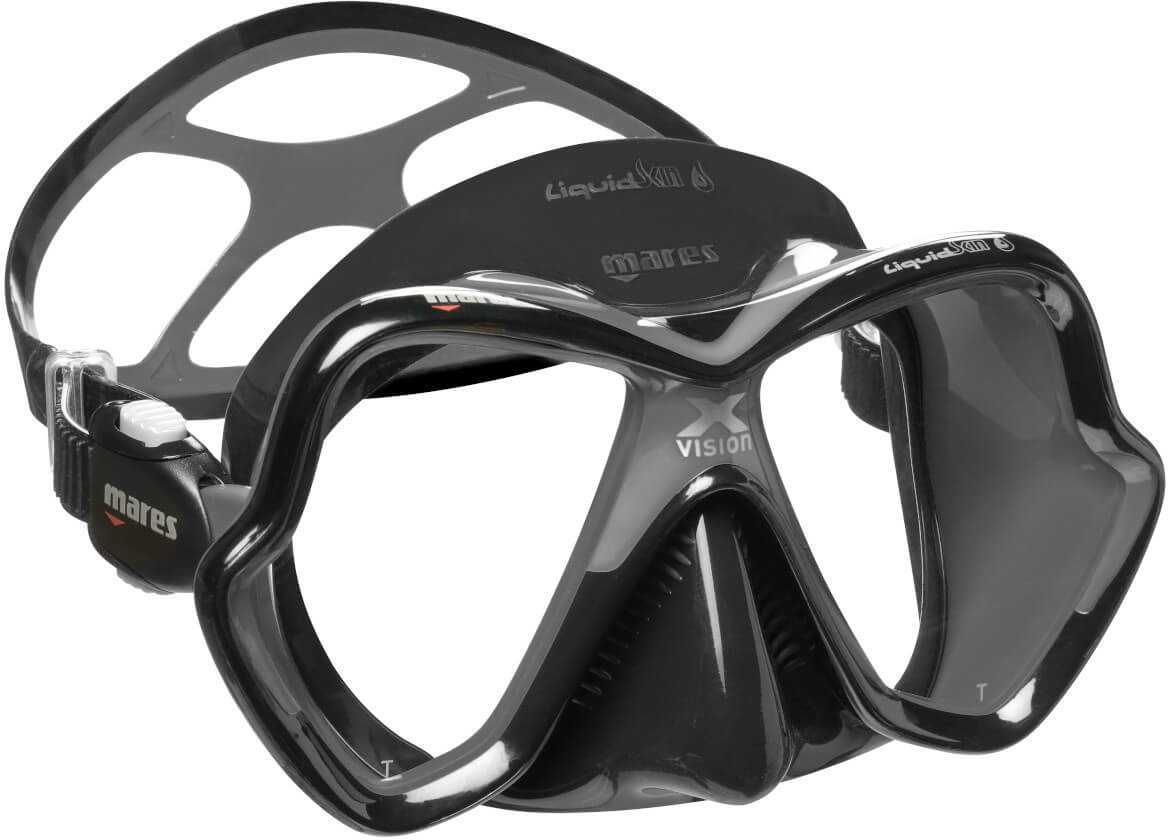 The Mares X-Vision Ultra Liquid Skin is one of the best mid-class diving masks available. The high-quality bi-silicone and the large field of view make it a pleasant mask. The bi-silicone contributes to an excellent fit and ensures comfort.
The mask is even the winner of a Reddot design award. The mirrored glass with a gold-coloured filter increases visibility in turbid water and reduces reflection in shallow water and on sandy bottoms. The Mares X-Vision Ultra Liquid Skin is available in eight attractive colours - a first-class diving mask!
View the Mares X-Vision Ultra Liquid Skin
6.   Scubapro Frameless Mask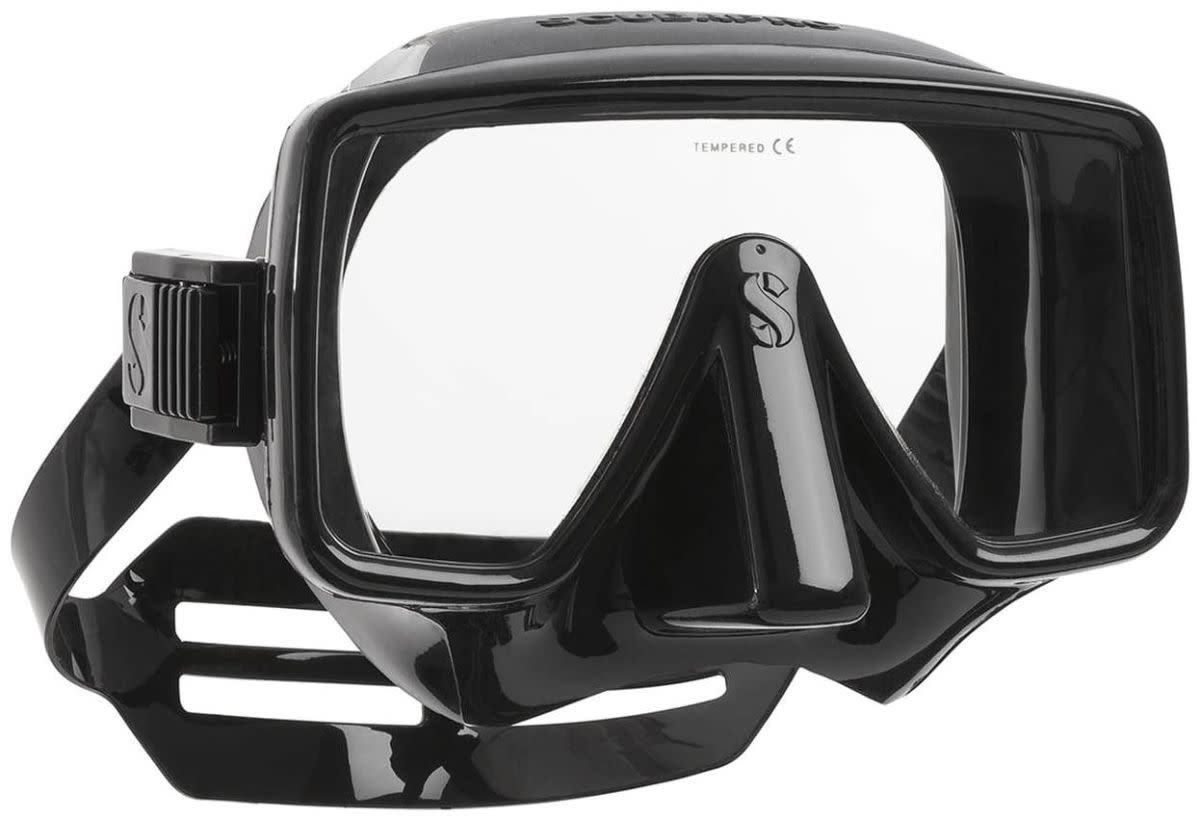 The Scubapro Frameless Mask is, as the name suggests, a frameless diving mask. It was the first frameless mask and continues to be a popular choice among professional divers around the world. Because the glass consists of one piece, you have an excellent view on both sideways, above and below.
The silicone band has a comfortable fit and due to the double seal, the mask fits well on the face and is leak-proof. The strap of the mask can be folded flat, making the mask easy to take with you on your travels.
View the Scubapro Frameless Mask
Dive masks in the high-end class (89€+)
We also have a wide range of scuba masks from different brands for the high-end class. Below are the, in our opinion, best dive masks for the high-end class.
7.   Tusa Paragon M2001SQB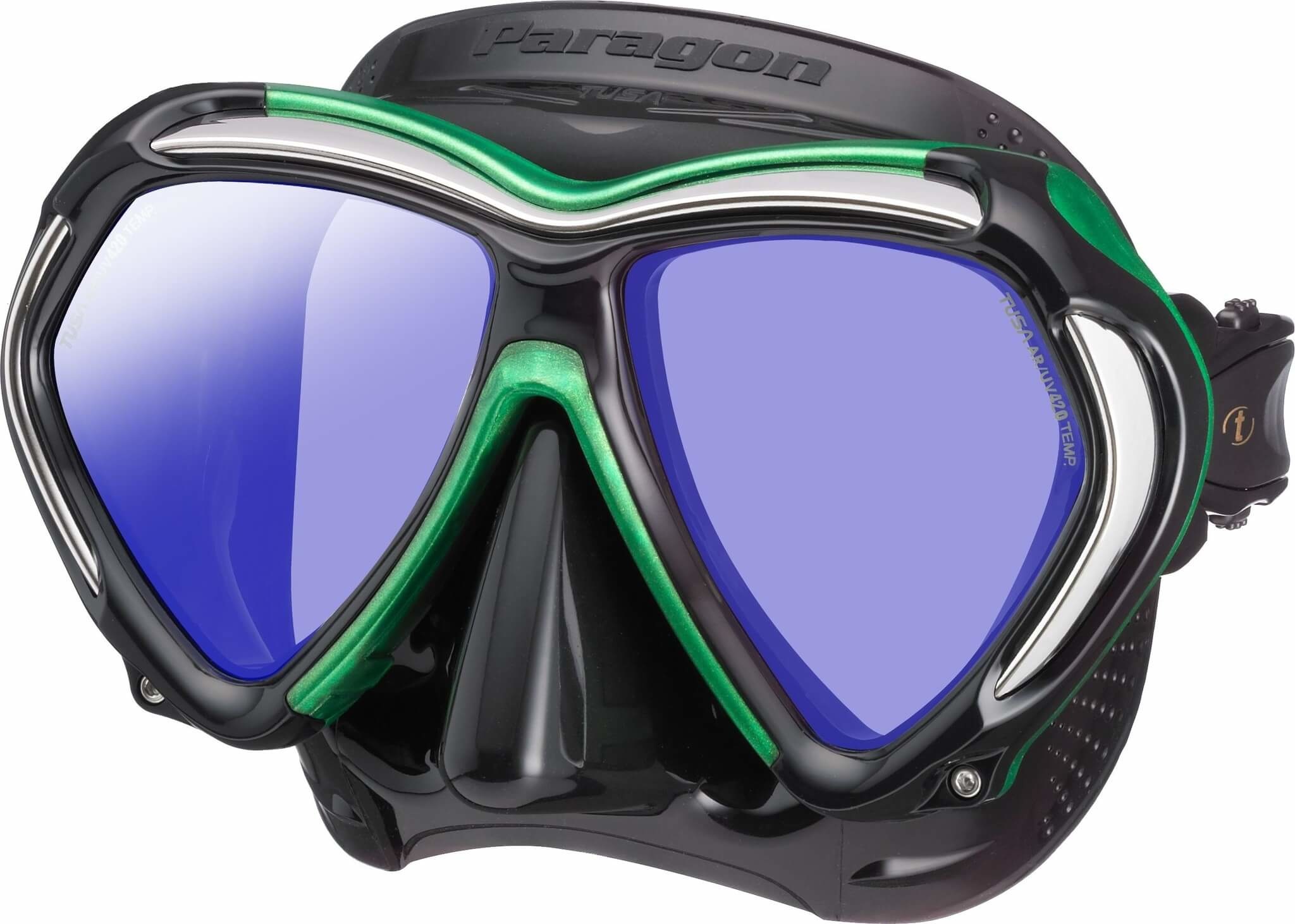 De Tusa Paragon M2001SQB is een duikmasker voor de professionele duiker. Met een vernieuwd en versterkt TRI-MIX frame is dit duikmasker robuuster dan zijn voorgangers. Freedom Technology Fit II is eenset technologieën om de pasvorm en prestaties te verbeteren. De maskers van het Freedom-model hebben een kuiltjesoppervlak met gevarieerde siliconendiktes en stabiliteitsribben, naast een gepatenteerd wrijvingsarm oppervlak op de paslijn.
De nieuwe Fit II-technologie voegt kracht en stijfheid toe aan de rok voor gebruik in zware omgevingen.
Met een UV 420 beschermende factor en Ultra Clear Glazen is het zicht rustiger en helderder tijdens uw duik.
View the Tusa Paragon M2001SQB
8.   Tusa Visio Pro M-110SQB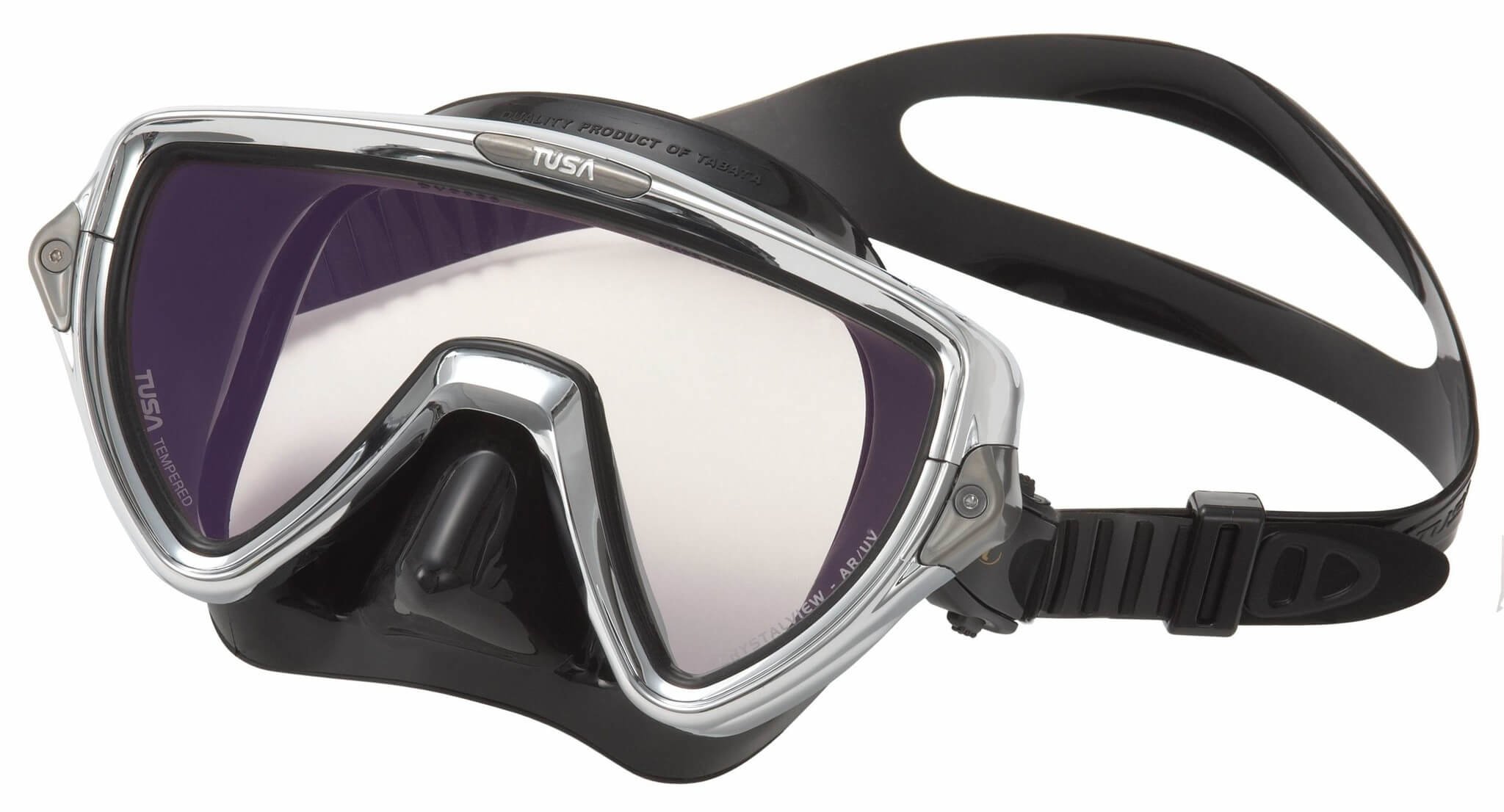 The Tusa Visio Pro M-110SQB is a high-end dive mask, made of high-quality materials and with unique frame construction. The Visio Pro features TUSA's new Crystalview Optical Glass with a special anti-reflection (A/R) and ultraviolet (U/V) coating over twenty layers thick. This unsurpassed Crystalview AR/UV lens provides the diver with enhanced colour, clarity, contrast and eye protection without sacrificing brightness or visibility above or below water.
The Visio Pro's lens is protected by a Special Edition dual-frame and black surgical silicone seal. The sun is no longer a problem, above or below water. The silicone seal fits comfortably on the face and is leak-proof.
In addition, this Tusa diving mask is equipped with Tusa's patented Quick-Adjust Buckle System. This is a 3D anatomically shaped buckle system that makes the diving mask easy to adjust and adjust.
View the Tusa Visio Pro M-110SQB
9.   Tusa Intega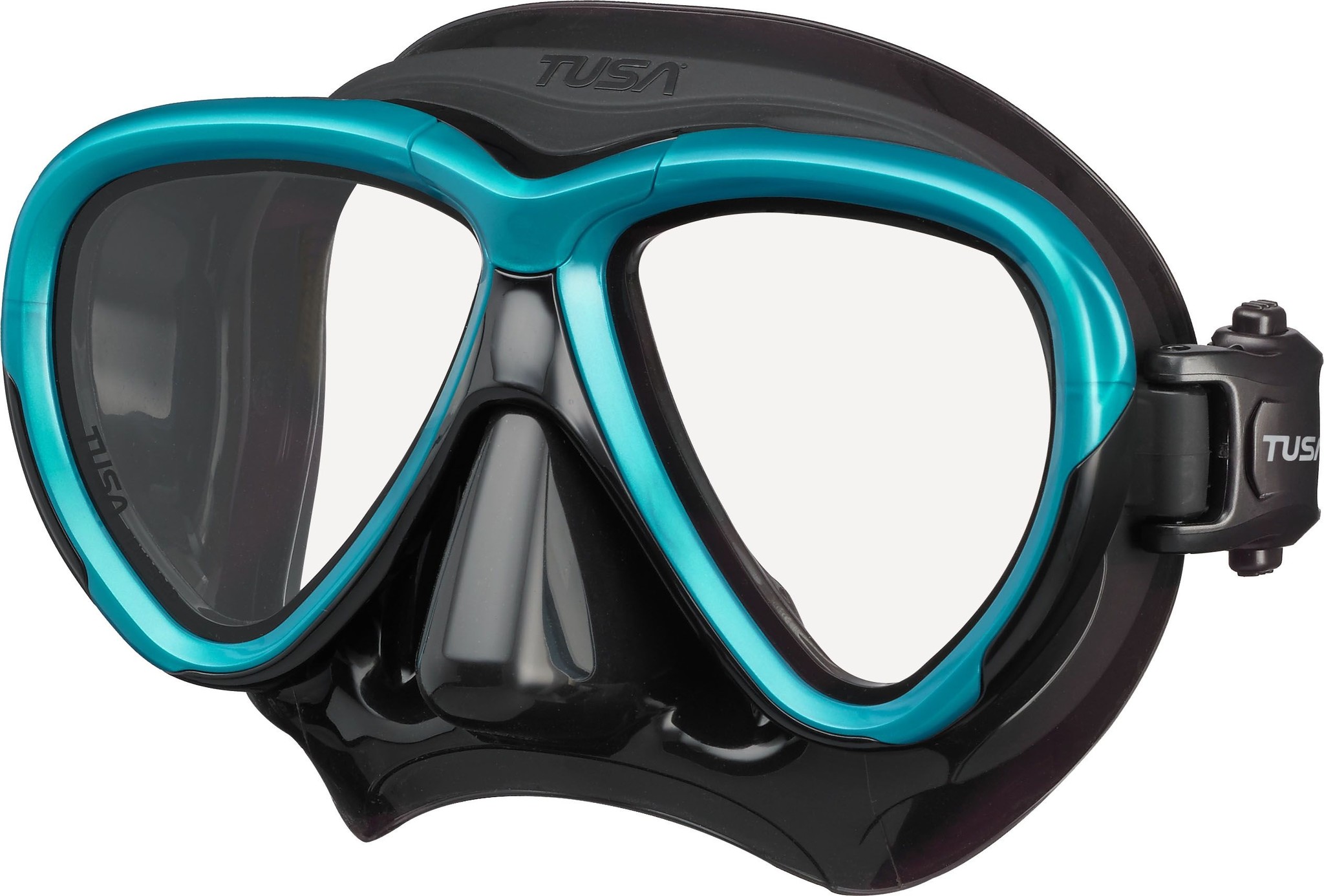 The new Intega mask fits like no other. The 3D SYNQ Fitting Ring allows you to sync to different head and facial sizes, ensuring the perfect fit. Combined with the Freedom Dry, which utilizes a low friction skirt surface, the Intega delivers a superior seal.
Additionally, the Intega also contains the Swift Buckle 3D: the perfect buckle and mask strap that is silent and effortless to adjust. The 3D strap is a true three-dimensional design that snugly fits against the head's natural curvature, providing lots of comfort.
10.   Ocean Reef Neptune III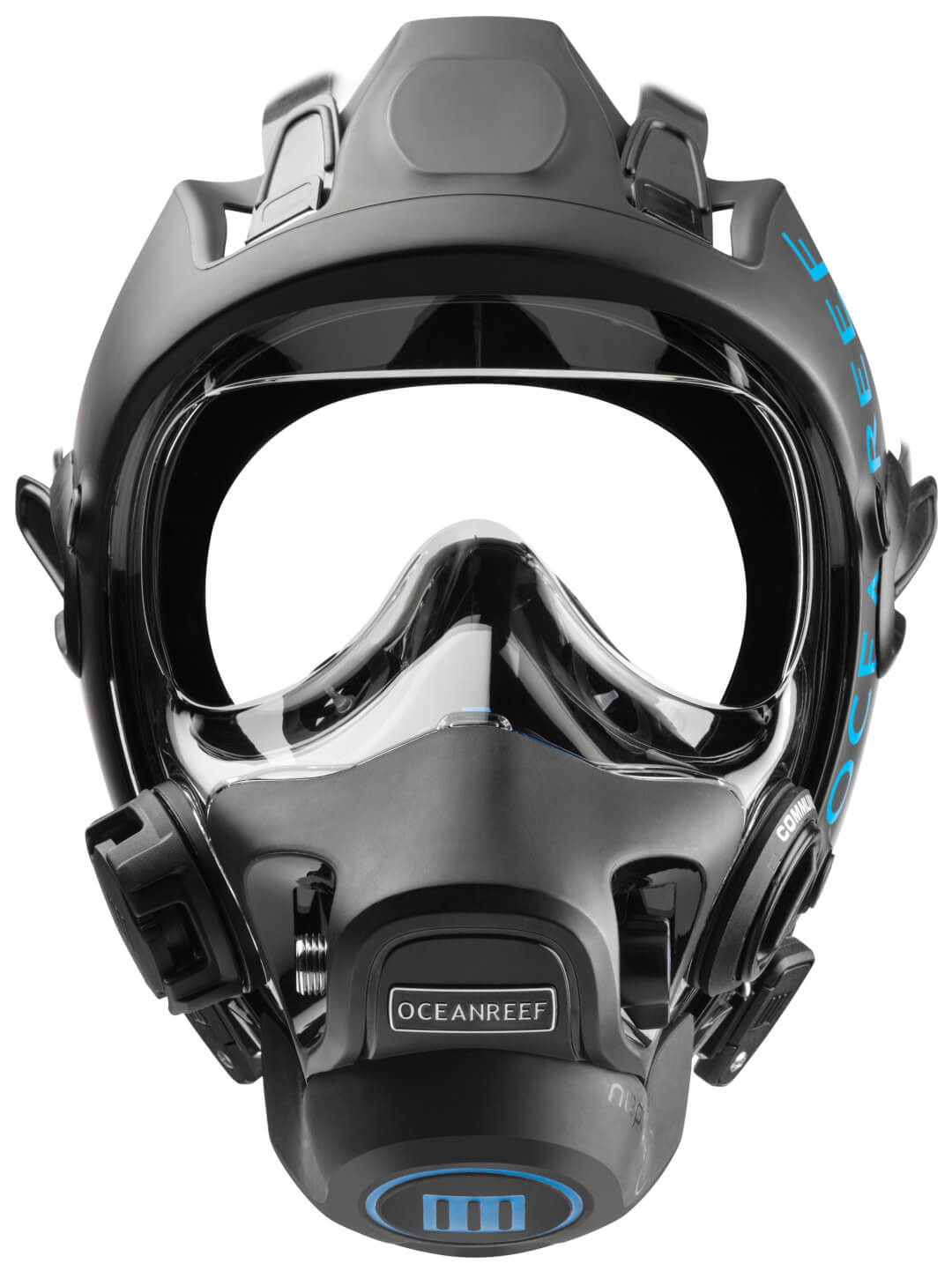 Launched in 2022, the Ocean Reef Neptune III is the third generation of the Neptune Ocean Reef. The Neptune III full-face mask is completely new developed and provides a very natural way of diving where you breathe through the nose and mouth and you do not have to use a mouthpiece.
The large field of view of the Neptune III ensures that you no longer have any limitations in your field of view. The mask is slightly wider than a regular diving mask. The regulator is integrated into the mask. The integrated regulator is a balanced second stage, where you have the option to adjust the venturi for optimal breathing comfort.
You won't have any trouble with water behind your mask, because the mask closes your entire face. If water does get in, you blow it out with air. The continuous airflow ensures that the mask won't fog.
Altogether is it a complete high-end dive mask and the Ocean Reef Neptune III is one of the best dive masks available at the moment. The Neptune III can be ordered in different packages. The full package offers an octopus, pressure gauge and a mask that comes in a snorkel bag.
View the Ocean Reef Neptune III
More information or need advice?
Would you like more information about our scuba diving masks or would you like advice on which dive mask is most suitable for you? The specialists at Lucas Divestore are happy to assist you. Feel free to contact us!