Seiko has been setting the quality standard for dive watches worldwide for over fifty years. Due to their half-century of experience and innovation in the field of dive watches, this Japanese watch manufacturer is highly praised by professional divers. In this blog, we highlight the remarkable history of Seiko dive watches and the Prospex series, which was specifically created for divers.
Seiko's first dive watch
Seiko's first dive watch was introduced in 1965, and it was also the first dive watch to be produced in Japan. This dive watch had a water resistance of 150 meters, so it could not be considered a professional dive watch. Seiko has always been focused on improvement and innovation, so the first version was followed quickly by a new model.
Seiko's first professional dive watch
It all started with a letter. A professional diver from Hiroshima, Japan, wrote a letter to Seiko stating that there was no dive watch that could withstand the pressure and resistance at a depth of 300 meters underwater. That professional diver thought it was time for a professional dive watch to be created, so that deep-sea divers could receive more detailed information underwater. Seiko did not hesitate to seize this opportunity, and in 1975, Seiko's first professional dive watch, the 'Professional Diver's 600m', was released.
The journey of Seiko's professional dive watches
The Professional Diver's 600m was Seiko's first professional dive watch and the world's first with a titanium watch case. Titanium watch cases make the watch corrosion-resistant, shock-resistant, and airtight. This innovation was a breakthrough in the dive watch world. And it was definitely a professional dive watch because it met the (deep-sea) dive watch standards that Seiko had developed with the International Organization for Standardization (ISO) and the Japanese Industrial Standard (JIS).
Bringing this watch to market was undoubtedly a breakthrough for Seiko, but the engineers did not celebrate and sit still for long. They immediately continued their search for improvements, new techniques, and special specifications.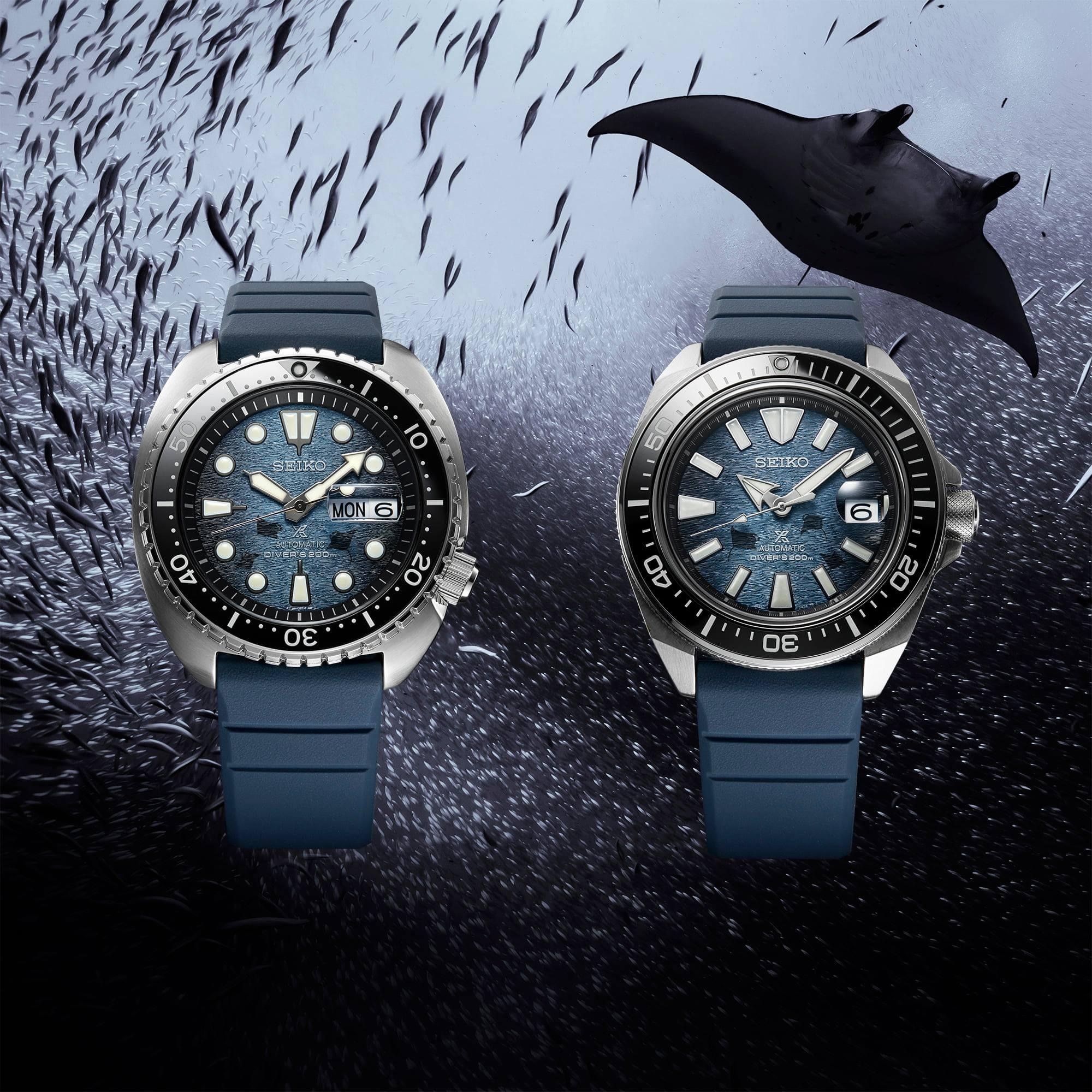 Years of innovation; where has it led?
Seiko's expertise lies primarily in electronic watch technology. Thanks to years of experience in making diving watches, Seiko released the "Scuba Master" in 1990. This computerized watch was equipped with many new technologies, such as a water and depth sensor. This sensor displays the exact depth and dive time, which we all know is vital information for divers.
The innovation continued... The world's first outer-casing watch was realized by, you guessed it, Seiko. This casing made the diving watches more secure against shocks. Seiko also decided to place the screw-down crown at the 4 o'clock position, which made the diving watches safer and more comfortable to wear. And while we're on the topic of wearability, Seiko also introduced the first accordion polyurethane strap. A strap that can flex and contract, so the watch stays securely in place. Through the innovation of this Japanese watch manufacturer, many well-functioning, stylish, and durable diving watches have been created.
Remarkable victories
In 1983, the water resistance of the "600m WR Seiko" diving watch was exceeded. Originally made for a depth of 600 meters, it could withstand the pressure of 1062 meters.
In 1983, JAMSTEC (Japan Agency for Marine-Earth Science and Technology) conducted a helium impermeability test to test various diving watches. It turned out to be the "Seiko Professional Dives's 600m" that was up to ten (!) times more waterproof for helium gas than diving watches from other manufacturers.
Seiko Prospex diving watch
Of all the series that watch manufacturer Seiko has made, the Seiko Prospex is specifically made for divers. This series is all about adventurous sports and extraordinary journeys. Through the roughest areas and in the most extreme weather conditions, the Seiko Prospex is highly water-resistant, shock-resistant, and readable in all conditions. With the Prospex series, Seiko pays tribute to all adventurers, including deep-sea divers, high-flyers, and mountain climbers who traverse land and sea and face great challenges. Made by Seiko's qualified engineers, who are constantly developing new technologies. It is these engineers who make diving safer and easier for both novice and professional divers.
Seiko Dive Watches at Lucas Divestore
Seiko offers a variety of dive watches for both novice and professional divers. Seiko's dive watches are designed to withstand all weather conditions in and around the water, ensuring that divers can operate well in a variety of situations.
At Lucas Divestore, we offer a range of Seiko dive watches. If you have any questions after reading this blog or are curious about our selection, please contact us!