A good dive light is essential if you are going to do a night dive. After all, you need light to navigate, to read your diving instruments and to see underwater life. But a dive light can also be useful for dives that you perform during the day, to view a wreck or cave from the inside. With a dive light you are able to see what is happening under ledges and in crevices. With the OrcaTorch dive lights you are ready for every dive, whether you enter the water during the day or at night.
OrcaTorch
OrcaTorch is a relatively new brand that has gained a huge market share in a short time with its quality lights, pricing and light output. The company was born from the love of diving and light technology. This has is driven the company to deliver good value for money. The dive lights are priced between 60 and 600 euros, making suitable diving lights for both recreational and technical divers.
OrcaTorch back-up lights
Are you going on a recreational night dive? Then a back-up light is important for your own safety. When your main torch fails, you still have a torch at hand to safely get out of the water. The back-up lights from OrcaTorch are also suitable for use as a main torch during the day. Or on holiday in a tropical resort. Here some animals become active at night to look for food. A large beam of light can make them believe that it will be day again, causing them to rest again. And you want to avoid that.
A back-up light has less power: a maximum of 1000 lumens. You can purchase OrcaTorch back-up lights from € 60, for example the D580 or the D520.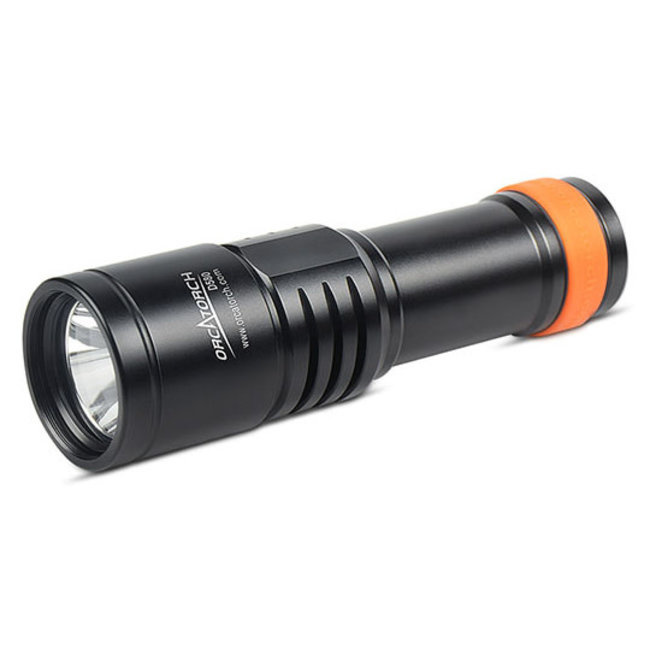 Mid-range OrcaTorch dive lights
The mid-range OrcaTorch dive lights are excellent for night diving in the Netherlands. With 1000 to 2000 lumens and a price range from € 150, they are ideal for recreational divers and on holiday!
In most cases you activate the lighting by turning the head. In other cases there is a push button. Most dive lights are equipped with a dimmer. The LED strip around the switch indicates the battery level with green, orange and red light. The D710, D850, D860 and D511 are examples.
Technical dive lights from OrcaTorch
Are you an experienced diver and do you need more power in your dive light? Then the canister lights from OrcaTorch are a good choice: you can achieve a maximum of 4000 lumens and the battery lasts a lot longer than cheaper variants. When you switch on the light(s) at maximum lumens, the battery lasts more than five hours, if you lower the number of lumens, the battery can last up to 24 hours.
You can attach the battery to your BCD or the diving cylinder. With the goodman handle you attach the diving light to your hand, leaving both hands free to communicate. The OrcaTorch canister dive lights are widely used for wreck diving and cave diving.
This category includes the OrcaTorch D620and D630.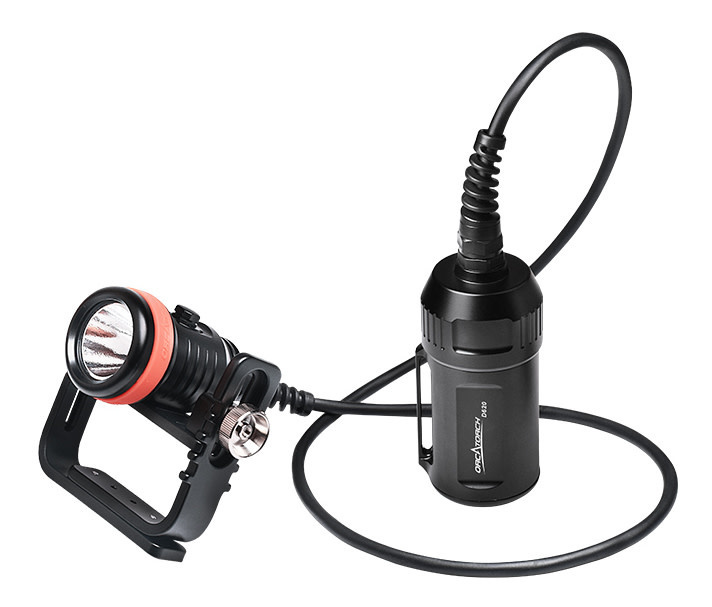 OrcaTorch at Lucas Divestore
Curious about OrcaTorch dive lights? At Lucas Divestore we have an extensive range. See the possibilities on our website. Do you have any questions or do you need help? Feel free to contact us, we are happy to help you make the right choice(s)!