Looking for the best diving fins? We'll help you!
Are you looking for diving fins and would you like to know which diving fins are the best? In this blog we advise the best diving fins for your dive. Read on!
There are different types of diving fins. The well-known closed heel fins that do not require diving shoes and the open heel fins designed to be used with dive shoes. Are you going to a warm water area or do you just want to snorkel with the fins? Then closed heel fins are the most interesting for you.
Closed heel fins
The closed heel fins are often used for snorkelling. These fins are flexible and lightweight. Because you just slip in your bare feet, they are often used in tropical areas with warm water or in the swimming pool to learn how to dive, for example.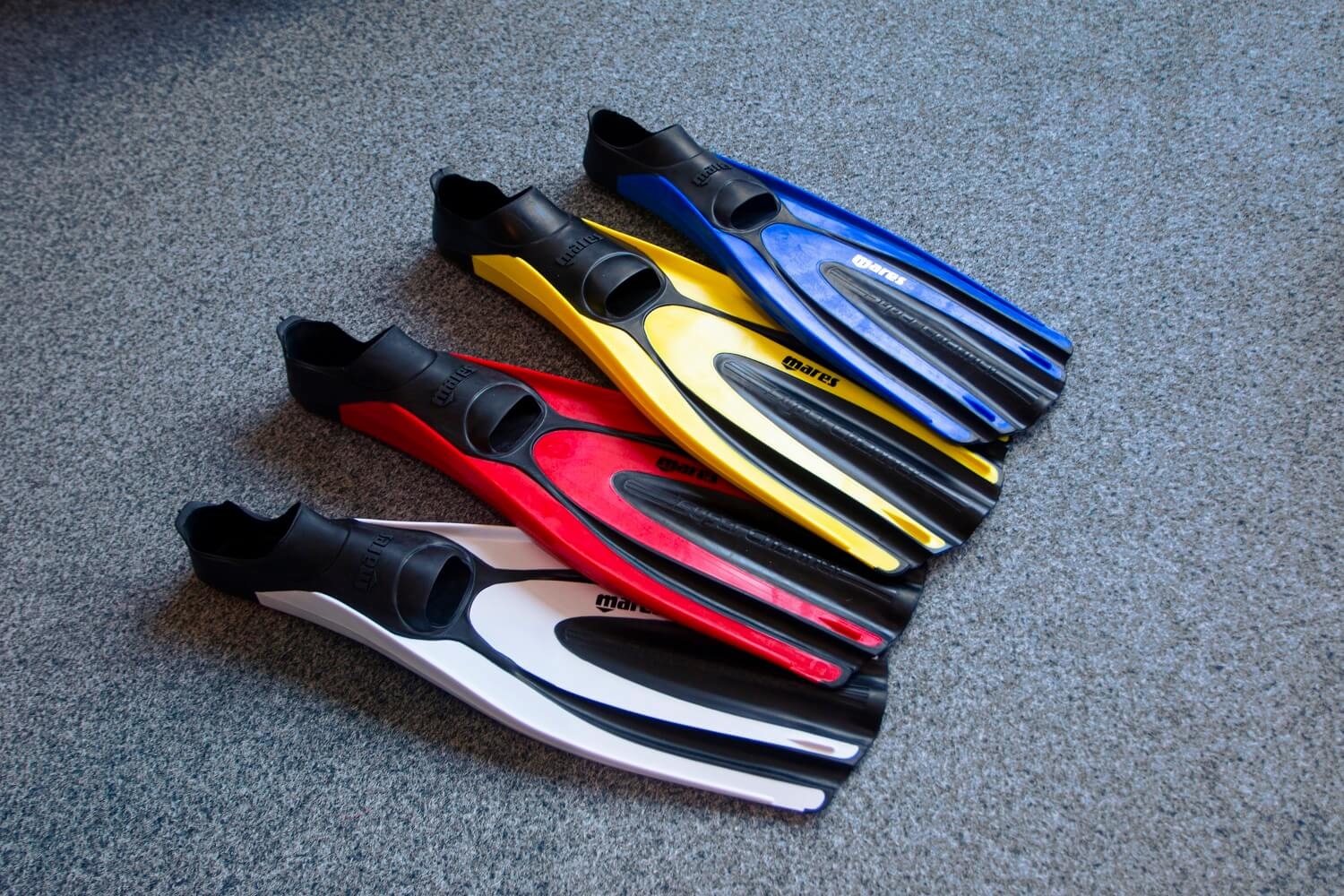 Open heel fins
Open heel fins are the most commonly used fins among divers. These fins have more propulsion and are used for diving in open water. The advantage of open heel fins is that you can easily use them with your diving shoes. These protect you from the cold water. This fin often has a stiffer blade, which makes it easier to move forward under water. If you want to buy open heel fins, it is important to take your diving shoes with you. It is crucial that the shoes fit well in the open heel fin, to increase diving comfort.
Besides open and closed heel fins, the type of fin also varies. There are stiff fins, traditional fins and technical fins. Divers often have their own preference for diving fins.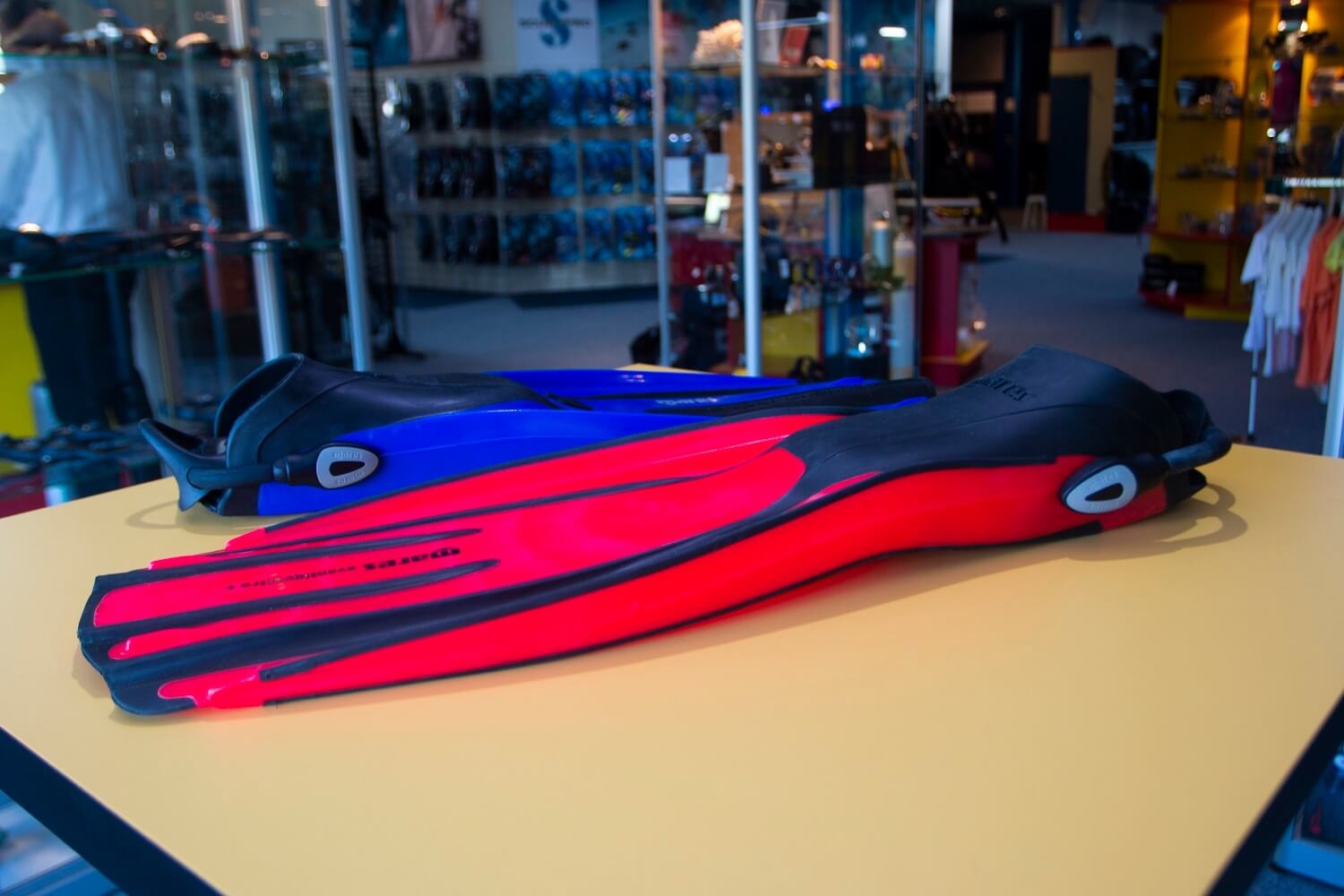 The old-fashioned stiff fins
In the old days, everyone dived with stiff fins with hard and firm blades. These fins were made entirely of polycarbonate because they could not yet use silicone in the fins. They were real planks under water. Because the blades were very hard, much of the force you put in the fins was moved to the back of the side, so that the propulsion was not optimal. These fins are hardly sold anymore, because it is an outdated model.
Traditional all-round fin
The traditional all-round fin is generally chosen. It is a fin with a supple but firm blade in terms of bending. This means that the blade retains its shape, yet it is flexible enough to generate a powerful but supple propulsion. The more effective your stroke is, the more propulsion you have. This is especially useful if you are diving in an area where there is a lot of current. Diving fins used to have a rubber heel strap that you had to adjust every time. Nowadays the fins are secured with silicone rubber bungee straps. This makes it very easy to put on and take off your fins and it fits perfectly on your diving shoe.
This traditional fin is also perfect for travelling. Some fins are demountable and relatively light, making them easy to carry.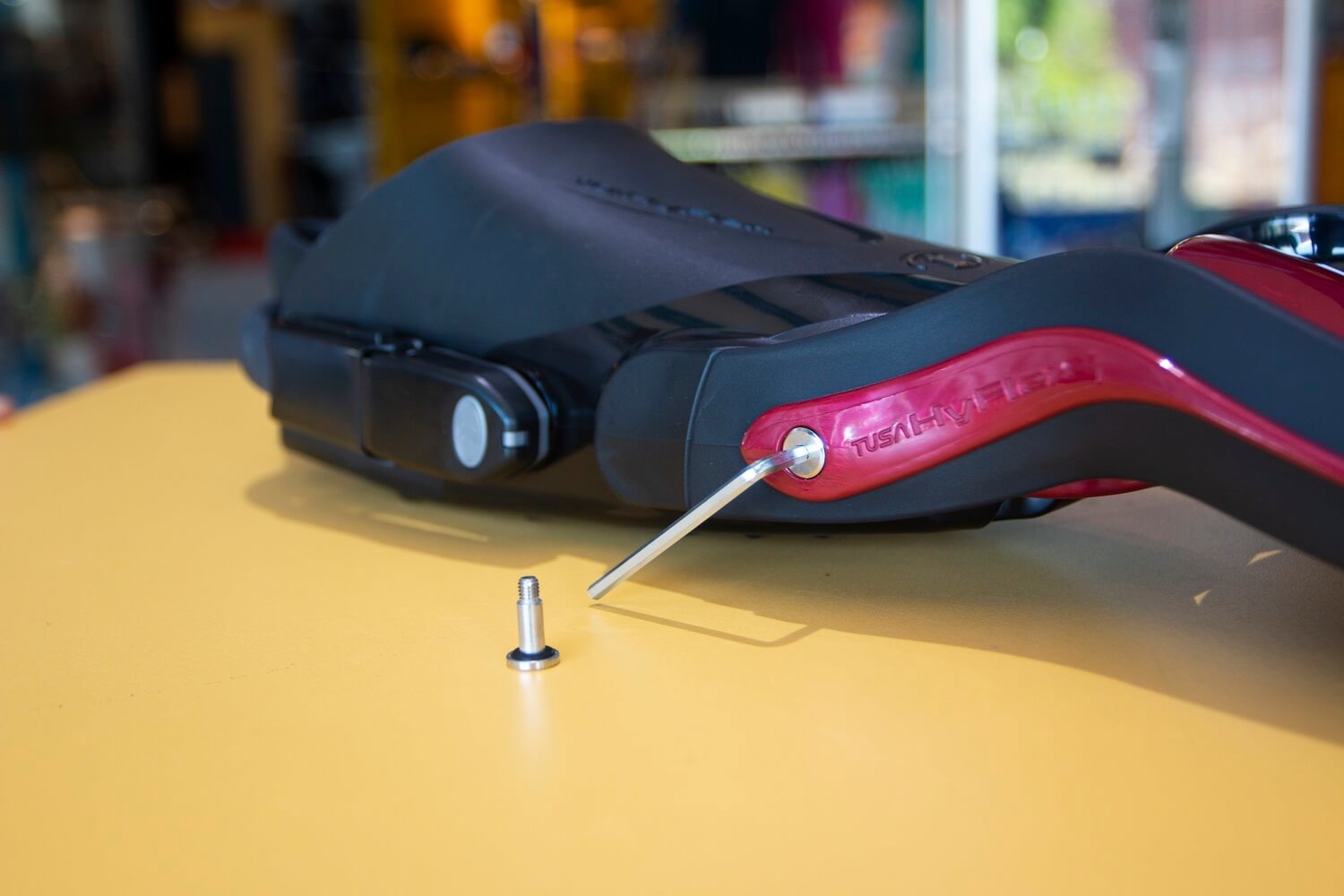 Technical fin
The technical fin is mainly used by drysuit divers or technical divers who want to perform a Frog kick. Because the fin is heavier than traditional fins, it is ideal for drysuit divers, so they have some extra weight on their feet to be able to drift better. The fin is made entirely of rubber. The technical fins are shorter and heavier than regular fins and have a very stiff blade. Because the blade is a bit stiff, this is the ideal fin for a frog kick. With subtle movements, the fin already gives an optimal propulsion, making you very manoeuvrable in the water. A helicopter turn or even swimming backwards is very easy with the technical fin.
Different sizes and colours!
We have fins in different types, sizes and colours available at Lucas Diving Sport. We even have matching masks and snorkels. An eye-catching colour can make it easy for you to find your fin if it falls into the water or slips off your foot into the water!
When buying the right fins, it is always advisable to bring your diving shoes with you. Our advice: never buy fins without having shoes. We are happy to give you advice on diving fins or shoes, by phone or e-mail. Of course, you are also welcome to visit our megastore.