Different diving tanks highlighted. Bjorn explains!
Every diver needs a diving tanks. Diving tanks come in different materials and with varying air contents. The diving tank is a relatively cheap part of your diving equipment, but needs a proper selection and care. Bjorn is happy to tell you more about it!
Steel diving tanks
Many divers who dive in the Netherlands opt for a steel diving tank. Steel is a lot heavier, so you can reduce the amount of extra weight to compensate. The steel diving tanks are available with a capacity of 3 L, 5 L, 7 L, 8 L, 10 L, 12 L short (also called bomb), 12 L long, 15 L and 18 L. The choice for the content has to do with the duration of your dive: the bigger the diving tank, the more air you take with you. The most sold diving tanks are 10 L or 12 L. The choice for 12 L short or 12 L long has to do with your own preference, length and posture. Of course there are also combinations to double sets, for example double 7 L, double 10 L and double 12 L. The steel diving tanks have a working pressure of 232 bar of 300 bar. Note: not every steel tank is available in 300 bar.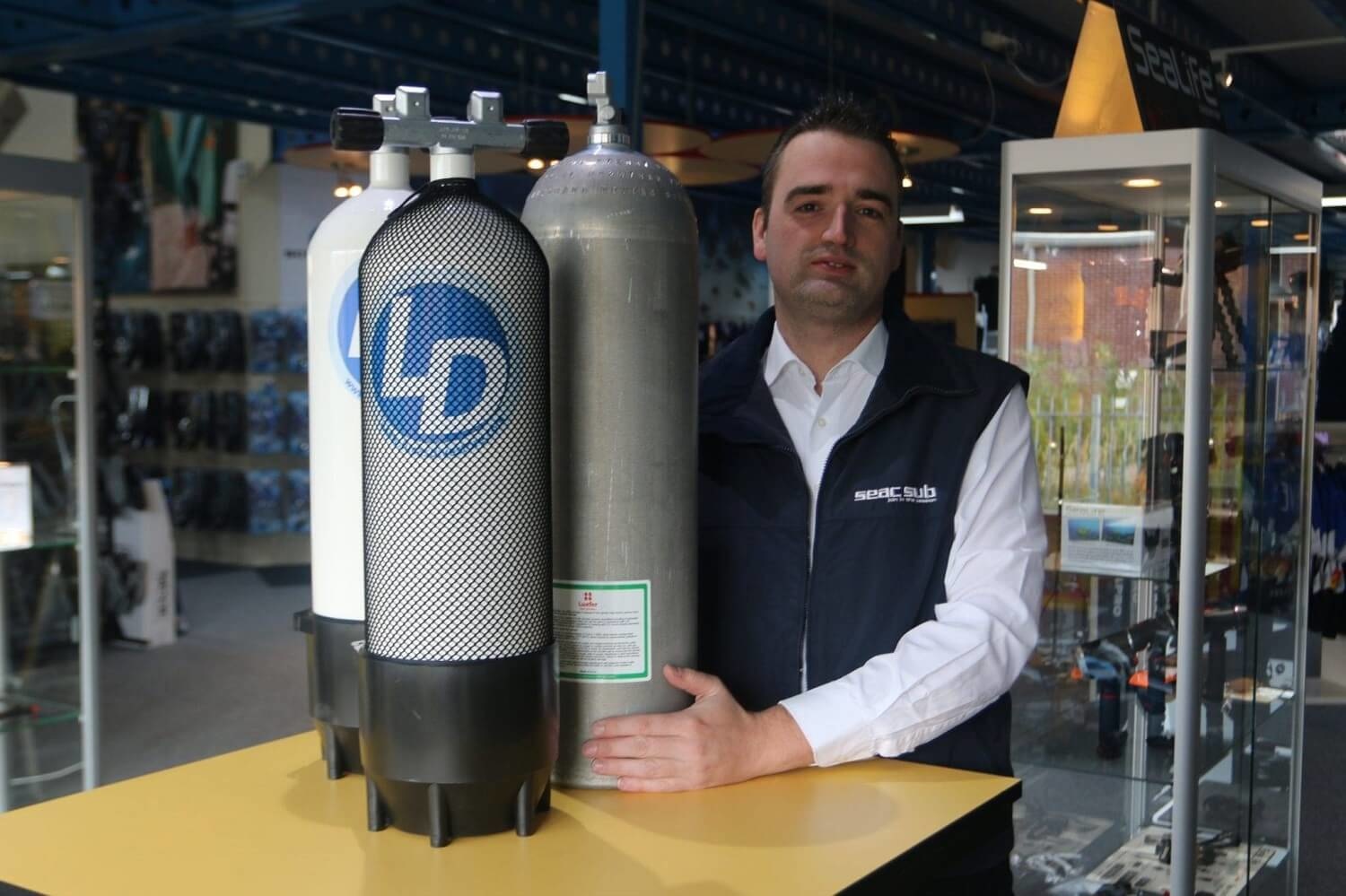 Aluminium diving tanks
When diving in salt waters, many divers choose an aluminium diving tank. The main reason is that aluminium rusts less quickly. Aluminium tanks are available in 5.7 L (40 cf) and 11.1 L (80 cf). Aluminium tanks are often used as stages (extra tanks, which you take with you underwater or for sidemount diving).
Valves
There is a valve on every tank, and over the years there have been quite a few different threads. Including small conical, 3/4 gas and M25 x2. The new generation of tanks are all equipped with M25 x2. It is good to always check that the thread of the valve corresponds to the thread of the tank. This can be found on the diving tank and on the valve. If one of the two does not mention which thread is applicable, then it is recommended not to use the tank. If you put the wrong valve on the wrong tank, the valve will burst and it will have catastrophic and even fatal consequences.
In recent period the new EN250A standard has come into force, divers who have a somewhat older regulator will want to dive with a double valve (a single tank with two valves). Divers who like to have a separate system will choose this. The choice is whether to have a rotatable valve or a fixed double valve.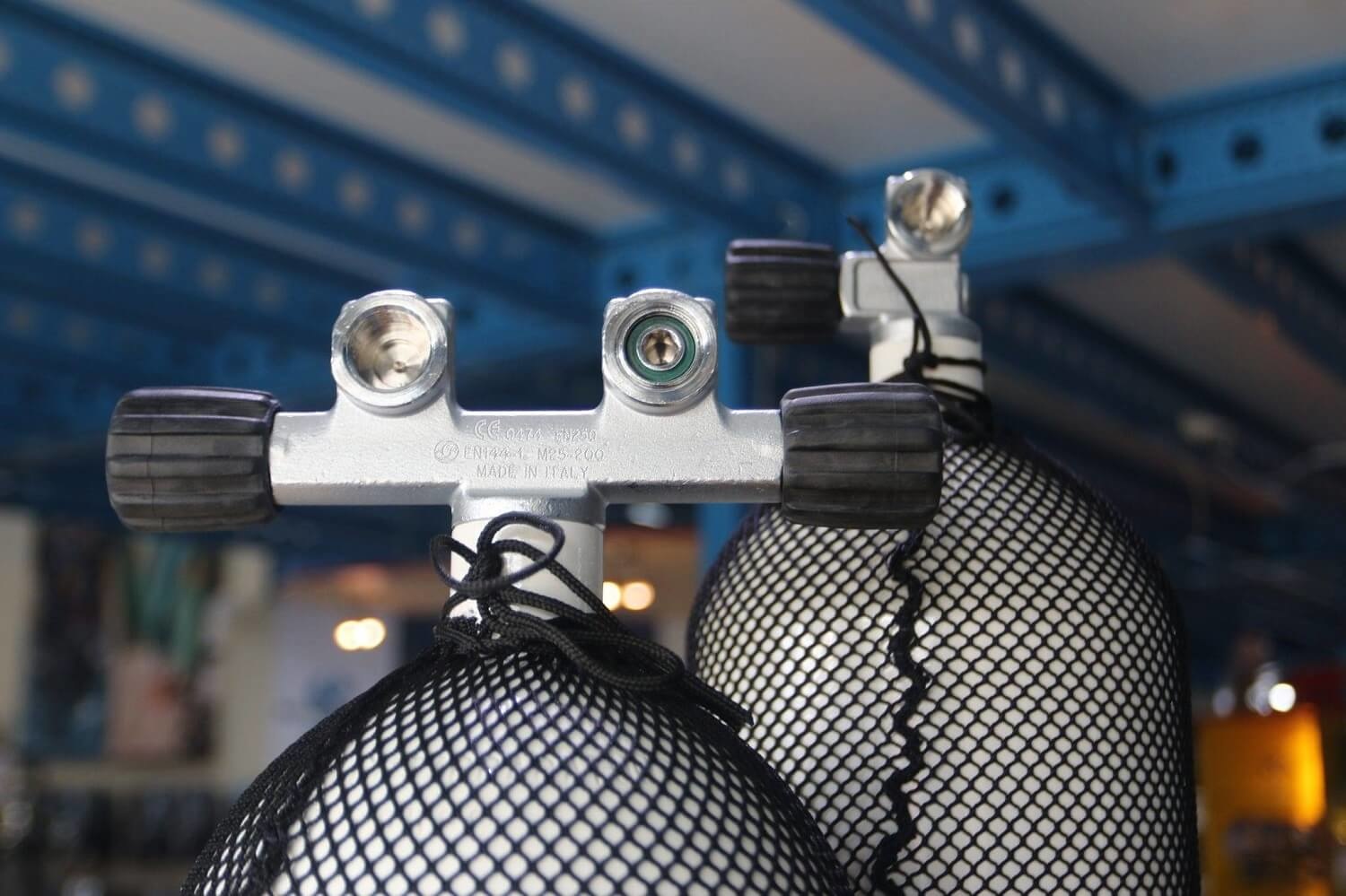 Inspection of the diving tanks
Diving tanks must be hydrostatically inspected. In the Netherlands this has to be done every 5 years. This may differ in neighbouring countries, and the neighbouring countries will also consider their own standard. For example, if you go diving in Germany, where a 2-yearly inspection applies, you will have to comply with that. The inspection is carried out by the Stoomwezen. In the Netherlands there are several places, including Lucas Dive store, where you can submit your diving tanks. Every two weeks they come to collect the diving tanks for the inspection. Each diving tank is tested for the expansion of the material and rust formation. This is tested by filling the tank with water and then applying pressure. With proper maintenance of your diving tank, it will last a long time.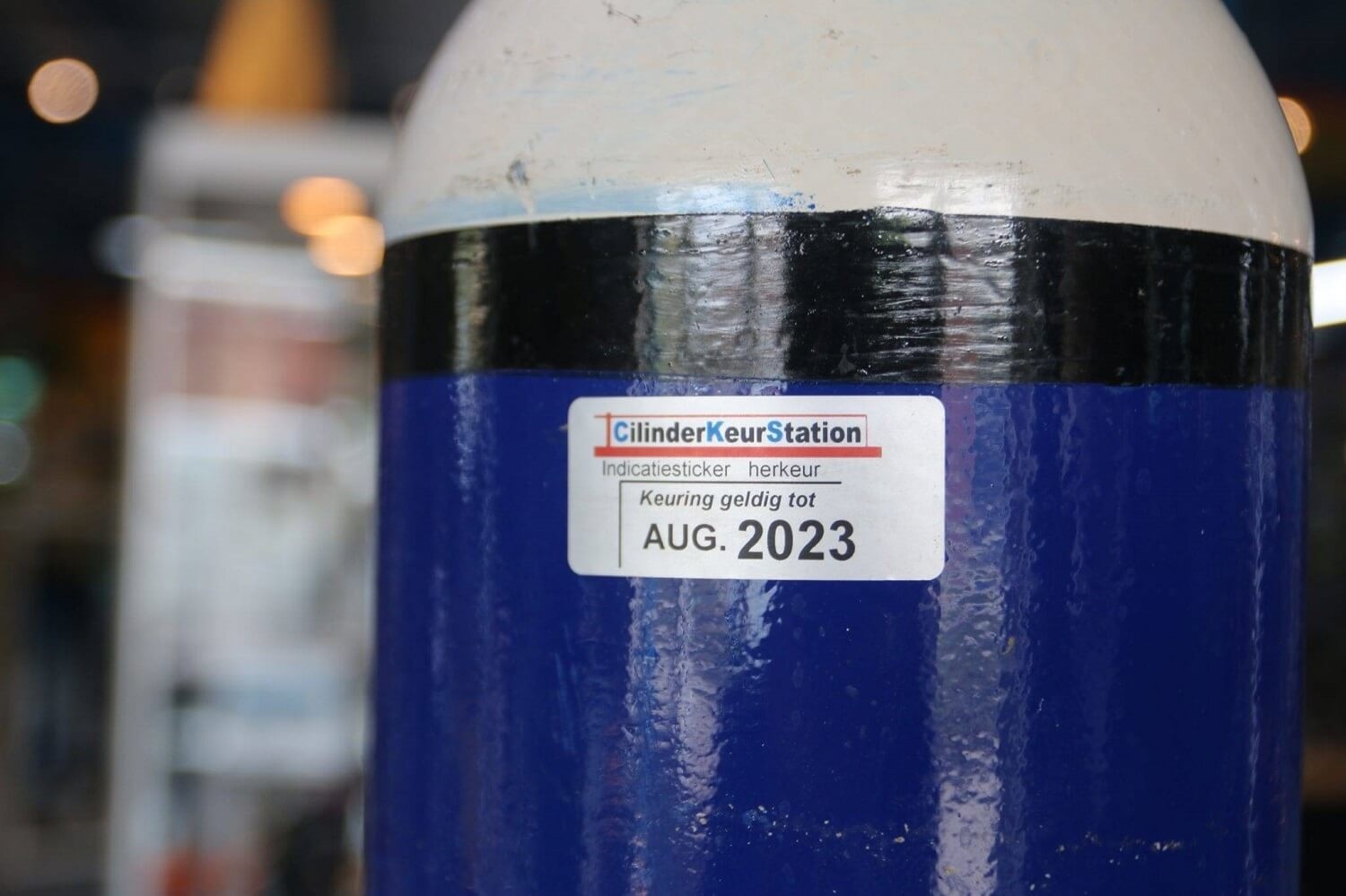 More information about diving tanks?
Would you like to know more about the different diving tanks, do you want to hand in a diving tank for an inspection or do you want help with the purchase of a suitable diving tank? Contact us for more information or come to our megastore in Nijverdal for personalized advice.