Best dive lights of 2023; our top 10!
A dive light is an essential piece of diving equipment, especially for night divers. There are various dive lights on the market, from very cheap to very expensive. What are the differences between the dive lights? And which one meets your requirements? We tell you what the best dive lights are and made a top 10 with the best dive lights so you can make a good choice.
When do you need a dive light?
A dive light is mainly used for night diving, cave diving or wreck diving, but in some waters a dive light can also be useful during the day. It is good to know that a dive light only has an effect in clear water. If the water is too murky, a dive light gives the same effect high beam car lights give during foggy weather.
A dive light can also be useful when diving into wrecks and viewing objects. The dive light can then be used to illuminate. The location of the dive is also very important for choosing the right dive light. For example, are you going night diving in the Netherlands? Then you have worse visibility than in the tropics. When visibility is poor, it is best to opt for a stronger lamp. With good visibility you can opt for a less strong lamp.
Primary & backup light
If you are going to dive with a dive lamp, most divers have a primary and a backup dive light. The primary dive light is the lamp that you actually shine with physically. The backup light is just in case might something happen to the primary lamp. It is always wise to have a back-up dive light, this way you can always find your way back to the shore.
Primary dive lights
Primary dive lights are available as a hand-held lamp or as a cable lamp. With a hand-held lamp you have the entire lamp, including battery pack, in your hand. With a cable lamp, your lamp is attached to a cable. That cable is connected to co the battery pack
and attached to the abdominal wall of your BCD or to your diving cylinder.
The advantage of a hand-held lamp is that it is smaller and more compact than a cable lamp. A disadvantage of the hand-held lamp is that it has a shorter burning time. A hand-held lamp burns for an average of one hour, a cable lamp always burns longer, due to a higher battery power. A cable lamp can provide light for a few hours. A cable lamp often works with a so-called goodman handle. That's a lever that your hand slides through. As it were, the lamp is clicked onto your hand, so that you can continue to use your hand during the dive.
You always wear a cable lamp in your left hand. The battery is on the right. The reason for this is that the long hose (2.10 m regulator hose) passes behind the battery pack, so that it does not float.
Determine brightness by amount of lumens
The brightness of a dive light can be determined by the amount of lumens. The more lumens a lamp has, the brighter a lamp is. You can determine the number of lumens depending on the use and the clarity of the water.
The best cable dive light
Cable lights consist of a battery pack, cable, and a lamp head. The battery is often attached to the diving cylinder. The diver only has a relatively lightweight lamp head in their hand. A convenient option for many divers! Below is our selection of the best cable lights:
1. Metalsub KL1242 FS12 Led 12000 set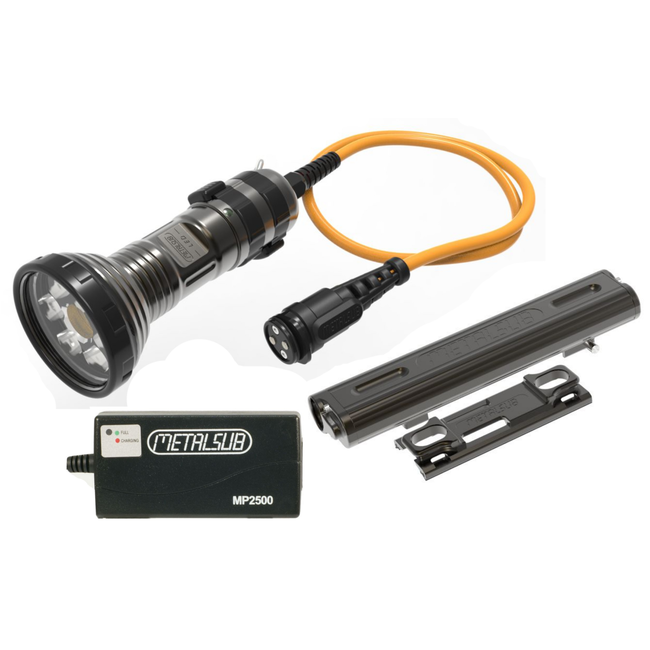 The metalsub KL 1242 FS12 is Metalsub's most powerful cable lamp. With a capacity of 1200 lumens, it is a very powerful lamp that provides you with a lot of light. The Metalsub KL 1242 FS12 has a spot function and flood function. There are two separate switches, but they can also be used simultaneously for maximum light output.
Like all Metalsub dive lights, this light is reliable, indestructible and made of the best quality aluminum.
See Metalsub KL1242 FS12 Led 12000 set!
2. Metalsub KL1242 Led 6350 set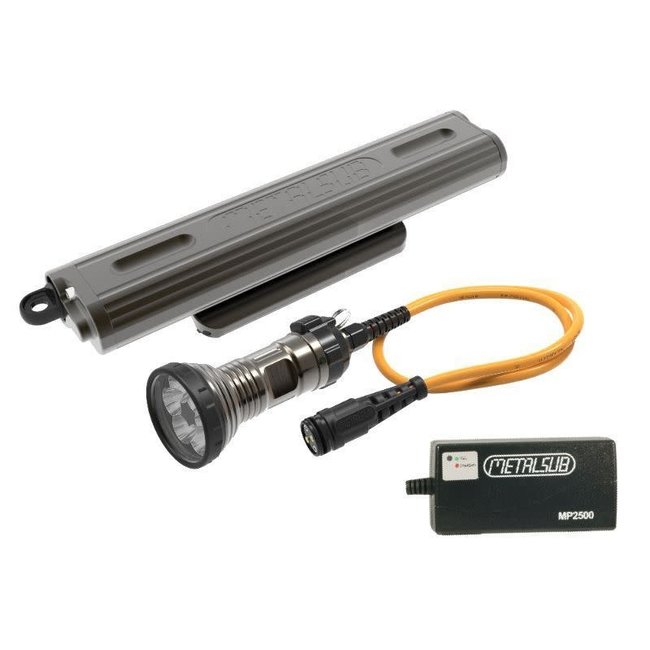 The metalsub KL 1242 LED 6350 is a cable lamp with a capacity of 6350 lumens. The small size and light weight makes the metalsub KL 1242 LED 6350 very workable and easy to dive with. This dive light is infinitely dimmable from 0 to 100% and has
4 dimming positions and 3 warning signals (SOS-Flash-Strobe).
See Metalsub KL1242 LED 6350 set!
3. Nanight Tech 2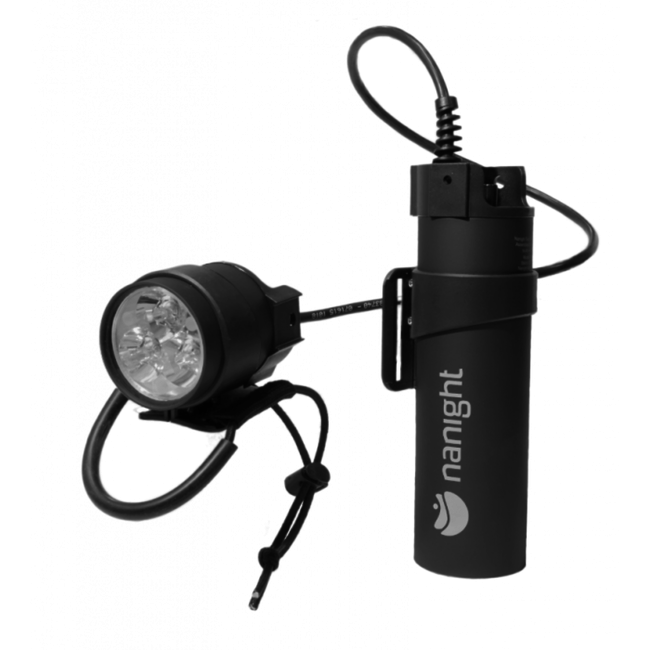 Nanight is a Swedish manufacturer of quality diving lights for an attractive price. This cable dive light gives a powerful light and has a long burning time. The lenses are interchangeable and there are multiple mounts. The lamp can therefore be used as a spot lamp, floodlight and as a video lamp. The Nanight Tech 2 features a simple, reliable magnetic switch with no complicated mechanics.
4. Nanight C3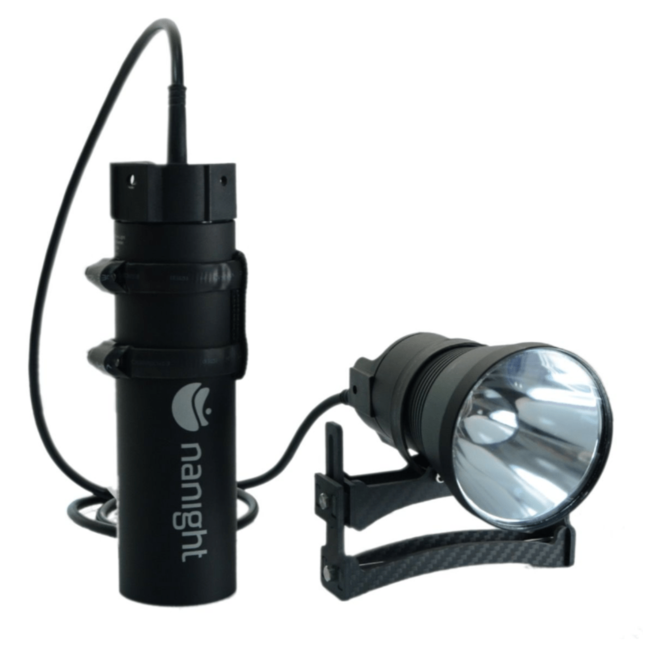 The Nanight C3 is a robust dive light with a long range and a power of 4000 lumens. What makes the Nanight C3 different is the holder/handle of the lamp. It is made of stainless steel and has a Goodman handle. The magnetic switch is easy to operate and reliable. The burning time depends on power, temperature, but can be up to 7 hours at full power.
5. OrcaTorch D630  
The Orcatorch D630 is a perfect dive light for technical diving activities including cave diving and wreck diving. With a power of 4000 lumens, the dive light gives a lot of light. What makes the OrcaTorch D630 different is the adjustable cable which can be rotated between 90° and 180° between cannister and lamp head. This makes the lamp suitable for sidemount and backmounted diving. A nice feature is the battery, which can be removed and used as a power bank.
The best hand-held dive lights
If you prefer a hand-held dive light, there are various options. Below is our selection of the best hand-hand dive lights.
1. OrcaTorch D710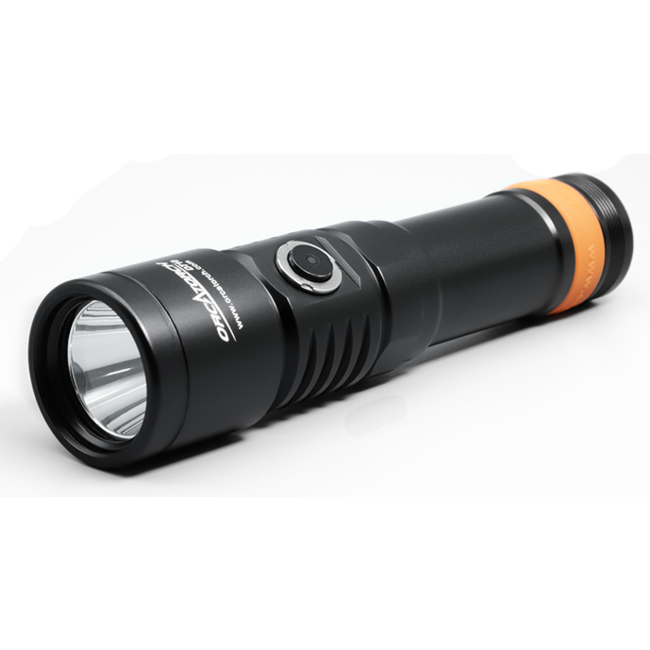 The OrcaTorch D710 is a dive light suitable for both recreational and professional divers. The lamp has a power of 3000 lumens, making it one of the most powerful hand-held dive torches. Operation is simple with push button switch and a locking function prevents misoperation. All in all a good dive light for an attractive price.
2. OrcaTorch D850
If you need more than the OrcaTorch D710, there is the Orcatorch D850. This hand-held dive light has 5 CREE LEDs for good lighting. It is equipped with side button and provides insight into the remaining battery life.
3. Apeks Luna ADV 3600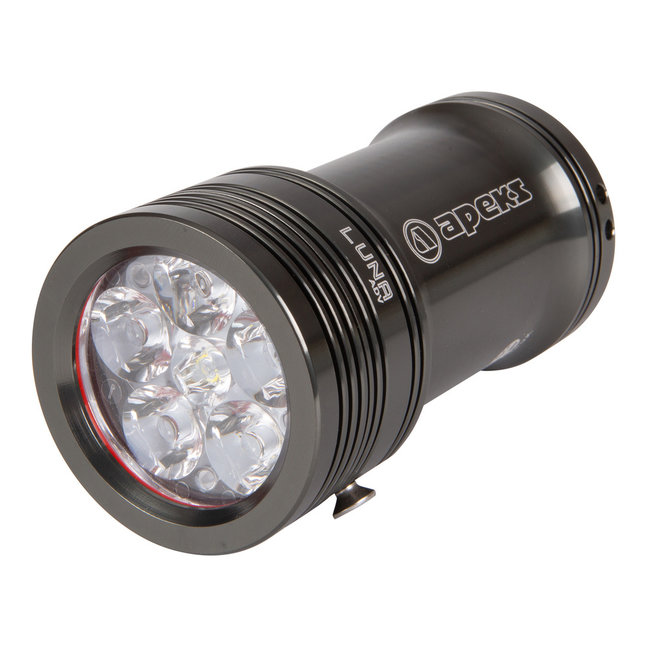 The Apeks Luna ADV 3600 is a powerful dive light that produces up to 3600 lumens. The burn time is +- 2 hours on the maximum setting. It is a handy lamp that has 6 different programs so that you can properly adjust the amount of light to the circumstances.
4. Apeks Luna primary torch 2000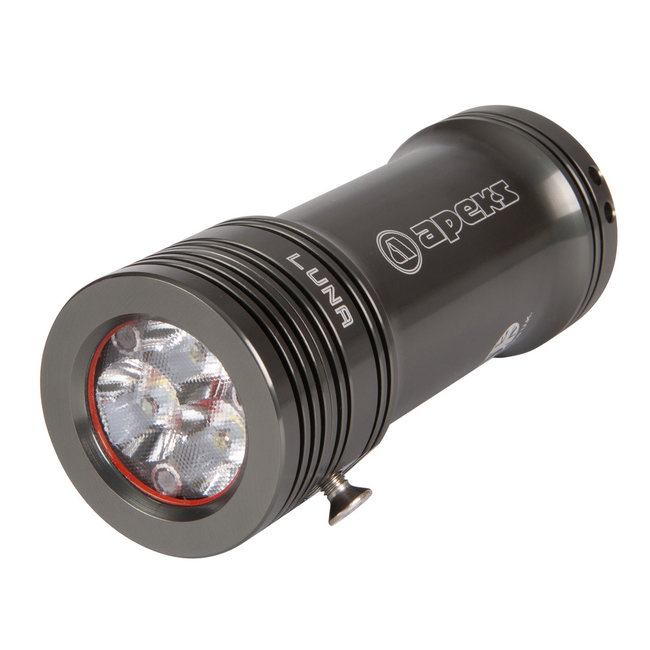 The Apeks Luna is a popular dive light with a light output of 2000 lumens. You can see digitally how many minutes of burning time you have left. The burning time between is on average between 2 and 8 hours depending on use.
See Apeks Luna primary torch 2000!
5. Mares Eos 20LRZ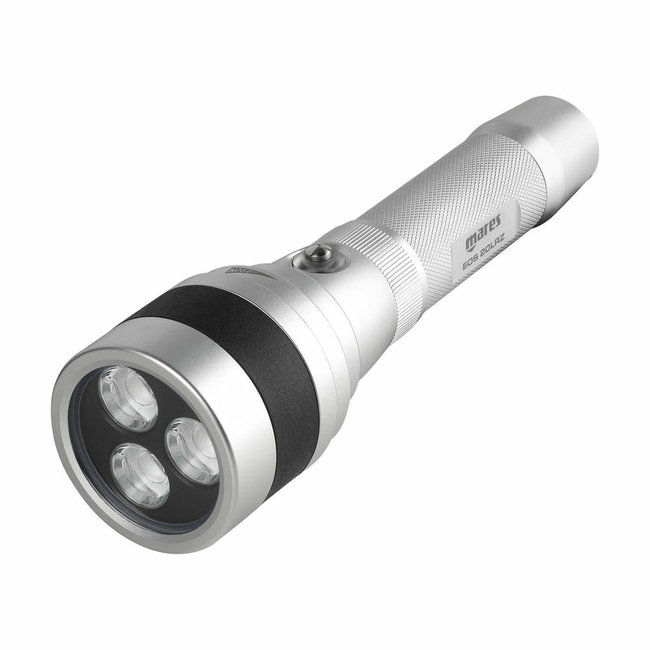 The Mares EOS 20LRZ is a hand-held lamp which is rechargeable via a USB cable. This dive light has a power of 2300 lumens. The Mares EOS 20LRZ is equipped with a magnetic control and the lamps provide a constant light.
6. Seac R40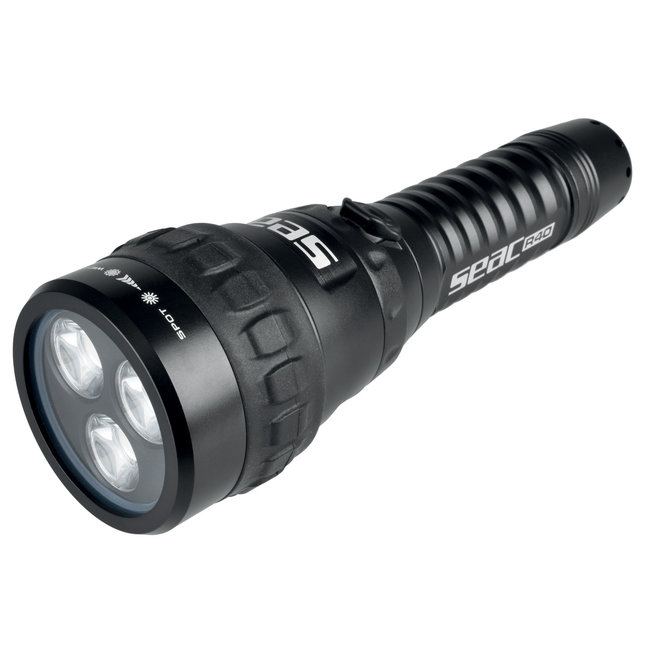 The Seac R40 delivers an output of 2300 lumens at full power which ensures good visibility underwater. With a burning time of 2 hours at full power and 5 hours at reduced power. The lamp has 3 operating modes. You can use max. power, reduced power and flashing. All in all it is an excellent hand-held dive light.
The best backup dive lights
If something happens to the main torch, a backup dive light is a must have. If the primary light no longer functions, you can find your way back with the backup. Below our selection with the best backup dive lights.
1. Mares XR back up light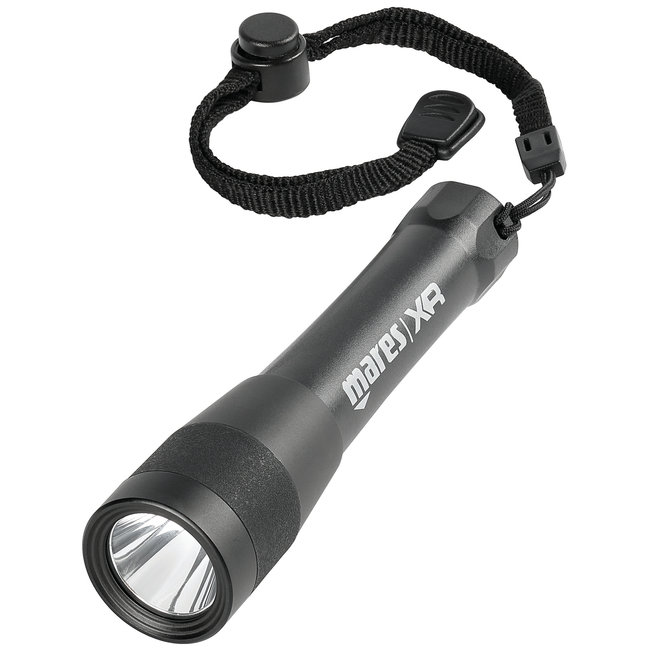 The Marex XR back up light is specially designed as a backup. It is a compact yet powerful lamp. The lamp can be used up to 100m deep and with an 8° angle is useful for poor visibility. With a burn time of 135 minutes you have enough time to get to the side.
2. Orca Torch D700 
The Orca Torch D700 is, just like the other backup dive lights, a compact unit. The lamp provides a bright beam with a 6° beam angle. In combination with a maximum brightness of 1700 lumens, the lamp ensures good visibility. The battery is rechargeable via a USB type-C charging port. In addition to a backup lamp, it is also a popular lamp for cave diving and shipwrecks.
3. Mares EOS 10LR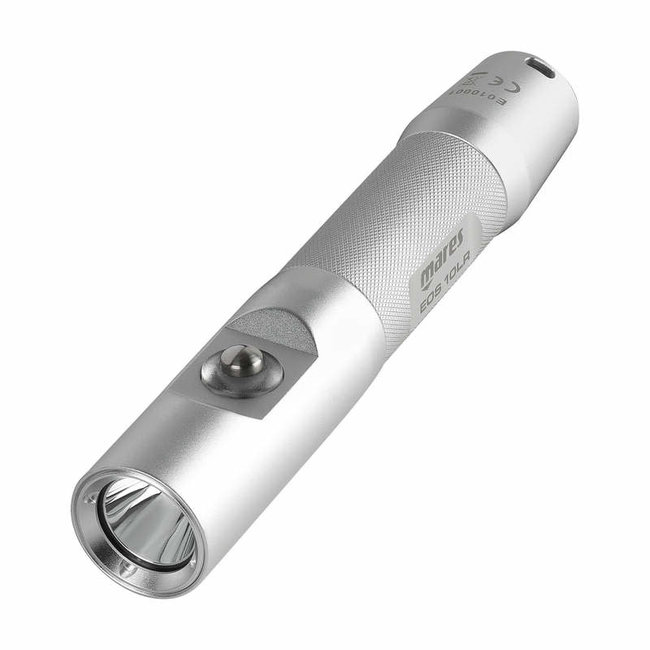 Released in 2022, the Mares EOS 10LR features a rechargeable battery and a narrow beam with a beam angle of 12°. The lamp is extremely suitable as a backup lamp and has a burning time of 90 minutes at full power. The lamp has 3 operating modes 100% power, 50% power, flashing mode or off.
Don't want to hold the dive light?
The moment you have the dive light on and want to free your hands, you can attach it to your BCD. As a result, the lamp shines straight down and the bottom is nicely illuminated. You can also attach the dive light to the D-ring of your BCD at shoulder height. If you do so you have to turn off the lamp, otherwise you can blind your fellow diver with the bright light.
More information about dive lights?
Do you want to know more about the different types of dive lights and which one best suits your wishes and requirements? The specialists from Lucas Divestore are happy to help you. Feel free to contact us, you can contact us by e-mail, telephone or website.