Aqualung Helix Pro Regulator
Discover the Aqualung Helix Pro: a mid-priced scuba regulator. Thanks to its compensated first and second stages, this regulator provides outstanding performance that undoubtedly exceeds your expectations. It is definitely the best option in terms of price-to-quality ratio that you can currently obtain.
What makes Aqualung so unique is mainly the ACD system in the first stage. This ensures that if the first stage is not connected to the tank, no dust or moisture can enter the first stage. The Aqualung Helix Pro includes the ACD system. The first stage is a balanced system that maintains the same stable breathing comfort regardless of the depth and tank pressure while diving. Additionally, the ACD technology prevents any unintended water or debris from entering, even when the regulator is not pressurized.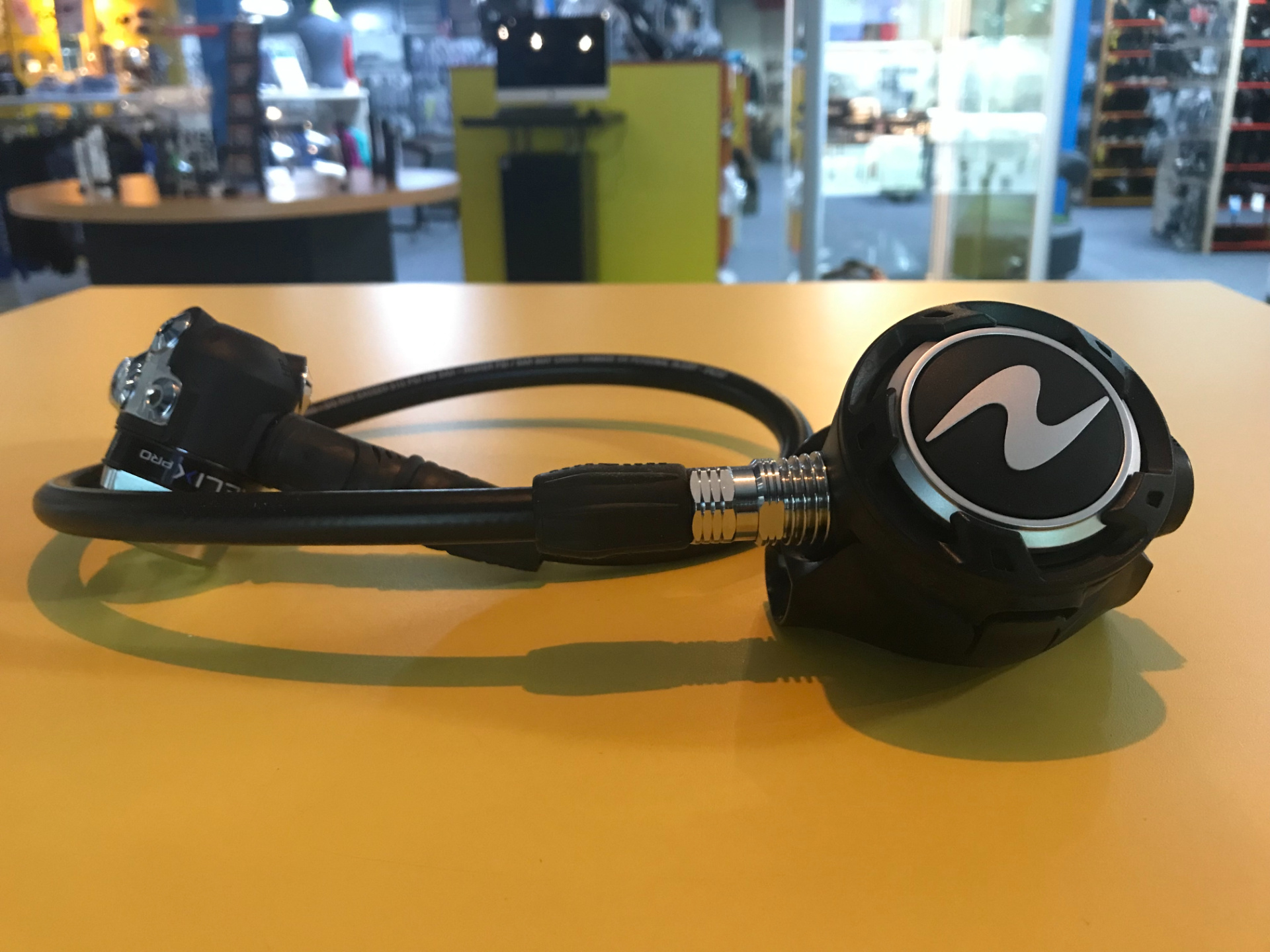 General features of Aqualung Helix Pro
General features of Aqualung Helix Pro include a balanced membrane system in the first stage, which provides superior and consistent performance regardless of the tank pressure. The Dry Chamber Technology keeps the moving parts of the first stage clean and dry. This feature is suitable for use in cold and/or polluted (dirty) water, as it isolates from the outside.
The first stage of the Helix Pro has four low-pressure ports and two high-pressure ports positioned to minimize interference with hoses and to provide perfect hose routing for your dive. The first stage is also equipped with a 300-bar DIN connection.
Suitable for cold water too!
To make this scuba regulator highly suitable for cold water, a heat exchanger is placed between the hose and the second stage. This improves the metal part's heat conduction and prevents the second stage from freezing. Additionally, the mouthpiece of the second stage has a lip cover for cold water. This device is excellent for use by ice divers or divers in cold water!
Aqualung Helix Pro sets
The Aqualung Helix Pro is available as a standalone regulator or in sets. We offer a set with an octopus and a set with the Helix Pro regulator, octopus, pressure gauge, and bag. The octopus is also sold separately. We always recommend that divers purchase the first, second stages, and octopus of the same brand for optimal performance of their scuba regulator.
Our advice on scuba regulators
Do you have any questions about the Aqualung Helix Pro? We are happy to provide you with clear and helpful advice. You can contact us via email or phone, or visit our megastore in Nijverdal, The Netherlands.