The M1002 Tina Mask is the latest design to come from Freedom Technology. It is a low profile 1-window mask which includes a crystal accent and accessory dock for personalization.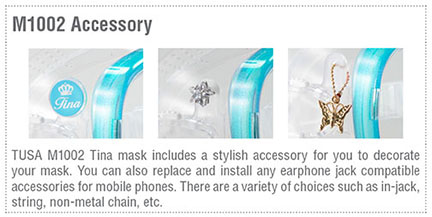 FEATURES
Low profile 1-window design
Equipped with Freedom Technology
Crystal accent
Accessory dock for personalization
Colors: Bougainvillea Pink (BP), Light Blue (LB), Purple Quartz (PQ)
Black Silicone: Black/Black (QB-BK)

FREEDOM TECHNOLOGY
Freedom Technology is a set of technologies to enhance fit and performance exclusive to TUSA. Freedom model masks feature a dimpled skirt surface with varied silicone thicknesses and stability ridges in addition to a proprietary low-friction skirt surface on the fitting line.

3D MASK STRAP
TUSA's patented 3D Strap is a true three-dimensional design that snugly fits against the head's natural curvature. The 3D strap offers unprecedented comfort and fit, unlike standard flat mask straps.

QUICK-ADJUST BUCKLE SYSTEM
The Quick-Adjust Buckle System incorporates a newly-designed low-profile buckle. The result is a compact, lightweight, technologically advanced mask design that can be easily and quickly adjusted for a perfect fit.

ROUND EDGE SKIRT
TUSA's Round Edge Skirt features a proprietary round edge cross-sectionally shaped skirt. This rounded edge results in a soft fit that suppresses pressure and reduces creasing left on the face. The "planar fit, instead of linear fit" silicone skirt maintains great fit and unprecedented comfort.