BAUER JUNIOR II breathing air compressor
The world's best seller: With more than 100,000 units around the globe.
BAUER's most compact mobile compressor: With compact dimensions and advanced technology.
Extensive range of applications: For sport divers, shipping, respiratory applications, paintball, sport shooting and many more.
Really easy to transport: Outstandingly light in weight and easy to handle.
Capacity: 100 ltr/min
Pressure: 225 or 330 Bar
Dimensions: ca. 780 x 340 x 420 mm (L x B x H)
Weight: ca. 44 kg
Filter: P-21
Durability, reliability, versatility in application and compact flexibility have made the JUNIOR II a global classic and genuine best seller with more than 100,000 units sold the world over.
Dimensions on a very small scale and sophisticated technology make our most compact mobile breathing air compressor ideal for shipping, as a diving compressor, in respiratory applications, and as a compressor for paintball and sport shooting.
In short, it is a must for anyone looking for absolutely clean and safe breathing air for use in mobile applications.
This quiet and compact unit can be carried easily by a single person and will fit in almost any car boot.
STANDARD FEATURES
Features an advanced SUBARU gas engine with low oil alert
4.3 CFM charging rate with a maximum 5000 PSI service
BAUER TRIPLEX purification system utilizing easy to replace cartridges
Inlet Air Filter
5 ft. fill hose assembly with gauge, valve and fill yoke
High temperature safety switch
Belt guard designed to meet OSHA guidelines
Telescopic air intake
92 pounds
OPTIONAL FEATURES
A Visual CO and moisture monitor
Final cut-off pressure switch
Hourmeter and engine tachometer
# if you want us to ship a compressor outside the Netherlands then let us know the address you'd like us to ship to, we will then inform you the actual shipping costs.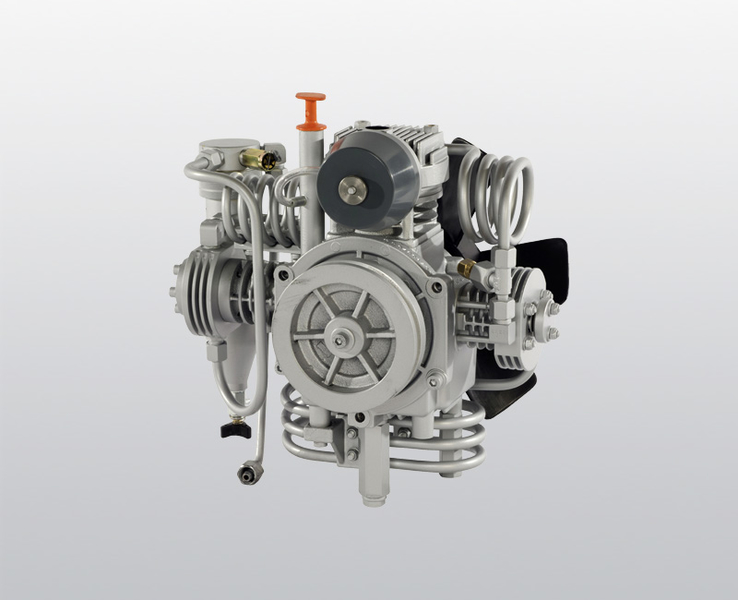 JUNIOR II compressor block
The high-pressure compressor block is the beating heart of the JUNIOR. Epitomising reliability and having proven its worth in practice for decades, more than 100,000 units have been sold the world over.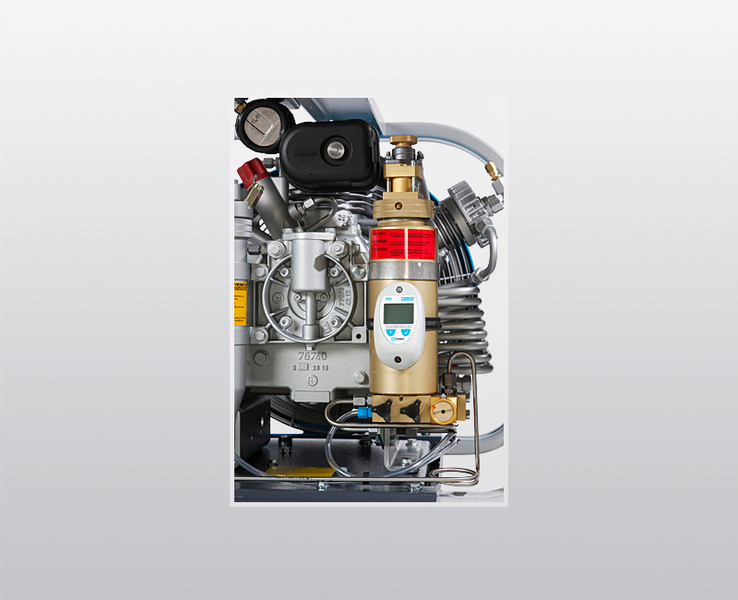 P 21 filter system
When used in conjunction with original BAUER filter cartridges, the P 21 filter system with integrated oil and water separator and pressure retention check valve can be relied upon for breathing air treatment conforming to DIN EN 12021¹. A type-tested and sealed final pressure safety valve enables particularly high levels of operational safety to be achieved. 140 m³ of air can be treated.
¹ If the units are maintained and installed correctly as described in the operating instructions or user manual and if the concentration of CO2 in the intake air does not exceed the values specified in the applicable standard for breathing air.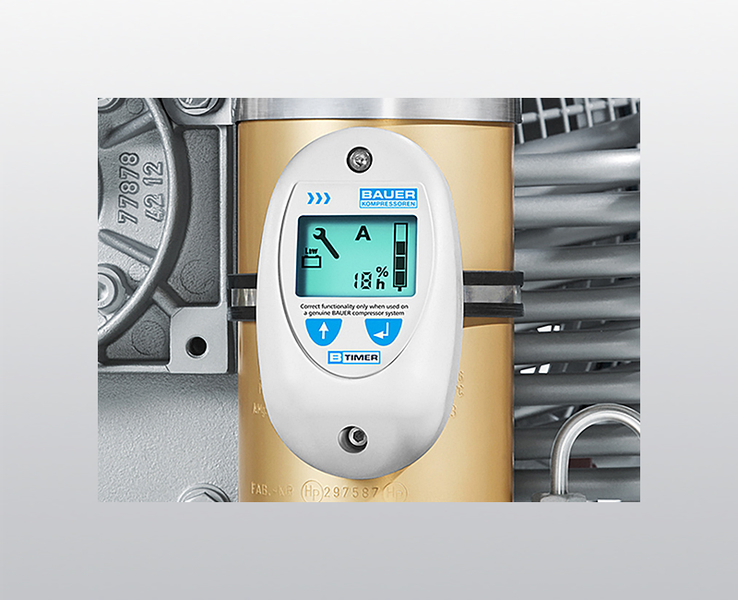 B-TIMER filter cartridge monitoring
The operating hours and the current level of cartridge saturation are displayed on the unique B-TIMER mini-computer. The B-timer is optional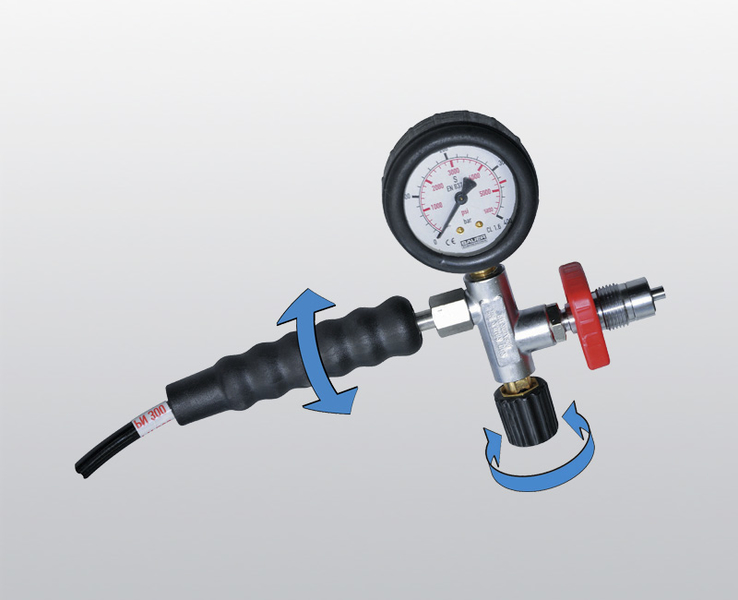 Filling device
The filling device comprises a flexible "UNIMAM" high-pressure filling hose and filling valve complete with final pressure gauge. The final pressure gauge makes it easy to read off the filling pressure. It is protected against damage by a durable rubber jacket.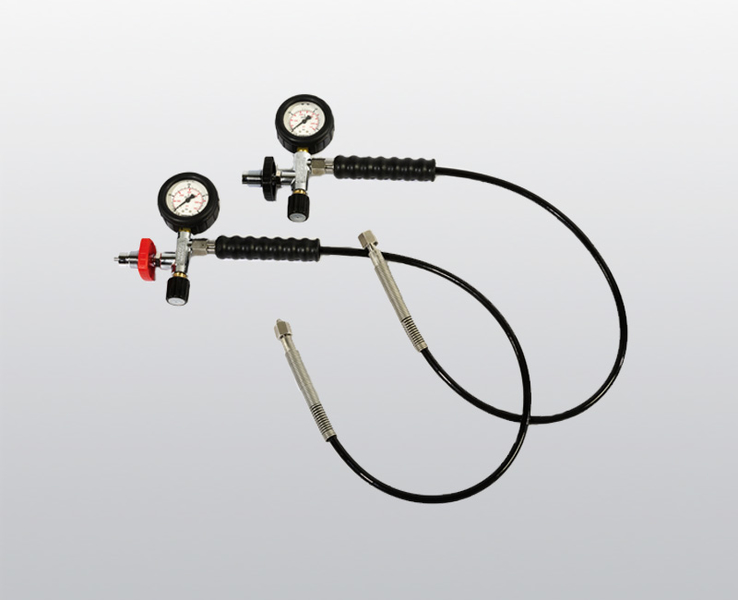 Filling hose
High-quality UNIMAM high-pressure filling hoses made from food-safe and long-life hose material make for flexible and safe handling. Swivel hose connections enable the filling valve to be connected to the breathing air cylinder quickly, easily and safely.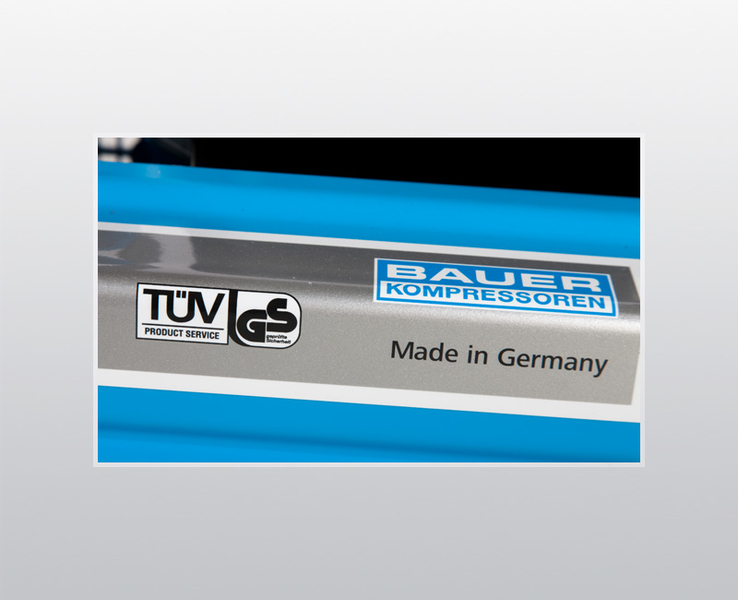 GS mark
The well-known GS mark which comes as standard with the JUNIOR II certifies that the compressor has been tested for safety and meets the exacting requirements of the German Equipment and Product Safety Act. Conformity and compliance with all DIN standards is assured.
Click here and read our Blog about compressors!