The MARINER 200
With charging rate of 200 l/min, the MARINER 200 is the versatile mobile compressor unit in the PROFI-LINE II series which impresses with its range of equipment: the corrosion-resistant crash frame to which system accessories can be attached is integrated as a standard feature.
Furthermore, the first stage and the high-pressure final stage of the MARINER 200 feature piston rings made from a new high-tech plastic which are virtually wear-free.
The vibration-reducing motor rocker design optimises smooth running.
Thanks to the extensive range of BAUER accessories, the compressor can be customised to meet all manner of different requirements and intended uses in next to no time.
Suitable for use as a diving compressor, shipping compressor, for installation in yachts, as a fire service compressor, paintball compressor and in many other applications. Petrol and electric versions available.
The driving gear is suitable for short running as well as continuous operation. The 3-/4 stage construction and the heavy duty industrial roller bearings guarantee maximum lifetime for all professional applications. The first stage and the high pressure final stage are equipped with high tech polymer piston rings, which proved their outstanding wear and tear properties during several endurance tests in an independent Quality Inspection Center. The maintenance-free rigid oil pump guarantees reliable lubrication.
Capacity: 200 ltr/min
Pressure: 225 or 330 Bar
Dimensions: ca. 1300 x 600 x 630 mm (L x B x H)
Weight: ca. 115 kg
Filter: P-21
Resistant
A newly developed, supra-light aluminium chassis guarantees best protection against corrosion! Inter- and after coolers made of stainless steel resist toughest climatic conditions. The vibration reducing construction of the motor rocker stands for smoothest compressor operation as well as self-restretching of the v-belt.
Tough: Thanks to an incredibly durable driving gear. Suitable for short-term operation and continuous service
Durable and robust: Three-stage or four-stage construction and industrial roller bearings maximise the service life of the units
Protected against corrosion: With an ultra-lightweight aluminium chassis for the best possible protection against corrosion
Reliable lubrication: With generously dimensioned low-pressure oil pump
# if you want us to ship a compressor outside the Netherlands then let us know the address you'd like us to ship to, we will then inform you the actual shipping costs.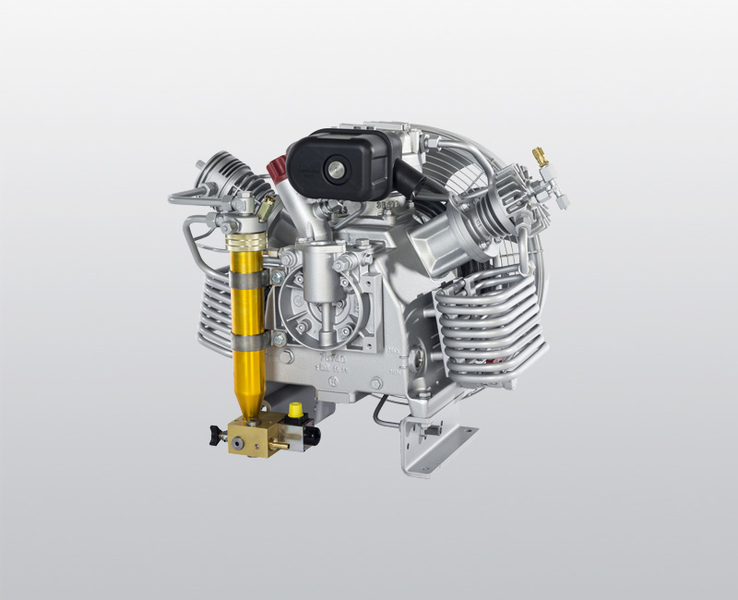 IK 120 compressor block
The BAUER IK 120 series compressor block has been designed for the most demanding professional applications. Dimensioned for more than 30,000 operating hours, it has proven its worth in thousands of application scenarios.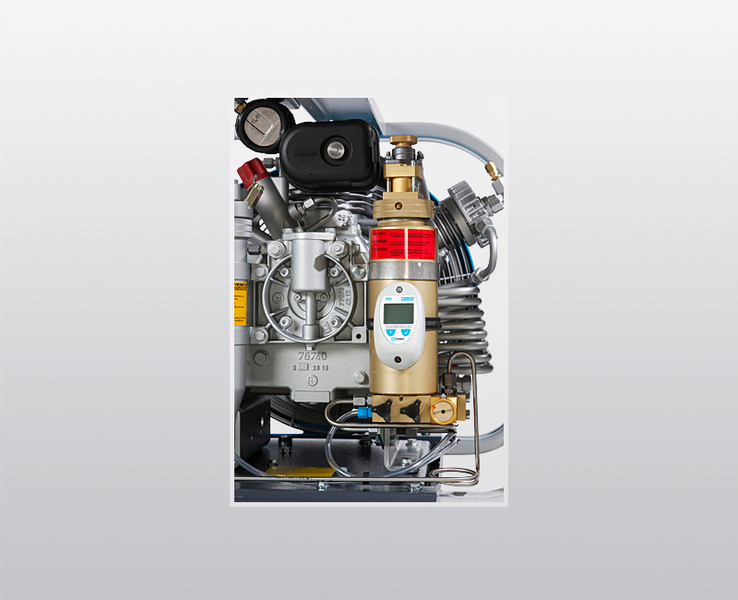 P 21 filter system
When used in conjunction with original BAUER filter cartridges, the P 21 filter system with integrated oil and water separator and pressure retention check valve can be relied upon for breathing air treatment conforming to DIN EN 12021¹. A type-tested and sealed final pressure safety valve enables particularly high levels of operational safety to be achieved. 140 m³ of air can be treated.
¹ If the units are maintained and installed correctly as described in the operating instructions or user manual and if the concentration of CO2 in the intake air does not exceed the values specified in the applicable standard for breathing air.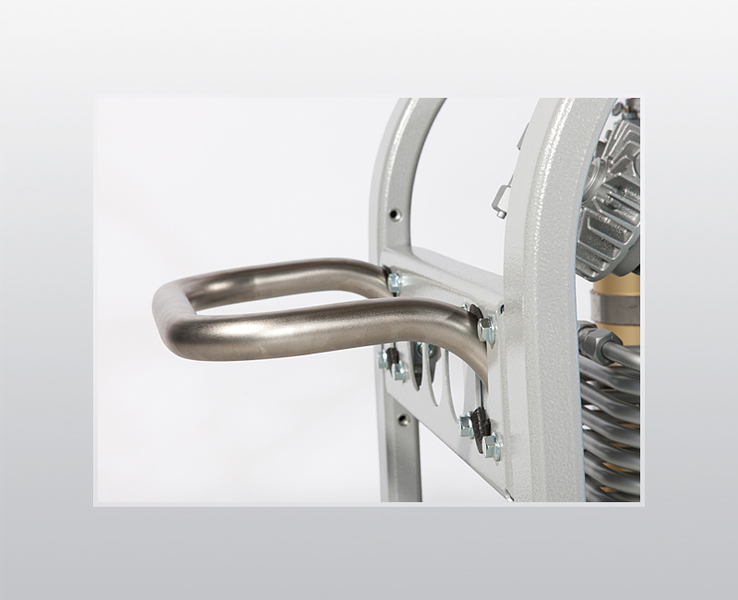 Crash frame incl. handles
The corrosion-resistant crash frame provides additional protection for the unit and can accommodate additional accessories such as a compressor control or a larger filter system. The handles make moving the unit easy and convenient.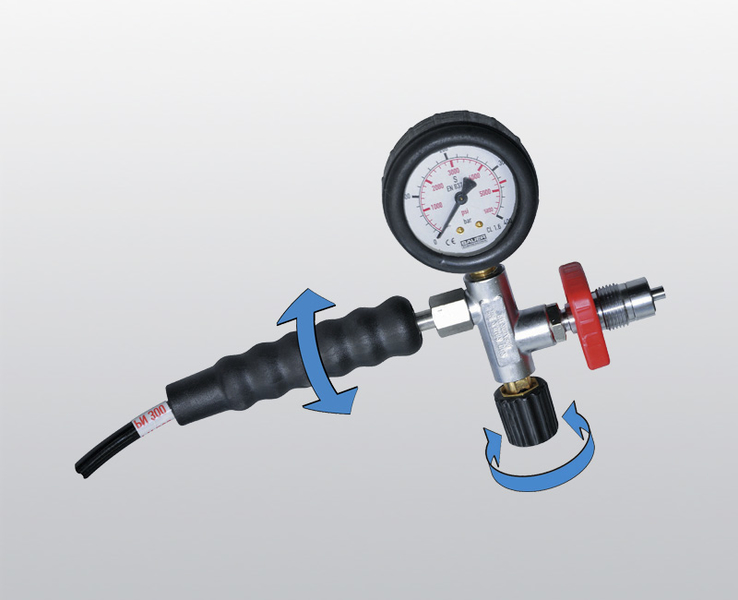 Filling device
The filling device comprises a flexible "UNIMAM" high-pressure filling hose and filling valve complete with final pressure gauge. The final pressure gauge makes it easy to read off the filling pressure. It is protected against damage by a durable rubber jacket.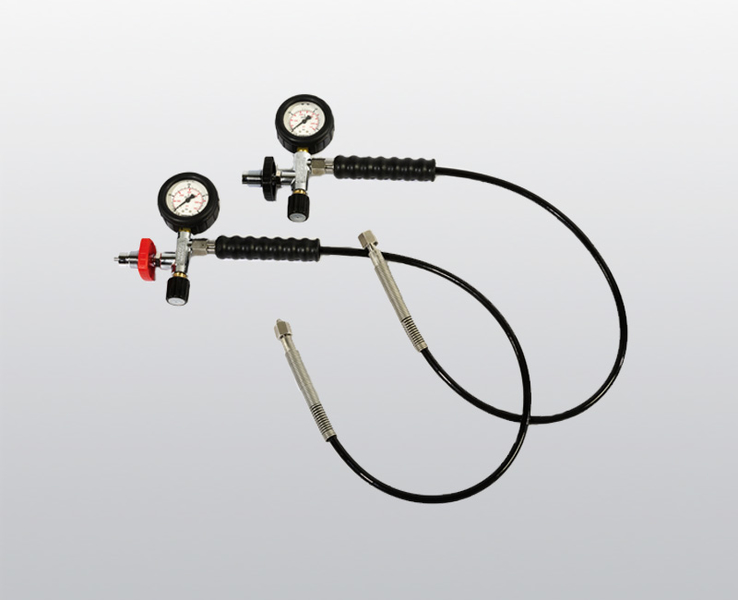 Filling hose
High-quality UNIMAM high-pressure filling hoses made from food-safe and long-life hose material make for flexible and safe handling. Swivel hose connections enable the filling valve to be connected to the breathing air cylinder quickly, easily and safely.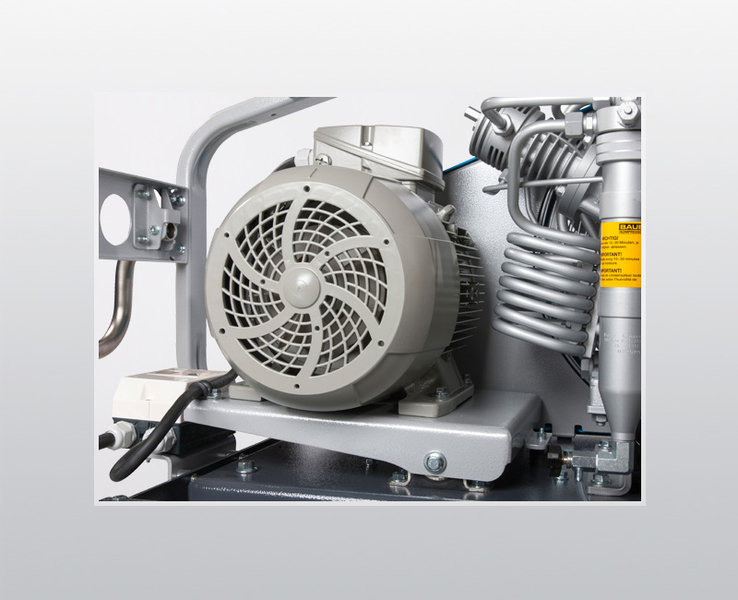 Motor rocker
The integration of a motor rocker means that the tension of the V-belt no longer has to be adjusted.