Click on the product to see if its in stock!
Seac Komoda 7mm Set Female
Seac Komoda 7mm Set Female is super elastic with extra flex nylon Neoprene. Suitable for coldwater diving including boots, gloves and fins.
This Seac Komoda 7mm set Female contains
Seac Komoda 7mm
Seac Vest 5mm
Seac HD boots
Seac Glove dry seal 500
Seac Fin F1S

Description Seac Komoda 7mm set Female
Outer lining: Super-elastic Extra Flex nylon with Yamamoto 38 rubber. Honeycomb structure of the rubber
Inner lining: Dry Fiber
Wrists and ankles: dual cone in Smooth Skin with YKK zipper
Hood: Integrated in the vest with "Air Draining" system.
Details Seac Komoda 7mm set Female
Waterproof system of the water barrier behind the zipper
Anti abrasive polyurethane protection on knees
Variations of Seac Komoda 7mm set Female
Sizes: XS/S/M/MP/L/LP/XL/XLP/XXL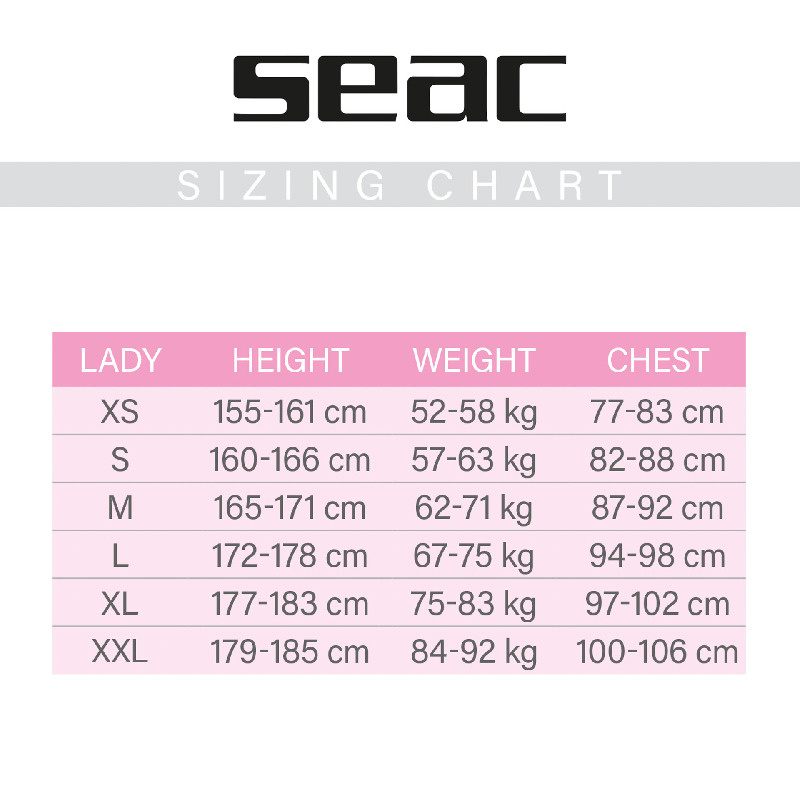 Details Seac Warm Flex vest
5mm Neoprene vest with front zipper and air draining system in the hood to be used over the komoda suit for extra warmth and comfort specially for cold water diving.
Details Seac 6,5mm HD Boot
6 mm boot with rigid, high-grip sole and oblique zip for easier dressing.
Sizes: XXS/XS/S/M/L/XL/XXL
Details Seac Dry seal 500 Glove
Glove in 3.5/5 mm Superstretch Neoprene to guarantee maximum comfort. Perfectly water-proofed at 100% thanks to the Liquid Seal on the seams and the innovative inner ring in Glide Skin with the Ring Seal Aquastop system. Maximum warmth is also emphasised by the decision to use Therma Fiber Plush as in inner lining. Palms are reinforced with Rubber Coated cut-resistant material.
Sizes: S/M/L/XL/XXL
Description Mares Avanti Quattro +
The Avanti Quattro + fin is efficient and responsive, with great thrusting power and an attractive look! Versatile and ideal for all dive conditions.
Bungee strap
Hi-flex material optimizes blade's efficiency
4 channels for greater thrusting power
Stabilizing trim tabs
Sizes: S/R/XL